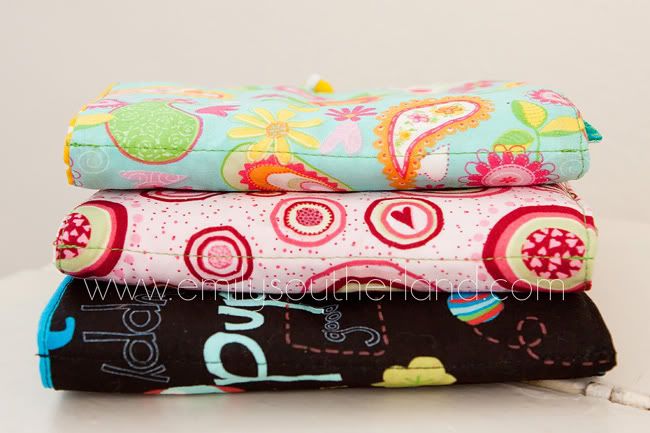 Remember that
little portable car track
I made last month as part of my tutorial week? It referenced a pattern you can buy on Etsy, the
child's crayon wallet
from J.Casa.
Well, not only are the car wallets FUN FUN FUN.... (I made Noah a new and improved car wallet after a couple of friends gave me some ideas on how to jazz it up! I need to snap a pic and show ya!)
But the crayon wallets are stinkin' fun, too. Fellow November Mama
Brenda
was so classy and gave me one as a gift when I went to DC to take her family photos... And I fell in LOVE with the idea of the crayon wallet as a gift. But of course, busy busty busy as I always seem to be, I didn't get around to really playing with the pattern until this Christmas, when I had three cute kiddos I needed to make gifts for-- Joe's best friend
Matt's three cuties
(And Nicole's, too. Hi, Nicole!).
So I had a delightful evening assembling fun fabrics to put together, and I used the easy easy easy pattern from that Etsy shop, and whipped these beauties up: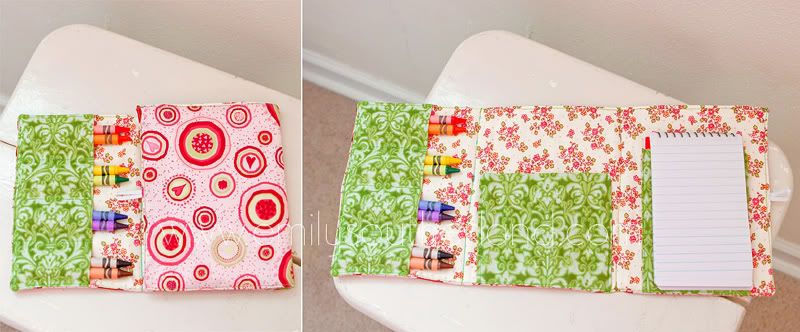 (My absolute favorite happens to be that last one. That sunny yellow dot with the turquoise flower? I want an apron in those fabrics. And maybe a comforter. And a potholder. And some backdrops for photos. Heck, I want to wear a dress outta them on my daughter's wedding day. Okay, not really.
Since I don't have a daughter.
Awkward.)
Anyhoodle, I was SO tickled with how they turned out, so now it is YOUR turn. Go get that pattern and make something fun with it!! It is ALL straight lines. It is NOT that hard. If you can thread a machine, that is. And if you can't, go to your local sewing machine shop (mine is tucked in a Hobby Lobby) and ASK ONE OF THE CUTE LADIES THERE TO SHOW YOU!! They LOVE passing on the joy of sewing to a new generation.
And well... if you're not here for the sewing, I love ya anyways. Maybe I'll take photos of Oreo Truffles next and talk about those.
YUM.
(And if the sun EVER decides to come out again, I'll tidy the house and snap a few pics to introduce you to her.... But that is a BIG
if
, with this glooooomy weather. Blech.)
Happy weekend, all. I have GOT to go to bed.
*

(I have a font made from my handwriting. Isn't that COOL?! I even made the cupcake dingbat.)