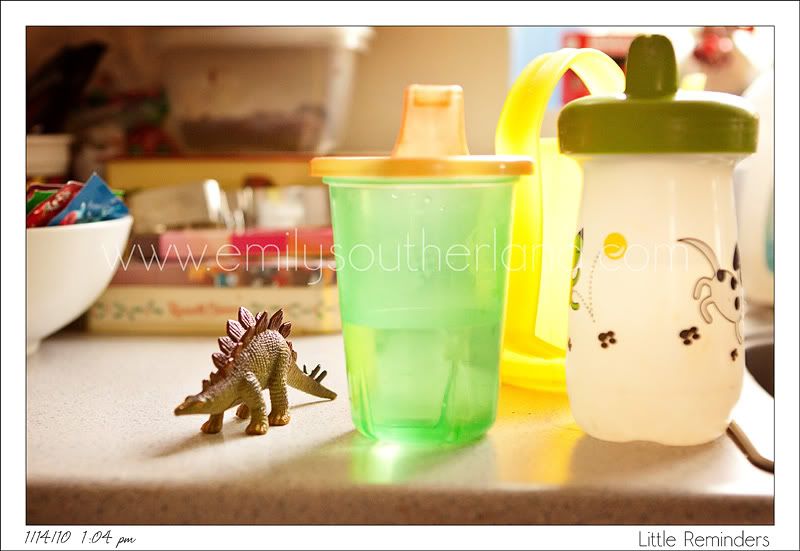 My days are made up of tiny moments of magic... Everyday, unspectacular, unremarkable magic. Like today: holding a locomotive in the palm of my hand, making pumpkins into cookies, watching bubbles float on air, making pieces of wooden track into drumsticks... Seeing a bucket become a boat... being told the growl coming from my sink is a monster, not a disposal... Tiny prehistoric reptiles stalking my countertops...
Magic.
All of it.
And yet.... romantic as that sounds, as pretty as the photographs are... As BEAUTIFUL a little life it may seem, it hit me today that for some people (for many, probably), my little life would be DEATH to them. The repetition. The mundane nothings. The absolute drudgery of being trapped at home, for hours on end, with only a small child to talk to. The housekeeping. The patience. The cleaning up of the SAME MESS TEN TIMES. Aprons. Dishes. Carrot sticks. Sesame Street. Laundry. Nursery rhymes. Pacing the same small collection of rooms hour after hour, doing the same things again and again.
And... put like that, I don't blame ANYONE for not wanting what I have right now. For needing to escape into a bigger, more bustling, more spectacular world.
But for me?
This is magic. Even the tough stuff... the whining and the messes and the strong will of a little person who has no logic. This is exactly where I want to be.
Making me realize, IT'S ALL HOW YOU CHOOSE TO SEE IT. My life, seen through someone else's eyes, might be a torture of
mundacity
(* I think I made that word up. ?). But since I am me, and I am approaching my life with the creativity, self-reliance, resilience, and humor I was gifted with, I can look at these everyday things with more awareness. I have been groomed through years of reading, writing, self-expression, and introspection, to have the power to see the mundane and find something beautiful about it.
I CHOOSE TO LOVE THIS. And after choosing to love it for enough days... weeks.... months... years.... It no longer is a conscious decision. It just IS. I just DO. Live, love, and appreciate this season of home-ness. Mother-ness. Nurturing-ness.
Because make no mistake-- it IS but a season. And I am only a steward of this small being (and future beings) for the briefest window. And so while this may sometimes seem to drag day after day after day.... Before I know it, the days will have run out and I will no longer be tied to the home, the child, the task of daily caregiving. And what was once perhaps a bit tedious will suddenly be something poignantly wished for, even for a moment.
And so... as I move from room to room, seeing pieces of a train set here and there, picking up loose toys, cutting up a grilled cheese sandwich, wiping a nose for the eleventy-billionth time... I let myself LOVE it. I choose to see this as EXACTLY what I want to be doing, this very minute.
And I feel at peace, moving from room to room, the wee one at my heels every moment.
There will be time enough for excursions into the bustling, cosmopolitan, social world.
But not today. Today, I have cookies to take off of the cookie sheet. Some laundry to put away. And a few good stories, songs, and games to play with the little one who makes me feel complete joy a million times a day.
And this is MAGIC. To me.



*



(The photograph: Saw this little dinosaur on my countertop yesterday and it about did me in. Auntie Mary had gotten it for Noah at the Science Center yesterday, and it had been left behind among the lunch dishes... and looking at this microscopic stegosaurus on my countertop, completely out of place and yet so PERFECT, I thought, "

It BEGINS. This life with a BOY who will treasure the most motley collection of doo-dads and trinkets, left around the house in unexpected places. It BEGINS. I no longer have a BABY. I have a BOY.

"....
And I LOVE it.

So I had to take a photo. Of course. :))