Things on my mind and in my days these days....
1. For my belated birthday present, Joe got me a Wailin' Jennys CD I'd requested, and so for the last month I've been listening to them a LOT. I only know about this group because of some random iTunes sync-up my sister-in-law Mary did with our iTunes like 4 years ago... Her iTunes had one random Wailin' Jennys song in there, and it was AMAZING. And then Pandora's Alison Krauss channel gives me a few of their songs mixed in, so I've been groomed to love this band for ages now. It does not disappoint: it is the the perfect blend of folk, bluegrass, harmony, female voices, mellow, moody music. It fills my heart when I listen to it. (Youtube link- The first one I ever heard by them, and by far the most "old-fashioned". Not the most interesting video, so don't watch it, just LISTEN to it).
2. I have been yearning for REAL fall, like many of you have been. The other week at WalMart, I ALMOST bought a pumpkin candle, but it was too soon. Anyone else weird like that? It was 85 degrees outside, no breath of REAL fall anywhere, though it was September, so it just didn't feel right to have the amazing pumpkin smells in my house just yet. The pumpkin spice smell/flavor commands a bit of chill in the air, don't you think? So.... I compromised and opted for an apple cider scent. I think this will be a new tradition for me: apples in September. Seems relevant, since apple-picking is a September thing, and apples represent the start of school and all that. Even in the 85-degree heat, I can live with an apple-cider scent, and still feel like I'm honoring the start of fall.
3. Gestational diabetes has come to haunt my house again. Again, I am seeing my house fill with medical supplies, again I am thinking about what I can and should eat ALL THE TIME. Again, I get to shoot myself with insulin nightly. The GD is like another member of this household, and not entirely welcome. Pesky, actually. But this time, though I get to live with it for MUCH longer than last time (20 weeks as opposed to 10 weeks), I am more prepared, more educated, and more resigned. I am doing okay with it. It's just a pain.
4.I'm back on the crafty-wagon after being pretty far removed from it all summer. The combination of first-trimester-ness and CRAZY-BUSY summer really killed my motivation to make fun things for fun. I missed it, though, so once I got my last summer session edited, I treated myself to an evening of choosing and cutting out fabric for three Lucy pinafores. Here is one of them completed... this one is in fall colors, and this is just a snapshot of Lucy trying on my bracelets the other day. I dream of taking her out to an orchard or a grassy field to get more formal photos of her in this.
5. I've also been getting bored with boy clothing options for Noah. I wish I could style him in a more "hip" fashion, but that kind of style costs money, and besides-- he's on the cusp of being in charge of his own style, so I don't think it'd be fair to get him all skinny color jeans and blazers and make him wear high-top converse if he comes to the day, soon, where he refuses to wear them. So... For now, I'm trying to remember it isn't about MY style, it's about HIM, and and it all costs $$ anyway... So I've found some good basic stripe-y T's (you can never fail with stripes!) and some random fun screen printed ones (I still refuse to get him blatantly-licensed character clothes, so obnoxious!... I'll hold out on that as long as he'll let me!).. And I decided I could get crafty with a few blank T's to give his basic wardrobe some charm. So last night, I treated myself to another crafty night of sewing and I appliqued all night while watching the "So You Think You Can Dance" finale (LOVED Cyrus. He made me cry with his joy and humility.)
The LOVE shirt uses black fleece, so it may get pill-y over time. We'll see. The airplane and X ones use t-shirt material for the appliques, so I think/hope they'll wear well over multiple washings... maybe curl a bit on the edges, but that can be cute, right? It was fun to free-hand the loop-de-loops on my sewing machine!
(Idea Credits:
1. "LOVE" shirt is a tutorial from Finley and Oliver. I LOVE her site. Love her blog design, love her tutorials, love that she has chickens.
2. Paper Airplane and "X marks the spot" shirts are ideas from this Etsy shop- b. children's wear.)
6. I am THISCLOSE to committing to peeling off wallpaper in my dining room and painting it navy blue. And changing the red in the living room to a goldenrod. Might this be nesting? I don't know... But I do know that we've been here THREE YEARS, and it has never been my INTENTIONAL HOME, and while it has been feathered with our things enough to FEEL like home, I am aching for a do-over-- to be able to begin a home with INTENTION and make it my own. I still don't know if I'll get that result here... There's just so much I'd change, and we're not sure we'd be here much longer than one more year... But I can at least calm the "wants" in my heart with some fresh paint, some new throw pillows, and a new wreath for my door, right?
(These stripes have GOT to go. They are killing my soul.)
7. Did I mention we're having a BOY? Time to begin dreaming one one-piece sweater rompers and bold stripes again... I'm excited to be back in BOY-LAND! I'm thinking maybe raccoons or foxes as part of this little one's theme?
8. Lucy fills my days with:
- Constant babble-chatter... she has full conversations with us in unintelligible babble, and it charms us! Best example: she even said a blessing on the food the other day. Bowed her head, murmured in a hushed tone, and finished with a cheerful, "May-Mo!" (Amen.)
- Pre-walking and sort-of-walking. She still crawls more than anything, but if her hands are full, she'll walk on her knees, and if she gets enough cheering, she'll try a few steps on her own. She's getting there!
- Bunnies! She is definitely attached to her bunny lovey, but loves her Mooshy-belly bunnies and her Easter bunny, all three made by me from Pinterest ideas. She loves to point bunnies out in books,
and will even attempt to say, "hop hop hop" when I say that to her.
- Dancing-- that girl LOVES music. She'll stand, holding onto a chair or the couch, and shake her booty, or she'll shimmy like mad in her carseat when we're driving and listening to tunes. She has rhythm in her bones, I swear it.
9. Noah fills my days with:
- His Brain Renaissance of late: for the last month or so, he's become passionate about writing and numbers and reading. Prior to this, I am not kidding-- he could have NOT cared less. But suddenly, he is doing all of it... basic math, basic reading, basic writing... Even attempting to sound out word to write them down. Definitely imitating a lot (looking at a word and copying it in his own writing)... And just full FULL of ideas he needs to put on paper... In list form, in drawing form, in math form....
A couple of recent favorites:
- Pretend games, still. Current favorites: Transformers Prime, Superhero Squad.
-Battleship-- he learned to play the classic game Battleship on our iPods, but just this past weekend we inherited a legit, real board game version from my parents and he is IN HEAVEN. He'll beg us to play him the "real" way, but he is just as content to play with the pieces in his own imaginative play.
- Preschool. Noah began 5-day-a-week half-day preschool a few weeks ago, and he is thriving like crazy. He loves that place, and they seem to love him. He is made to be social, explore, and learn. I am happy for him!
-But I also miss him, so I've promised myself I get to take him out of school at least one day every other week to go do some enrichment of our own. This week, I'm taking he and Lucy to Eckerts to apple-pick and feed the animals, and other Eckert's things. I can't wait!
10. And Joe's and my personal journeys are filled with:
- Sessions and more sessions for me--- I have maxed out the number of sessions I can manage in a month and my fall schedule is nearly full. I am often shooting/editing/preparing orders around here.
-School and more school for Joe. He still works full-time as an academic advisor at UMSL, most-recently specializing as a pre-med advisor to the students trying to get into med school. But he is also taking at least 3 classes a semester towards a computer science degree, so my poor husband is always busy... always working, and almost never gets a real break. He's so good at working toward goals for the improvement of our future as a family.
- Just being parents and spouses. Being a team together as we juggle the daily needs of our household... trying to find time to just sit together and hold hands, though that is not often enough.... We work so well together and are really quite in sync these days... but we could surely use a bit more "us" time... Time to just talk, then not talk, and maybe even cuddle a little.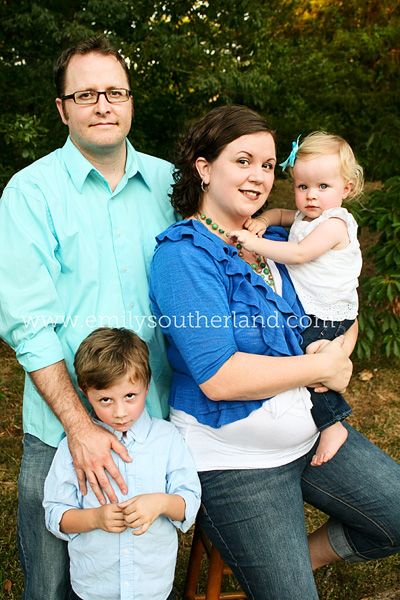 (our most recent family shot- July 2012)
So there we are... Most of what I have on my mind and filling my moments these past few weeks. Nothing big, nothing super remarkable... But good. Mostly really sweet and good.