Oh my friends, I have been chomping at the bit to be able to tell you about my last crafty of this week.... The shining star of my efforts the past few months.. the clever little kit of delights that any child, girl or boy, would LOVE to play with... The treasure I saw in Anthropologie, but refused to pay $50 for... so I finagled a design of my own.
Are you ready to see what you have been working for all week? Are you scared it won't be worth your efforts?? (I'm a little nervous you'll all be like, "I came back ALL week and left comments for THAT? Bah humbug.") Oh I HOPE you find this as charming as I do. **fingers crossed**
Okay... Deep breath. Gonna reveal now:
Presenting.....
My FAVORITE crafty of 2009......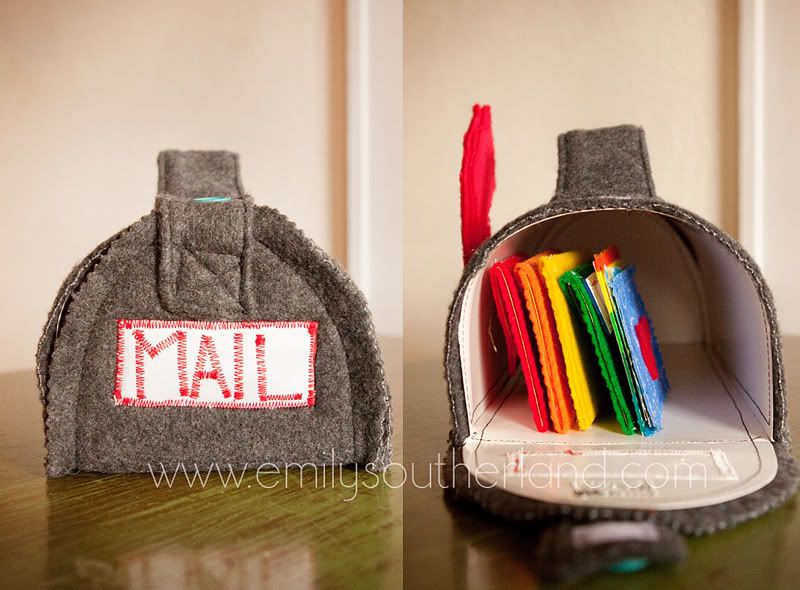 The MAIL BOX!
Um, yeah. a MAIL BOX. Wish there was a more elegant name for it.
But words don't SELL it... Photos do! Looky!
Not just a mail box, but a portable kit of "pretend mail" wonders... Postcards, envelopes, stamps, paper... and a red flag that goes up and down as needed. Come ON. Cute?!?!??? Ya know it is.
This little treasure is made with posterboard, cardstock, felt and fleece... with a healthy dose of Velcro added in. And as much as I want (and intended) to give you a step by step tutorial tonight, there was simply NO TIME to get making a "sample one" to photograph the steps for you. So for now, all I have is the reveal, and the contest, and then the PROMISE that I will come back in the boring bleak weeks of late winter and give you a REAL tutorial here. I warn you, it'll be a doozy. This whole kit probably took five hours, at least. Worth going back to the store and buying the $50 one? Maybe! Ha! But looking back at it, it turns out mine is CUTER. Seriously. Go see for yourself:
Felt Play Mailbox
. It turns out it was worth it to see this thing only once, but then stew on it for so long... because it took on epic proportions in my mind, and I had to make those visions a reality. But by then, the reality ended up BETTER than the original. Well, in MY opinion, at least.
Okay... want a few more shots? You know you want to see the details!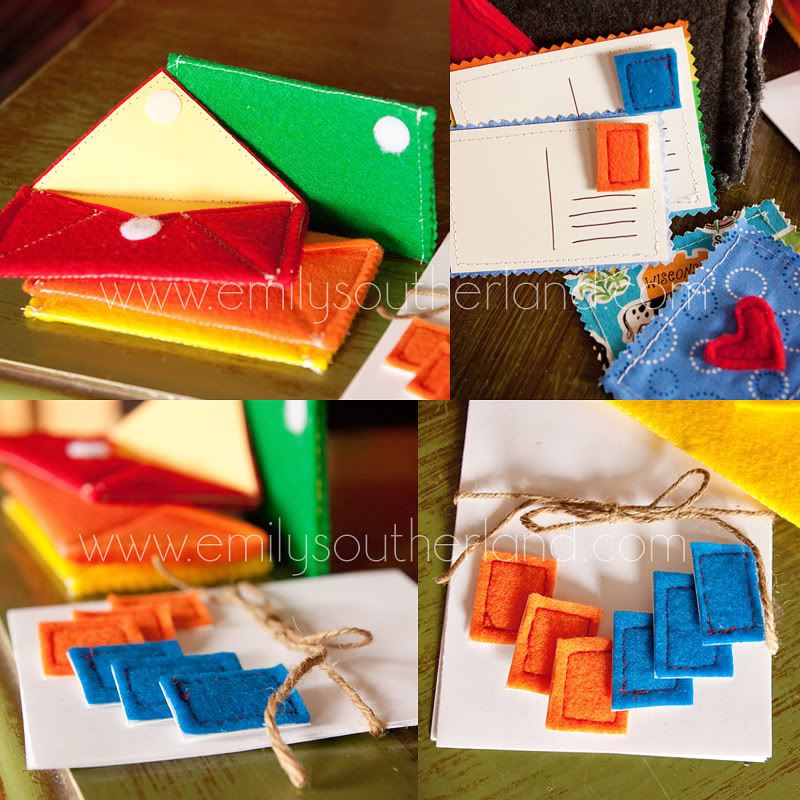 Hand-appliqued "MAIL" sign... Velcro on the envelopes and postcards, and the contrasting Velcro on the stamps. Play like you are stamping all your notes to your friends!
Some pieces of "stationary" included, for letters to whoever... Mom, Teddy Bear, Santa... And you can write on the postcards if you want, or leave them blank for playing with them again and again.
The envelopes are felt on the outside, and cardstock on the inside, so they will stay sturdy with longtime play.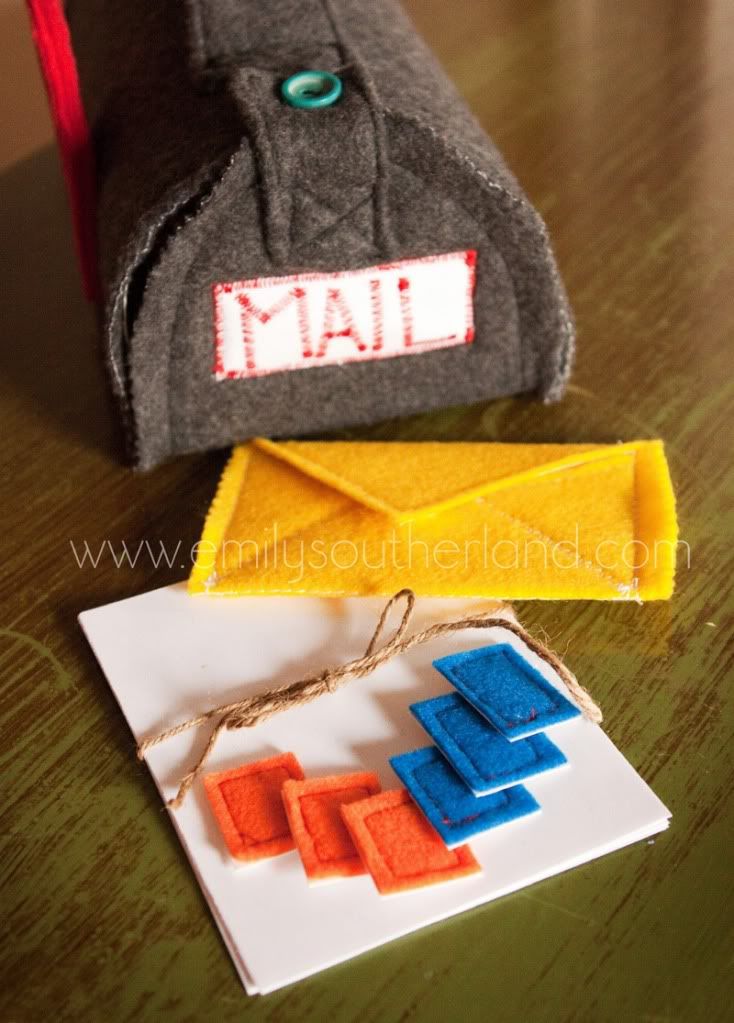 SO many ways this could be fun... It's portable, so play can happen anywhere... And it could eventually become a fun "message system" between family members... Mom or Dad could write the kiddo a note and tuck it in, even without a felt envelope... Then put the flag up, so when the kiddo comes home from school, they see they have mail. It could be a direct communication route to Santa or the tooth fairy. It could be used for collecting Valentines...
Or if Noah had his way, it could be used as a HOUSE for Lamby. Yeah. He doesn't even CARE about letters. Just that it is PERFECT to house his toys.
Anyhoo.... Yep. That's my Mailbox. Ta-Da!
*
Now... To the final contest information:
~This contest will be a random drawing of qualifying participants

~To qualify for the drawing, you must have left a comment on each day of Tutorial Week, even if it is a few days after the fact.

~I will accept entrants until Tuesday morning at 9:00am (since I am headed into a continuingly FULL and busy few days... I won't have time to devote to preparing the drawing until then!). That means you latecomers can still play!

~At 9:00 am on Tuesday, I will draw a name and photograph it, an post the winner here. The winner gets the whole kit you see above-- Mailbox, 5 envelopes, 3 postcards, 8 stamps, and a stack of stationary.

~ Once the winner is named they can email me their address, and I will have this mailed to them, most likely in time for CHRISTMAS! :) To be used as a gift, perhaps?
And I PROMISE a real tutorial on this project in the coming weeks.
Now... to bed with me. Moving was GOOD, but HARD, and I am a lump of exhaustion. Thanks for playing along this week. I'm so amazed I managed to pull this Tutorial Week off... And I hope you guys get out there and get crafty yourselves, when you get some time. Nothing like seeing something you made with your own two hands, knowing YOU DID IT. So cool!!
Good night, all!
*