After Thanksgiving Thursday, we had the unexpected treat of getting to leave Noah with his grandparents and aunts/uncle on Friday and Saturday when they invited him to linger and have an extended sleepover with them. So this ended up giving us a lot more freedom on Saturday to check out some small businesses to do a little Christmas shopping, just Lucy in tow. Joe was happy to tag along as well, and we made a morning of it.
Our first stop was actually to a shop I had wanted to feature, but didn't know the exact name of yet--- a brand-new fabric/sewing/amazing shop in Webster Groves called the
Fabric Nosherie
. For all your sewing types here in St. Louis, this is a MUST-SEE new shop. Lots of inspirations, great samples, gorgeous fabric, and a totally hip atmosphere. Our goal-- to let Joe get a gift card for part of my Christmas present. What better day than Small Business Saturday, right?
Happily, the Fabric Nosherie is just two doors down from
Red Lead Paperworks
, the first biz I featured the other day. We stopped in there as well, and I got a shadowbox thingy I've been needing for a couple of months now. Hooray! Another Small Business purchase!
We stopped by Oh Lolli Lolli to get some candy gifts.... And then we checked out another relatively new candy shop in STL that I didn't feature the other day, Miss M's Candy (
reviewed here by the Riverfront Times
).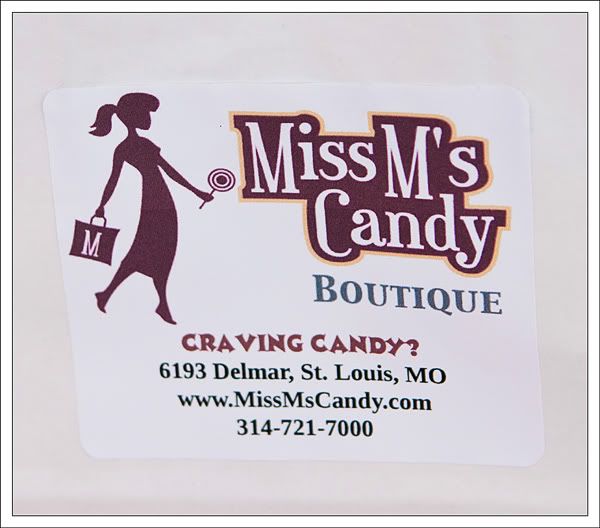 In all my small biz journeyings, I ended up picking up one goodie that I decided I needed to offer up on here as a giveaway--- just my last HURRAH in support of Small Business Saturday. Miss M's candy shop was having a great deal on M&M merchandise, and I picked up a cute little pink T-shirt and some candy to offer up to one lucky reader:
The t-shirt is a women's large, in a "girl cut" (so a trim fit)... It is light pink and has printing only on the front. Also included in this gift bag is a 12 oz bag of holiday M&Ms, because who DOESN'T love M&Ms?!!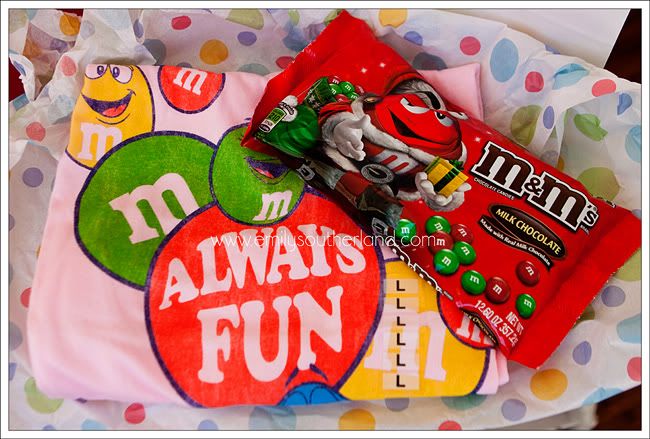 To enter to win, all you have to do is leave a blog comment by Friday at noon (CST), and I'll pick a winner at random.
Easy, right?
At the very least, even if this isn't YOUR style of gifty, there might be SOMEONE on your gift list who would enjoy these stocking stuffers! And hey--- it all goes back to supporting local-run businesses. And I love that!
Okay.... So the sun came out today, and the whole mood of the day was markedly improved because of it. I am out of yesterday's funk and GETTING STUFF DONE! Next up, now that blogging is complete, is to begin pondering a Christmas card design.
(Oh how I LOVE synchronized nap times! I hope these two kiddos continue to do this for me for many months to come. Ah!!)