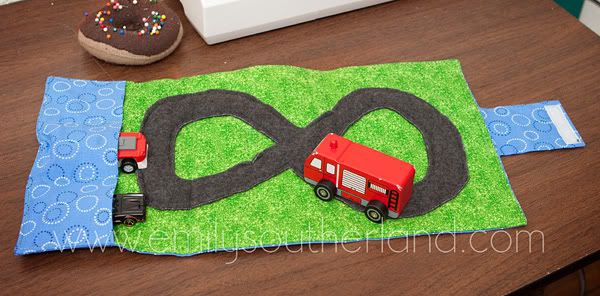 So, there are SO many cute things out there for girls. SO. MANY. Bows. Dolls. Clips. Tea sets.
Doo
Dads. Trinkets. Treasures.
For boys? Not-so-much. Boy stuff is just less...... DARLING. So when I see a great crafty boy idea, I jump and giggle and set it high on the list of "Must Makes". And this travel car kit is no exception. It is compact. Clever. Useful. QUIET. (perfect for church!) And encourages imaginative play. I love it. LOVE.
And
please
let me apologize up front: for this post, I am going to have to do less of a
tutorial
, and more of just an inspiration/explanation post... First, because I used an existing
PDF
pattern sold on
Etsy
as my basis and because I DIRECTLY piggybacked off of another
Etsy
seller (so I don't want to step on the toes of the originators). Thirdly, because I simply did not
take
photos as I worked on these. So take this post as your INSPIRATION, and either get working on finagling your own design, or go buy the real deals from the more talented gals who gave
me
the inspiration.
CREDITS
First, I want to introduce you to the ORIGINAL, the "Travel
Trackstripe
" from the
Etsy
shop
BOOZEEBA

.
This thing is GENIUS. Cute! And only $15.00. So if you are NOT in the mood to sew, just go buy one of her cute ones!
*
Second, I want to introduce you to the
Etsy
shop I got my
PDF
pattern from that I modified to make my own travel track:
J*

Casa

Handmade
.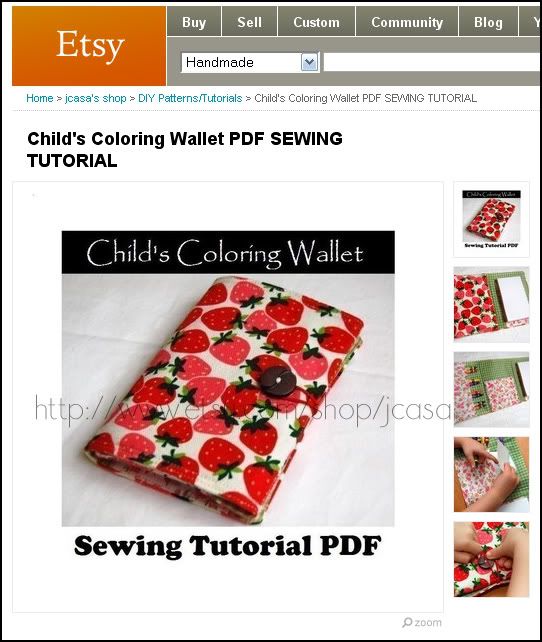 I have made this actual crayon wallet, and it is AMAZINGLY cute. I didn't think to take photos of mine to show you, but I LOVE making them. If you are needing some cute gifts, this pattern is WELL worth the purchase price of $7.00. Go get one!
*
So, when I saw the original racetrack, I know it was going to be pretty easy to make these two clever ideas merge, and I
decided
I needed to attempt one of my own.
Mine: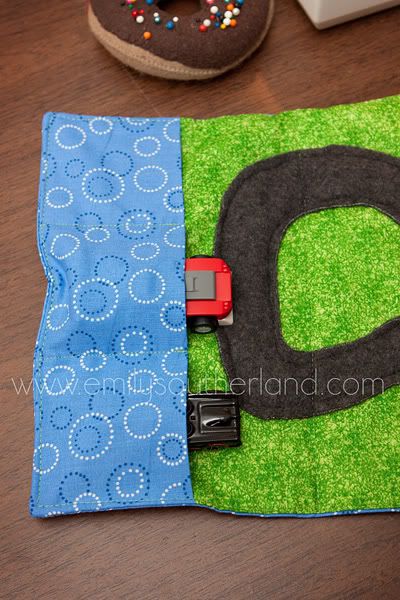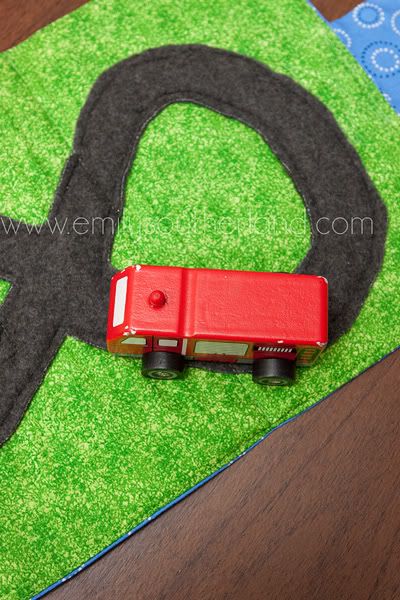 The first modification was to make the whole thing bigger. I also eliminated two of the three inner pockets and kept only the side one. I
freehanded
the track, which I used grey fleece for. I outlined it with a straight stitch.
The final
modification
I made was to eliminate the elastic-and-button
enclosure
of the crayon wallet and make a tab-and-
velcro
enclosure instead (easier for chubby toddler fingers to manipulate).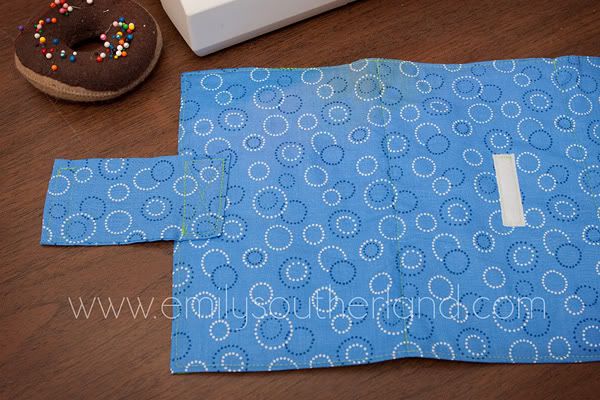 (
Cris
-crossed across the tab for added strength.
Contrast
-colored thread for fun.)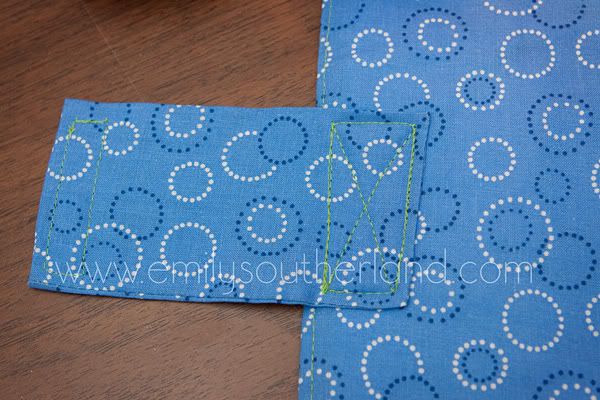 I had lots of other cute ideas, like putting a yellow stripe in the road, or maybe appliqueing some shrubs around the periphery of the track... But that's for another attempt, another day. For now, my little rookie attempt will have to do:
And so... forgive my lack of REALLY tutoring you though this process step-by-step. Truly, if you get the pattern and can successfully make the crayon wallet, you can make your own track pretty easily.
I am giving this to Noah for Christmas, and I cannot wait to see him put it to use at
church
, when he needs a
quiet
activity to help him get through the
length
of time when the Grown Ups talk and talk and talk... :)
It will be a grand little help to me.
*
And so... Tomorrow. We get to talk about the
snack
bags shown on the Tutorial
Week
Storyboard (middle right):
*
Until then, I have a session to edit, some books to make for clients, and if there is ANY time left at the end of the night, I have more PACKING to do. Here is my living room as of today: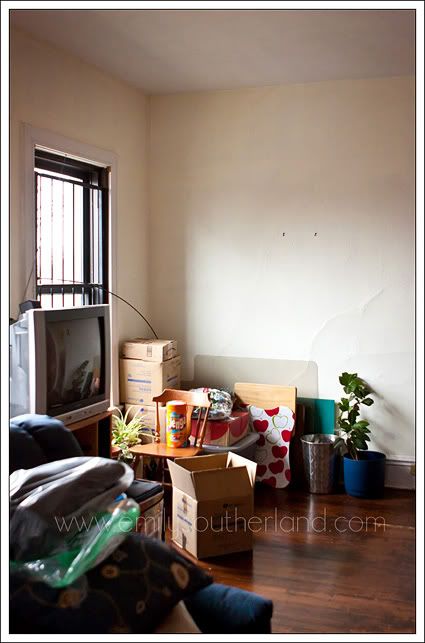 Sad, isn't it? :( It's getting emptier. More boxed. Our time here is drawing to a close. *sigh*
Ah well.
On to bigger and better things, right? All is well...
Til tomorrow, my crafty friends.
(And THANK YOU for the continued outpouring of delightful comments and blog love. It has been indescribably delightful to have my inbox flooded with so much cheerfulness. I am awash in a pink glow of blog-love-
happiness
. LOVE. :) )
*