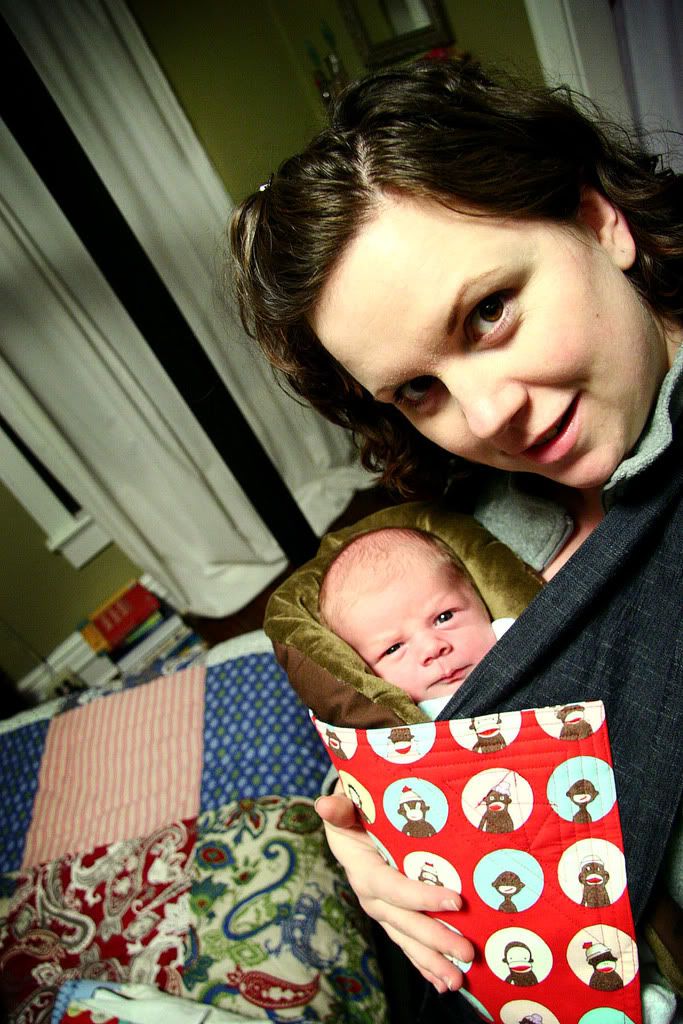 Becoming friends with my amazingly creative amiga
Jaime
has been a delightful St. Louis surprise. When I first got married 3 years ago, I thought for SURE that I had left behind all possibility of having cleverly right-brained, artistic, crafty type friends when I left my college home of Utah. I thought for SURE that I'd have to settle for plain, white-bread, no-nonsense Midwest types for my social circle. Luckily, my ward turned out to have several really inspiring gals, Jaime being one of the front-runners. She beads, makes silver jewelry, digitally scrapbooks, take pictures, blogs, makes kiddie crafts with her little ones, and she SEWS. Oh, my how she sews! (Check out her
Etsy
to see some little treasures you can buy!)
When she heard about my forthcoming little baby, she got right to work on some really cute treasures, including burpie towels, bib clips, bibs, booties, and this remarkable, incredibly well-crafted mei tai sling in sock monkey fabric.
When she presented me with this gift, I was overwhelmed. It was clear she had put a lot of time into her gift, and it was obviously very well-made. Seriously though, I didn't really look at the quality aspect first-- I was enamoured with how dang CUTE it was! I mean,
sock monkeys
??
After some tying lessons and demonstrations, this darling sling was mine forever. And as you can see from the pics, it has been well-used. With a pacifier held in his little mouth and a little hip-sway action, I can get this little booger to sleep in a matter of minutes!
So check out my hip, cool, funky, WELL-MADE mei tai sling, compliments of my thoughtful, creative, beautiful friend Jaime. Thanks, J!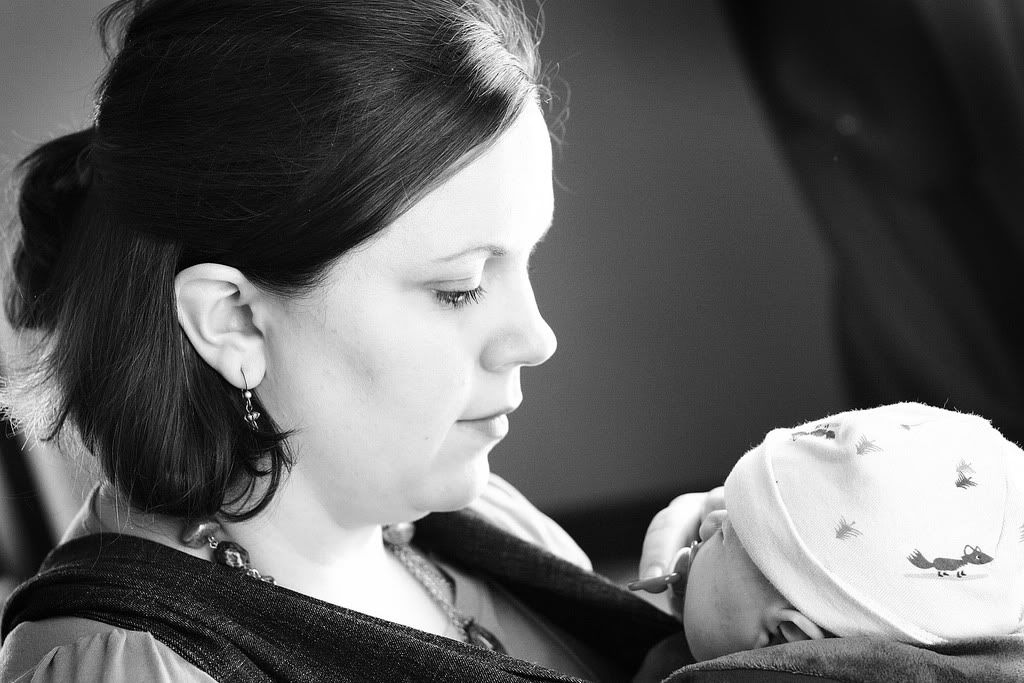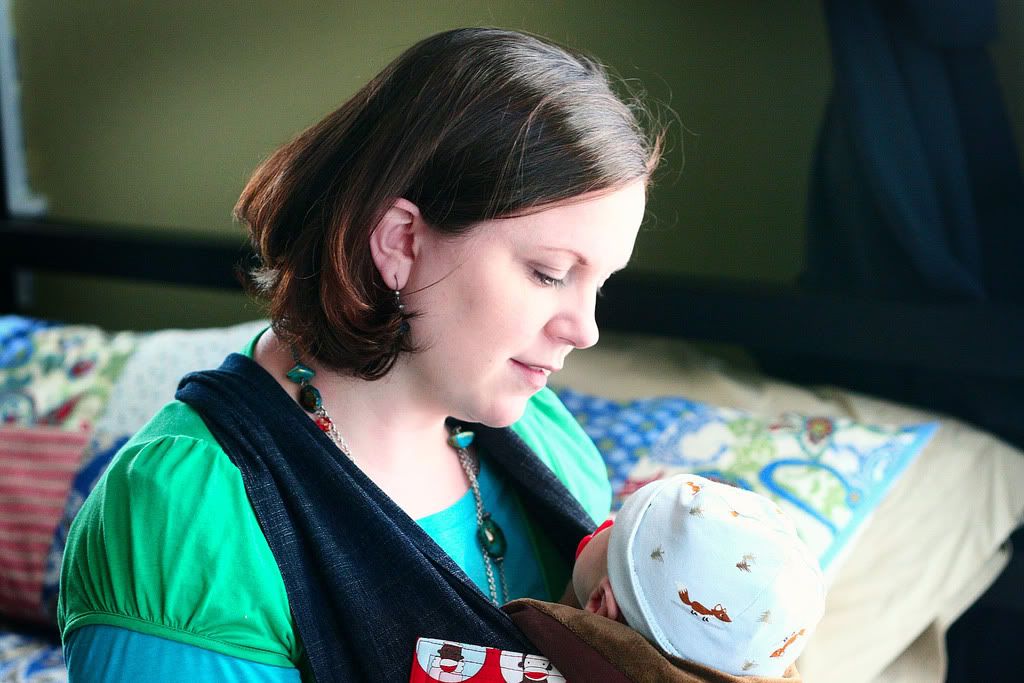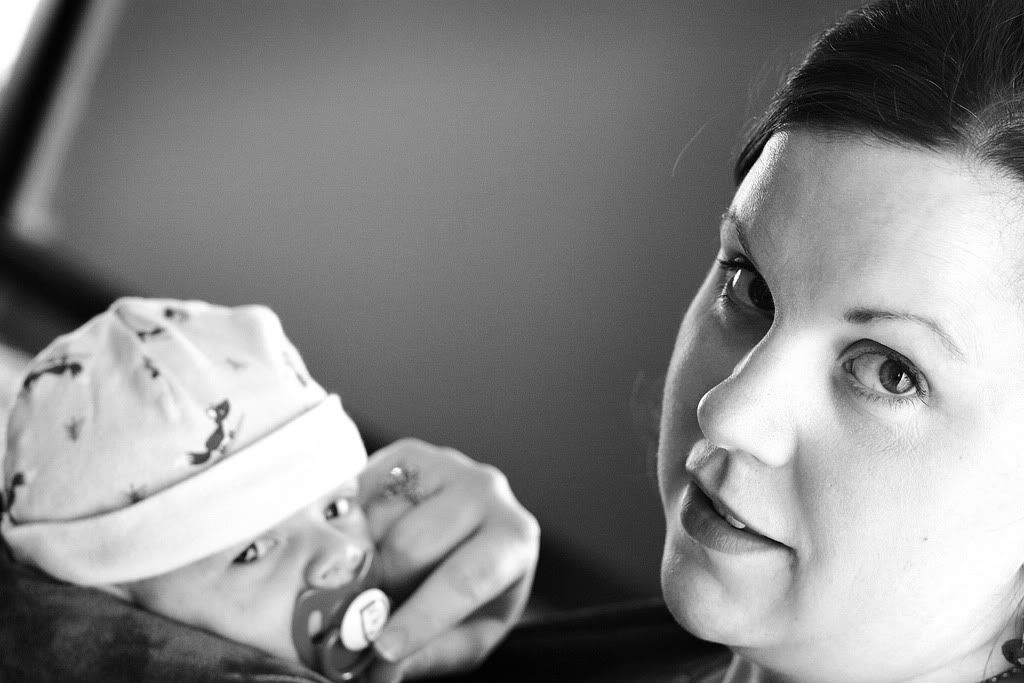 {the brown, soft insert, btw, is a "turtle shell" by
this gal
, but it was Jaime who emailed me the link to it, as a suggestion for making my newborn more comfy in the sling. Incidentally, these slings can be used until your little one is 4 or even 5 years old, unless they are big chunkers. :) }