(to see the original idea for these monthly photos, click here.
And for the first time in all of these shoots, I faced this hurdle: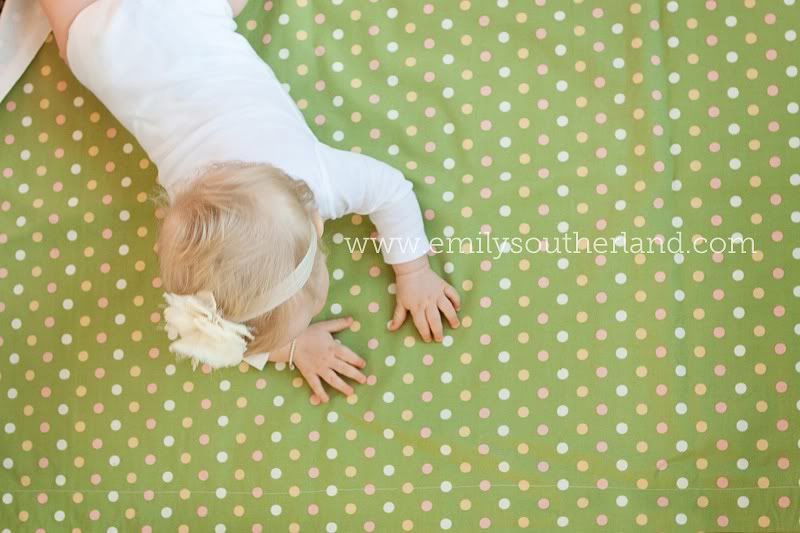 Hey, lady! Come back!!
But though she is definitely mobile these days (Army crawling only... no cruising or knee-crawling), for the most part she stayed put. No guarantees for next month, though. Ha!
See ya, baby! Guess that means we're done here?
1. If you look closely in a few of the photos, you'll see that tooth #3, top tooth, has broken through and is trying to catch up with the bottom ones. The day before these photos were taken, tooth #4, the neighbor to #3, had barely broken through. We've got some teeth, folks! That explains all the SNOT for the past month. EEK.
2. She is army-crawling like a champ. And even if she's not moving, she is happier to be on her tummy than just sitting up. I mourn those days. She was so cute just sitting primly in her spot, content to not budge. Oh well... there's something cute about an inchworm baby, too.
3. She is really trying to communicate! She loves to wave hi and bye, loves to jabber, and is really trying out her baby signs. So far, she is still only signing a loose sign of "milk" for just about everything. But you can tell she is TRYING to respond to the words I am prompting her with. We are keeping to these words for now:
eat
more
milk
all done
bird
diaper
And so far, she's been the best at "bird" and "diaper".
4. She is so completely enamored of her brother Noah. Truly, he gets more giggles out of her than anyone. And I LOVE that he is so devoted to her. No mean spirit at ALL towards her, ever.
5. She loves her bath time. if we sit her up, she uses her hands to splash, and if we lay her down, she kicks like crazy. Noah usually wants to join her, so they play and play and just laugh like crazy in there.
6. Her hair is getting long enough on the sides that we're starting to see a tiny bit of curl. Sweet!
7. She still takes a bottle a few times a day, but is deeply in love with the sippy for snacktime. She loves drinking from a straw!
8. She is doing more and more table food... she doesn't seem scared of lots of flavor! Bell peppers and garlic, etc.
9. I'm starting to think about her birthday, and even though we have a few weeks, suddenly I feel overwhelmed. Not just by the preparation, but by the idea that one whole year has passed. How did this happen?
10. Having said that, for the first time since the fall, I am NOT wishing she'd stay the same anymore. I am resigned to the fact that she's not my little baby anymore, and I'm getting excited to see how much she is growing and changing. This is a really fun time, and if she's anything like Noah, she'll just keep getting better and better. Until 18 months. Then all bets are off for a while. Ha!
11. She is not pulling up to stand, cruising, saying anything remotely like a real word, etc. But she IS sleeping through the night, eating like a champ, and happy as a clam every single day. She's super healthy and just stinking cute.
Next month---- I'll compile ALL the monthly photo shots into one group. Won't that be crazy to see it all together? And I have a million "baby's first birthday" photos I want to take, so we'll see if I can mange that, AND get them blogged. No promises, since I have a December Lucy session, a January Lucy session, and a February Lucy session still waiting to be edited. I'm terrible.
But Lucy is marvelous, and I love my 11-month old baby!