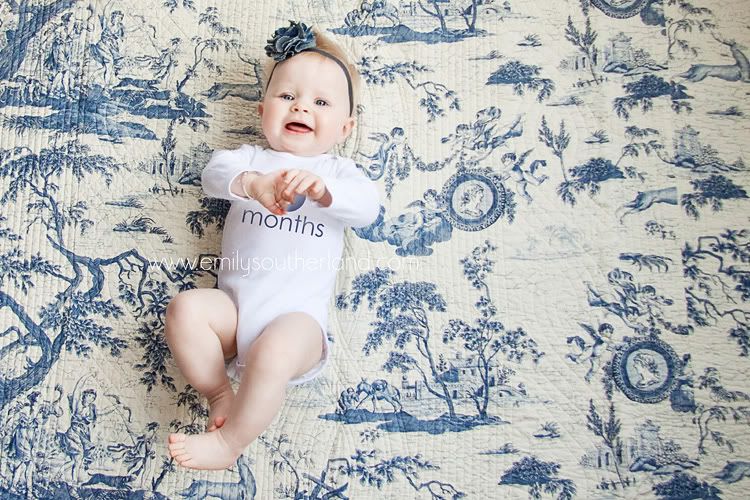 (to see the original idea for these monthly photos, click here.
My sweet Lucy turned 9 months old last week. Can you believe it? She simply won't stay put at the 6-month age I asked her to. That girl--- a mind of her own, I tell ya.
At nine months, Lucy:
* Still only has the two bottom teeth, though I SWEAR those top two are working hard to come down.
* Is round, pink, soft, fuzzy, smiley, and the perfect size. And has been SUPER healthy. (*knock on wood!*)
* Has her own way of being semi-mobile: She loves to be on her back, because then she can hike up her hips and kick both legs down HARD on the ground/mattress and basically flop her whole lower half down again and again.... SLOWLY making her body turn in a 180-degree circle. It really looks like the breakdancing caterpillar, except she's on her back. SO FUNNY!
* She has finally started rolling from tummy to back to tummy to back many times in a row--- but NEVER when she's just on the quilt on the floor. Only in her crib or on our bed.
* Her crib is her PLAYGROUND.She has a few little stuffed lovies and things in her crib that I tuck into the corners every morning and after every nap... Yet every time I go in to get her after a sleep, she has rolled around the entire crib gathering her friends and blankets, and ends up with them in a heap in the center, all piled around her. She explores the HECK outta that crib!
* Other than that, she is nowhere NEAR being a mover. She doesn't care to army crawl, true crawl, pull up, whatever. She is most happy sitting regally on her playmat, lording over her toys and enjoying the view. I'm just fine with this. She stays put, and is happy- what more could I ask for?
* Has gotten very fond of making motorboat sounds with her mouth. It gets a bit spitty, but she loves how it feels and has been doing it non-stop.
*
Favorite toys right now: Her Bunny Bunny, of course, her
Raggedy Lucy
doll, a Woodstock stuffie from Build-a-Bear that plays a bit of the Charlie Brown music, her blue bulb sucker thingy, ANY rattle (she is a classic baby, shaking rattles like some cliched commercial. Haha!)
* Fun food adventures: we've been adding some spices to her food--- cinnamon in her oatmeal and in her pumpkin, and a touch of garlic salt to some of her other meals. She has discovered and loved freeze-dried fruit bits, the veggie puffs that look like Cheetos, and graham crackers. She LOVES to feed herself finger foods and LOVES to be given a big-kid sippy cup of water to practice on.
* She is still the happiest, smiliest, kickiest, most reactionary baby ever. I mean, it is NOT HARD at all to get her flapping and kicking and grinning like she just won a trip to Disneyland. It's awesome. She's kind of like a puppy in that way. Leave the room for two minutes, come back, and she greets you like you've been lost for years. ♥
And a few more from our photo set. She is laying on a beautiful quilt Joe and I bought in Bayonne, France when we went to Europe in 2006. I have photos of Noah with it too, here.(ACK! I just went to find a blog post with Noah's old photos and I DON'T SEE THEM. Did I never blog them? Really?! That's nuts. I love these photos. Here. Two Noah photos, when he was ALSO 9 months old. Oh, the parallels!):
Okay. That is remedied. (Isn't he darling? He definitely has his own baby look, though. He and Lucy are not so similar here at the 9-month mark. But both insanely lovable.)
ANYWAY. I LOVE this quilt. Love love love it. and January, with snow, ice, winter, seemed a good month for the blues of these photos. The denim headband flower was made by my sweet friend
Heather Bauers
, using my t-shirt flower tutorial,
here
.
The necklace is an Amber Teething Necklace, made from Baltic amber and meant to be soothing to inflammations of all kinds (arthritis, etc.) when worn against the skin. It was a gift from my friend
Misty
, and I love it--- both for its healing properties and just because it's sweet and pretty.
(Gosh, isn't she perfect with all those blues? Her EYES, my goodness!)
And her nine-month birthday was celebrated with Grandma Vicki here, visiting from Korea. We've LOVED having her here, and Lucy is just delighted by her! :)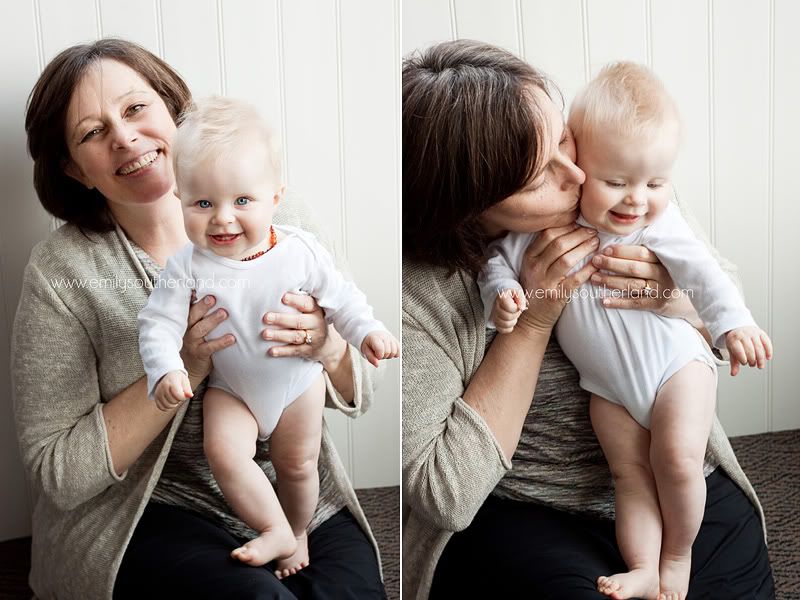 And there you have it... My baby. Too close to one year old, and bring utter joy to my life every day.