Remember how yesterday, I mentioned that all the Lucy photos I'm sharing kind of keep her in a time capsule of newborn-ness? And that she really HAS grown? I promised a current image for the blog, and am happy to share with you Lucy's 2-month photos, taken on June 12. This first one is an homage to
THIS
brilliant idea, found on Pinterest, originally done by
www.younghouselove.com
. They did weekly photos from birth, which is AWESOME because infants change like CRAZY in the first weeks... but since I was well-entrenched in the 30 Days of Lucy at that point, I decided I could adapt this cool idea to be a MONTHLY thing for my Lucy. Starting late, at Month 2... since I didn't even know this awesome idea existed during Month 1. Anyway, enough yammering. Here's the pic:
But since I caught Lucy being cute, I had to snap a few more before the crying photos inevitably began... And BOY HOWDY, did this girl give me some cute stuff:
I mean, I am SO in love with her eyes! Not only the current color (as-yet-to-be-determined what they will ultimately be)... but the sparkle and awareness that begins to enter a baby's eyes after the first month. I LOVE her alertness, and the trademark Lambson Big Eyes I apparently bring to the genetic table. Noah always had the same round head and big eyes as a baby...
Check it out
. *swoon*)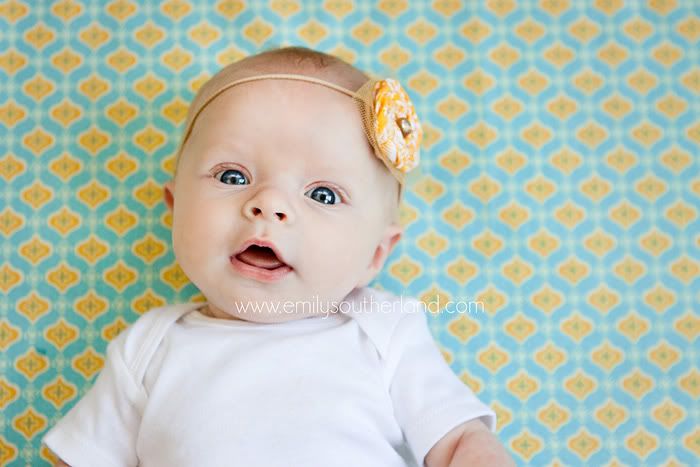 Seriously. She is such a cute baby! And the happy moments we get? PRICELESS.
On to other smatterings of randomness....
Noah is in Primary at church... a Sunbeam. It is so cute to see him start to learn like a KID and not a toddler, and it is a crack-up to hear his retellings of his lessons. Often, too, he'll come home with some AWESOME piece of art/project from his lesson, and I MUST keep it forever. Like this one, from Mother's Day: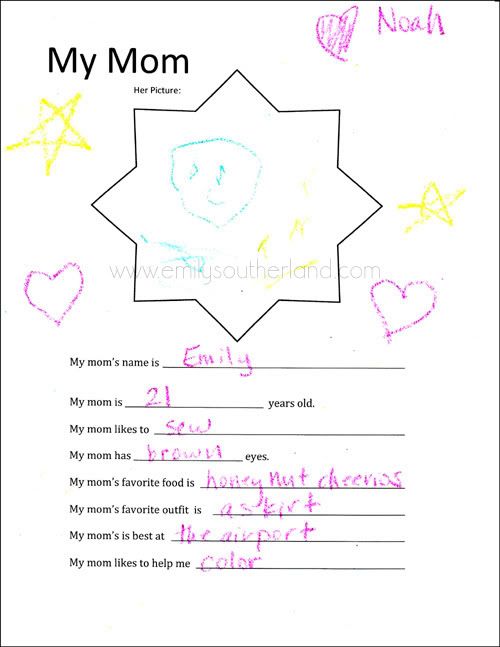 Not only am I TWENTY-ONE (cool!), but I am the BEST at the airport. You should see me. No one rocks an airport like I do. And for the record, Honey Nut Cheerios is HIS fave food, not mine. Mine is still chocolate cake with vanilla frosting. (But after a trip to Soulard Farmer's Market this last weekend, and a stop at the artisan cheese booth, specialty goat cheese is threatening to usurp that spot.)
And then this one, from this past Sunday. (Shh--- I suspect his sweet teacher helped a LITTLE with this one...)
Too cute for words, right?
And on to today. Did I just drive around in our car for an hour, JUST to keep Lucy asleep long enough for a decent mini-nap? Why yes, yes I did. We were leaving the playground from a playgroup gathering, and Lucy was on the edge of a meltdown. She chose sleep instead, and crashed within 3 minutes of us getting in the car. So instead of heading home, which was 13 minutes away, I asked Noah if he wanted to go on a drive and we hit up Taco Bell for a cheap lunch and cruised town. For an hour. We headed north on Skinker, then east on Page... North on Union til we got to I-70... Then we headed into the city and ogled the Arch and some trains and the other industrial buildings of the riverfront... Then headed back west on Arsenal, north on Jefferson, then west on highway 40 til we ended back on Skinker and finally pointed toward home.
Was it worth it? Oh yes. It absolutely was. Noah and I chilled, listened to Regina Spektor, enjoyed the gorgeous day and the sights from our windows... and Lucy slept better than if we had gone straight home and tried to shift her settings.
Last random bit: Have you guys been to
Oh Lolli Lolli
, the candy shop on De Mun in Clayton? SO cute, such yummy variety, and right smack next to the playground we like to play at sometimes. Noah and I got ourselves a treat after our playgroup today. Mine was a small bag of triple-dipped toffee balls.... And I truly TRULY wish I could show you a photo of this amazingness.... This new favorite treat I've discovered....
But somehow, during that hour-long drive, they disappeared.
Trust me, though--- AMAZING. I'm going to have to keep myself from going back for more.
All righty... Lucy ended up sleeping another hour AFTER we got home (Atta girl! Thank you!!!), hence this blog getting done... But now she is awake and nursing and she writhes when I try to type as I nurse... So I'm outta here. She's not getting anything accomplished at the moment.