Are these pig cuppies making you smile?? They sure made me grin! I got this "Taste of Home" recipe magazine several months back at the checkout counter, and have always intended to make the piggies for fun one day.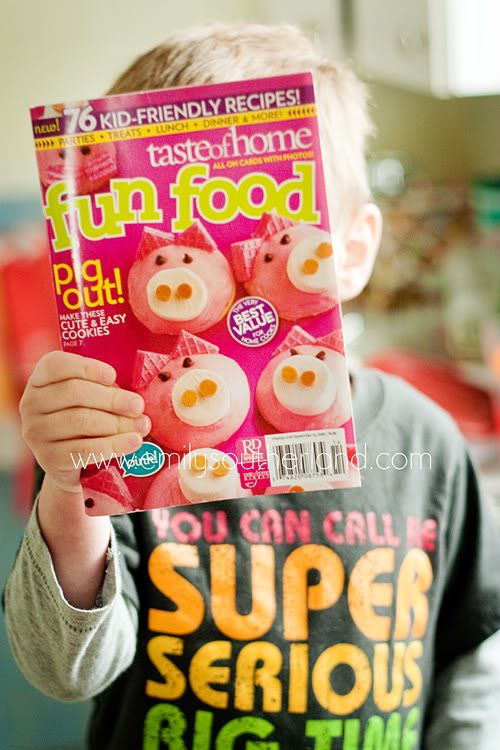 The magazine has them on cookies, but if you know me, why would I make sugar cookies when I can make CUPCAKES??!
So Noah and I got to work one snowy day, and assembled a batch of vanilla cake mix cuppies with pink homemade buttercream frosting. I purchased and assembled the necessary supplies: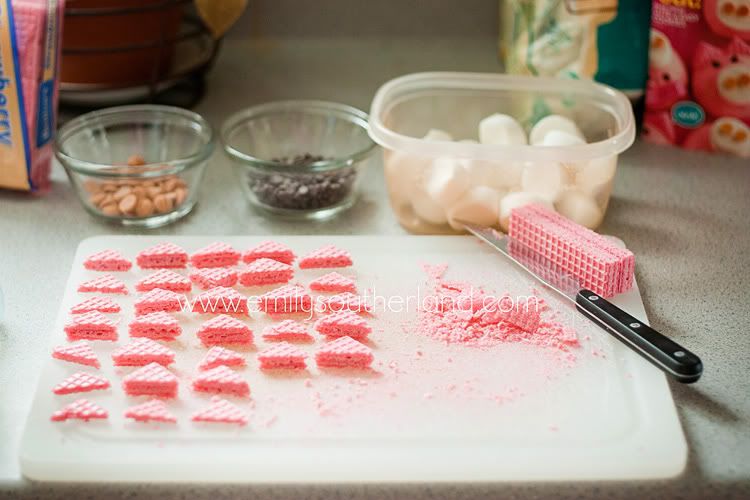 1 package of pink strawberry wafer cookies
1 bag or partial bag of mini chocolate chips
1 bag or partial bag of butterscotch chips
1 bag or partial bag of large marshmallows
pink frosting (you can tint the store bought stuff pink if you want!)
1 batch of cupcakes, any flavor
~ I don't spend time making the actual cupcake gourmet... you can just use the cake mix. The point of these is the piggy cuteness, not the cake itself.
~ For the marshmallows, I found that they looked better if I used my kitchen shears to cut them in half to be shorter. I just reshaped them after the cut and put the cut side down.
~ The butterscotch chips were a cute idea, but NOT convenient to implement. They didn't stay on the marshmallows without some help from a dab of icing. And at that point, if I was going to put a dot of pink frosting on the marshmallow, why not just make THAT the nostril? So I ended up putting frosting in a piping bag and piping on frosting nostrils instead of using the chips. You can see it both ways in my last photo, below, and decide for yourself. (And if you don't already know, a sturdy sandwich-sized Ziploc bag is a PERFECT piping bag. Just put 3/4ths of a cup of frosting in one, sip it up, then snip a tiny corner off of the bottom and pipe the frosting out of that hole.)
~ The strawberry wafers were NOT easy to cut. They didn't maintain themselves well... splitting apart all over the place. Must be because I used the cheap brand! So if you look again at the prep picture above, you'll see that I salvaged what I could. Some of the triangles are perfectly cut, others are half or even a quarter of the actual wafer, thickness-wise... and I just rolled with it. I had a MASSIVE "discard" pile by the end! Once the wafer (or partial wafer) was in the frosting on the pig, it held together fine.
And once all that nonsense was worked out (and my 3-year-old LONG gone from the "helping" part of it), we had a batch of reasonably cute replicas of that cute pig idea I was inspired to recreate from the Taste of Home magazine.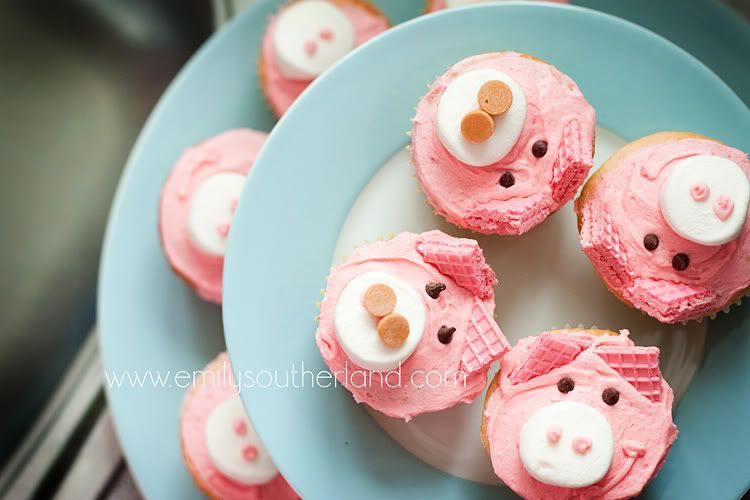 And so.... With that inspired idea, we head into a new month this week!! Spring is FINALLY really close! (And March is the LAST MONTH for me to get things done before baby time comes. ACK!!!)
In the spirit of tackling the new month with purpose and vigor, I'm posting my to-do list here, all "cute'ed up" so that maybe it'll be fun for me to get to it and get things done.