This winter is killing us, right?? With gray blahness outside and the same scenery inside day ofter day, it seemed time for SOMETHING to shake up this ICK. so I decided to throw a Flower Party. Nothing big, definitely nothing elaborate--- funds are always a bit low in January/February, so I couldn't deck the halls or cater to the nines... But I figured a few piles of fun fabric, some cute flower ideas to share with the gang, and a potluck dessert bar would be enough to keep a gang of girls entertained for one evening.
Since becoming a Flower Addict, that ever-present bloom in my hair, I've scoured the Internet for tutorials and ideas for making flowers, both because it saves a bit of money, and also because it is so darn satisfying to make something frou-frou and pretty out of relatively little supplies. I LOVE this hobby!
So I got the girls together and let the fun begin--- starting with some small talk and treats, then moving on to the teaching and demonstration of three or four different fabric flowers... And spending the rest of our evening cutting, sewing, gluing, re-teaching, sharing, laughing, and ultimately walking away with two or three new fabric flowers in everyone's possession.
As always, I have photos... These aren't AMAZING--- all taken with my flash, since the party was in the evening... But the fun is in the details. Check out the piles of scraps, the yummy food all the girls brought (how sad/funny that the day after I found out I had gestational diabetes was the day we had this dessert bar. ACK!)
And check out the flowers coming out of these girls' hard work! SO cool!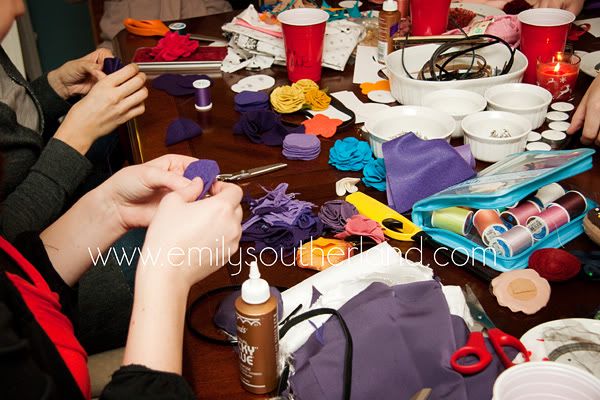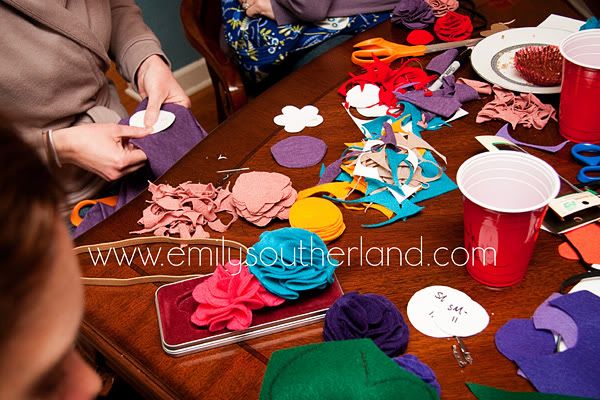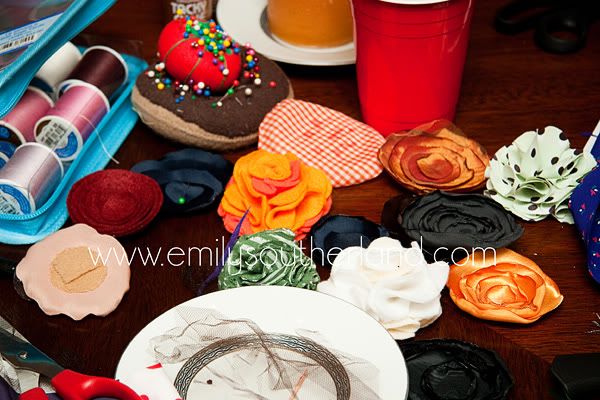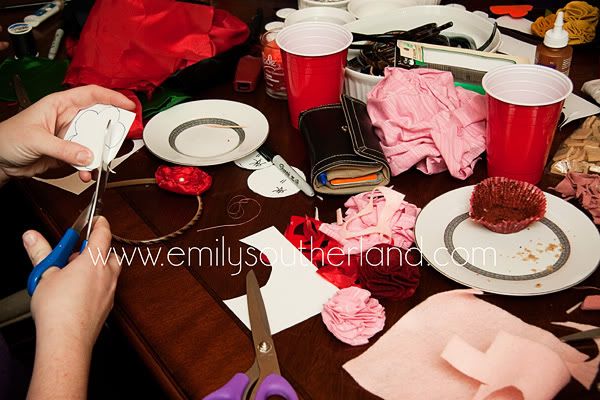 Such a great way to break up this winter! I really loved how the whole thing came together, and REALLY need to have crafty parties more often. Seriously.
And if any readers out there are wishing they could have made a fabric flower or two with me, I am DELIGHTED to tell you that only EIGHT months after taking the photos, I finally got my butt in gear and prepared a fabric flower tutorial for you guys to try on your own. Seriously. It only took FOREVER to get motivated and get it done. Look for that tutorial later today, and think of it as your own personal invite to an online flower party. Feel free to check out my other flower tutorial from last year, here, and if you end up making any lovelies from my tutorials, blog it and leave me a comment! I'd love to see what you're making! You can even email me a photo or two of your finished products and I'll blog them and post a link back to you. Fun, right?
Okay, off to go WRITE that tutorial. Look for it later today! And GET THEE SOME FABRIC and get creative. We HAVE to survive this February somehow!!