The gals at 2Peas had a fun thread going about what your work space looks like this very minute--- no cheating, no tidying up first...
And I'm always up for revealing the TRUTH about this life o' mine, so I got up right them and snapped a few shots of my most-used work spaces... My desk, my sewing table, and my sideboard in the dining room (used for all my work things).
Ready for the TRUTH?
Not too bad, actually!
Eek. This poor table really fluctuate between looking like this, and being clean and ready for work. Currently... well.... it's not-so-pretty.
This buffet is usually used solely for my Emily Southerland Photography things-- files, equipment, packaging materials, business cards, etc... But in the off-season, the craftiness in my life is spilling over. Yikes. I SWEAR I had this thing looking AMAZING the day before my Flower Party... but since then, it's drifted back to disarray... So sad!
And a close-up of the prettiest part of the mess--- my Lucy-Quilt-in-Progress: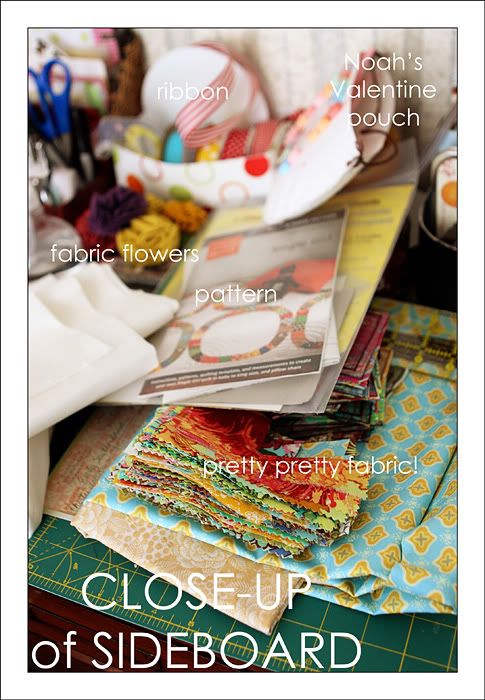 I mean well... I try to get things back in their place... But gosh. I mostly fail. Especially as a tired, unmotivated preggy girl. *shrug*
Anyone up for revealing THEIR workspaces? Blog it, share it in comments here... I'd LOVE to see. They're fun!
In other randomness... I'm surviving this gestational diabetes diet with the help of sugar free candy. It's a life-savor for those moments I HAVE to have something sweet in between meals/snacks. I'm finding that the Russell Stover stuff-- toffee squares and peanut butter crunch pieces-- are particularly happy. And the usual side effects of too much sugar free candy aren't getting to me yet because I still try to limit my intake, and let's face it-- pregnant women can use the help. If you don't know what I'm talking about, it's probably best that you remain ignorant. It's NOT a dinner conversation. :) :)
Current TV/Netflix addiction:
The four seasons of Prison Break.
I didn't want to love this show--- the concept of a show detailing a breakout from prison seemed okay enough for one season... But the idea that a show could continue to be called "Prison Break" after the breakout seemed silly... and I decided long ago to just avoid the show altogether.
But MAN.... now that I'm in the 4th season, I am so glad I gave it a chance finally. Ludicrous or not, implausibilities that always arise from these types of shows, it's just been FUN to get lost in the thriller/crime/escape/gorgeous genius main character plotlines... Makes me feel like I'm getting lost in Alias or 24 again. So I am unabashedly a HUGE fan now. I'm in it to the end now. (17 more episodes, and I can get my life back!)
The weather has been AMAZING this week, and we get to end the week with a road trip to
Rocheport, MO
for a little belated Valentine's Day getaway. My brother and sister-in-law treated us to a bed and breakfast gift certificate for Christmas, as well as a GC for a local restaurant there, so we're letting Grandma and Grandpa have some Noah time, and we're going to lose ourselves in the charming little riverfront town. Shops, trails, and some time away from LIFE should be just what we need... and add to it this beautiful weather and we have a PERFECT WEEKEND planned. Hooray!
With that randomness, I'm outta here.... Have a good weekend!