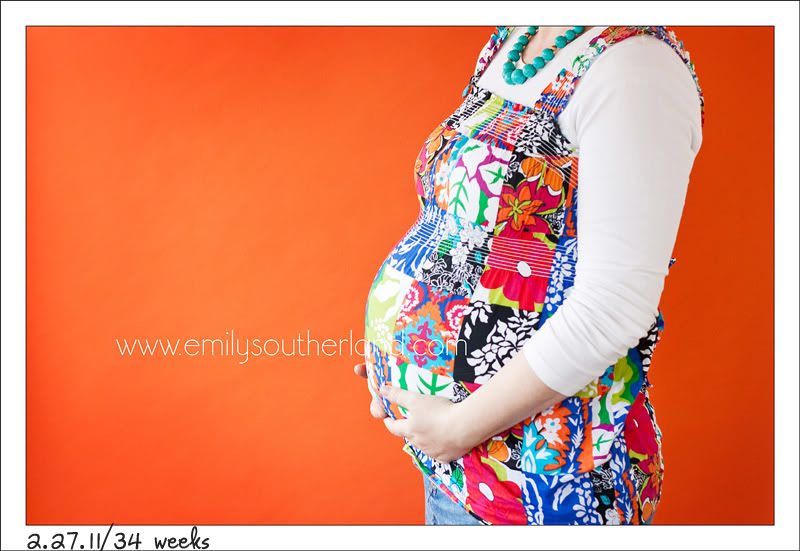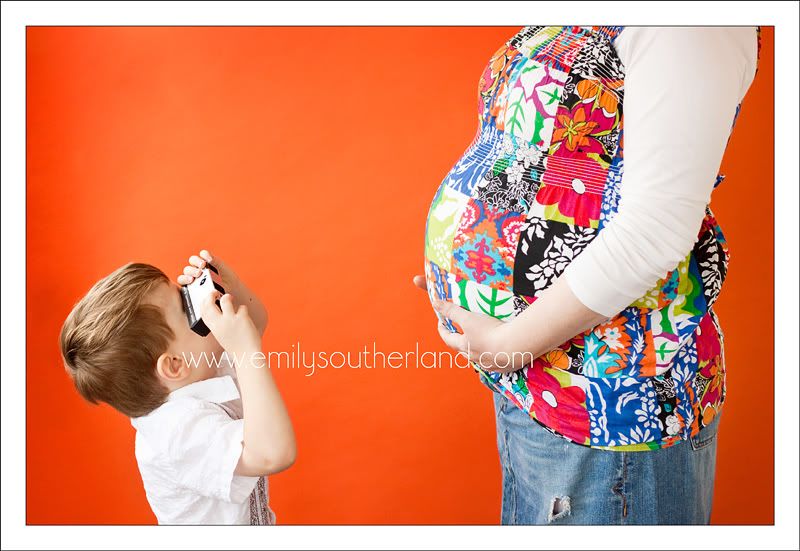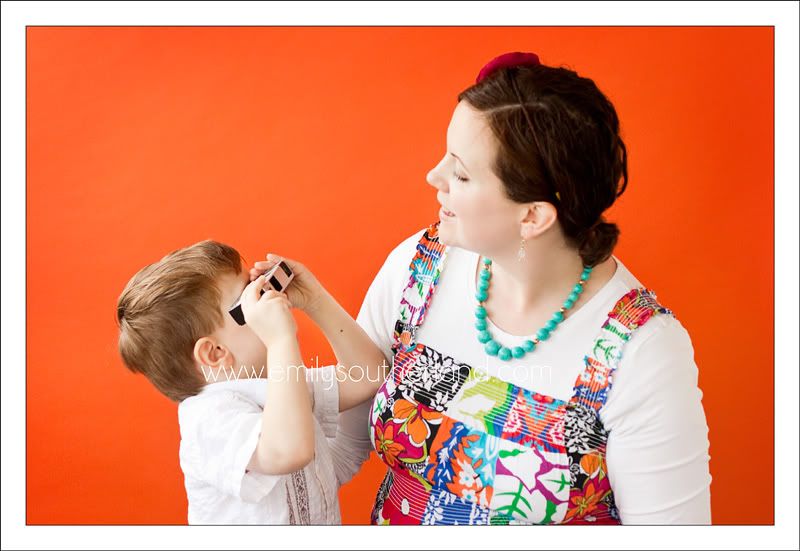 34 weeks and still feeling pretty good. Have you noticed I'm not scared of color?? I think my love affair with dressing brightly really reached new heights after delivering Noah three years ago... There I was, frumpy and post-pregnancy in the dead of winter, and the ONLY way I could feel semi-cute was to put on something bright and colorful and layered to hide my blahs/my belly rolls/my frump. And so it began.
I love the orange background with that crazy shirt up above there. It is just me, or does the whole thing make you happy??
And Noah--- how cute is he? We have this silly old 1980's camera I bought for him at Goodwill, and he loves to "take pictures" with it... so when he saw his daddy taking my photo above, he had to get in on the fun. Believe it or not, the shots of Noah and I are totally unplanned, and I ADORE them. You can see his "photographer face" in that last shot--- all scrunched up and concentrating. So cute!!
It occurs to me that it is now MARCH. And I am having a baby in APRIL. AACK!!! I have so much I'd love to finish before the world flips upside down in April.... Baby projects to complete, house to organize and re-arrange, client work to do... naps to take, adventures to have, dates with Joe to fit in... Lots of one-on-one time with Noah to squeeze in...
Time is gonna fly, starting NOW. I need to be mindful of that and work while I can, getting things done NOW.
But I also need to be forgiving of myself, and let it alllllll go if baby comes early, or I simply get too big and too tired...
For now, though--- the fire has been lit, and I have things to do. Behold my cute to-do list for the week--- and the things I've managed to get done just the first two days! A pretty good start, methinks:
Tomorrow is a Noah-centered day, with his Joy School, then a fun play date at the Magic House....
Thursday is a morning play date/tutoring session with a friend, then a photo session in the afternoon...
Friday is a birthday party for Noah's friends, then a Girls' Night in the evening...
Saturday is OUR maternity mini-session, then a client mini-session in the afternoon....
This week is gonna be nuts. Pray for me that the rest of that cute to-do-list gets done somehow!!
Because suddenly, thinking of all of this makes me want a nap....