* Noah helped me plant some basil the other day... Take a look: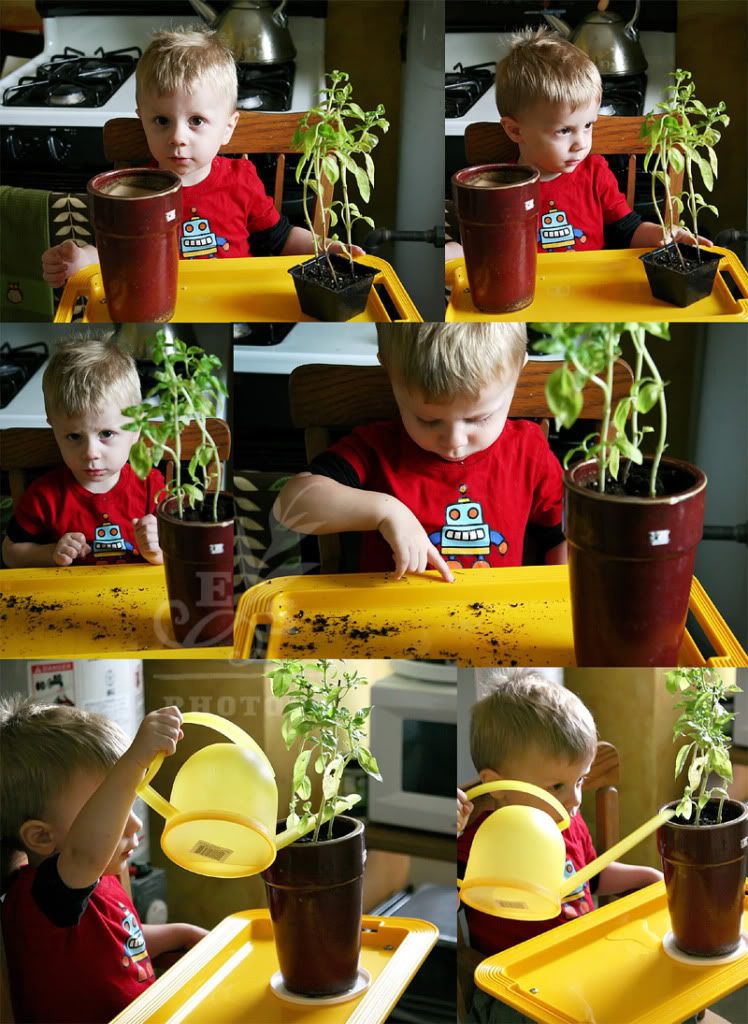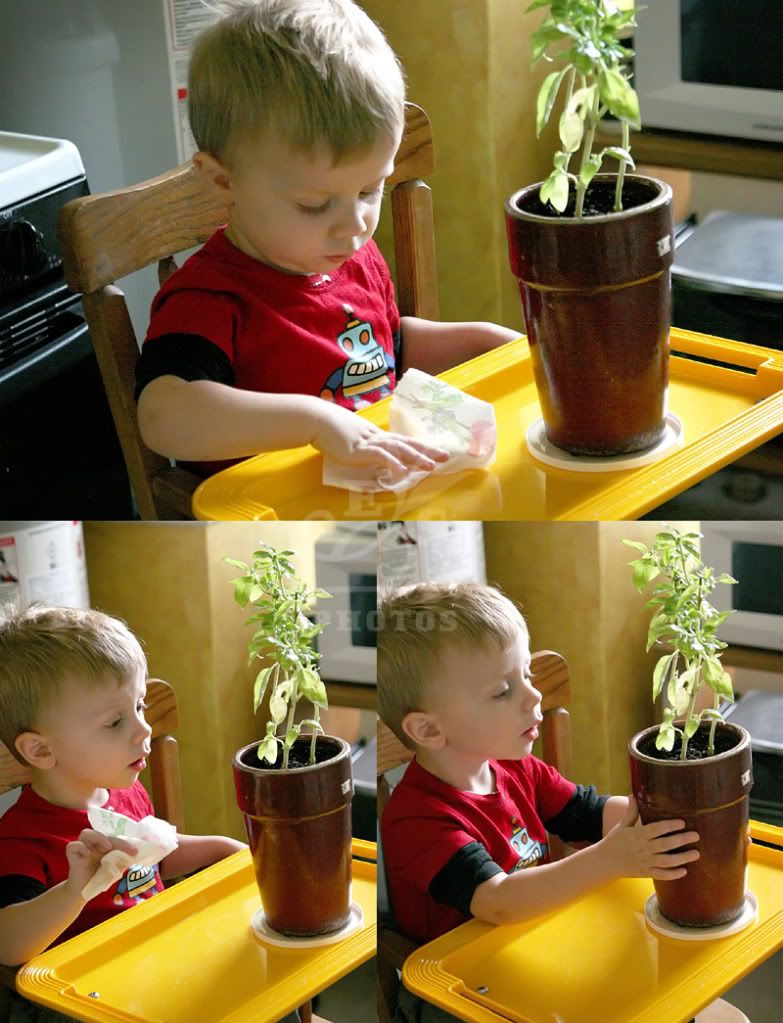 * I completely credit my friend Katie and her
Mozzarella Caprese
while I was in Utah for Noah's and my acquisition of a little basil plant of our own. YUM.
* Other randomness... Hm. Yesterday I attempted a haircut on Noah. My first time with a pair of clippers. I was shaking the whole time. Clearly NOT good for a steady haircut... Haha. But he doesn't look TOO stupid, and he still has his ears... so we'll call it a success. (Just don't look too closely!!)
* My current daily schedule, loosely:
7:00-7:30 Noah and I wake
7:30-8:00 Breakfast
8:-9:00 Morning Art, dishes, playing around, other random chores
9:00-10:00 Sesame Street
10:00-12:30 either we run errands, do stuff around the house, or get out and do something fun
12:30-2:30 Noah's lunch/naptime. I will either usually WORK (*sigh*) or take a nap of my own. Sometimes I just waste time online. Ha!
3:00-6:00 I either have a photo shoot, or Joe, Noah and I go out to play, or we go to dinner, or we just hang out and laugh at Noah's antics in our living room.
6:00 we begin dinner stuff, Joe is often getting ready for work...
6:30 Dinner
7:00 Noah's bath
7:30 Noah's bedtime
8:00 I begin my "work shift"... Editing, emails, orders, bookkeeping... Usually with a movie or other entertainment playing behind my Photoshop screen. My two nights off: Tuesday (for Joe's WoW) and Sunday (Sabbath day holy and all that).
12:00 my PLANNED bedtime.
1:00-1:30 am More often my REAL bedtime.
* Simple little routine, with little variance, but it is working for us. Lots of family time, lots of mama time... and still time for work. The only thing missing from this that I REALLY miss and am trying to re-integrate is art time... Projects and cupcakes and sewing and altered books.... and .... *sigh* MISS IT a LOT.
* I am teaching Noah to sing "Popular" from the musical
Wicked
. Um, it's ADORABLE. He does the Kristen Chenoweth squeals, loves the spoken "you're welcome", and the sustained finale note. Pretty much it KILLS me every time.
* I will make
THIS
someday. I pledge it here and now.
* I adore
THIS
article.
* I LOVE my new cover design for the keepsake photo books I include with all my sessions. It is CUTE. See?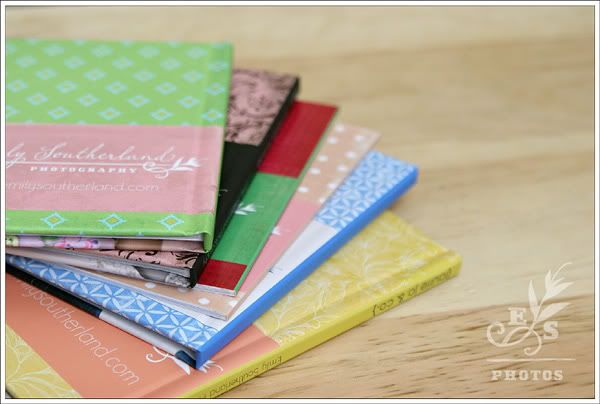 And it is EVEN CUTER in hardcover, which is an upgrade option. (The top two and bottom two in the picture are hardcover. The two in the middle are the softcover.) So appealing to have this little book just filled with cute photos. LOVE. I kinda always just want to keep them for myself.
* The one indulgence I get to have more than a lot of mamas is going to movies. I have not been uncomfortable going alone since early college years, so when Joe has his computer night, if I can't round up a friend to come along, I sometimes just treat myself to a movie anyway. LOVE it. The only thing I miss--- going WITH Joe. Man, I miss that. The snuggles in the dark, the talking about the movie afterwards.... *sigh* Someday. We'll get that kind of time together again soon.
* But speaking of time together, we DID get a date night last Saturday. My sister Beckie babysat and we headed off into the wild blue yonder. Joe was in charge of planning, and he had this elaborate plan to go to Sikeston for the famous "
throwed rolls
" at Lambert's... But he miscalculated the distance and by the time we got on the road, we would not have made it there in time. So sad. It was the cutest plan. So, please don't laugh-- you'll die when you hear what we spontaneously decided to do instead.... Okay, I'll tell you. (So random.) We stopped in ARNOLD, a hick little nothin' town south of St. Louis, and we chowed down at PONDEROSA. Seriously. And don't blame Joe on this. It was all my idea. And we went into it tongue-in-cheek all along. I mean, when we walked in, the first thing we saw was three big men in line in front of us with the most horrifying mullets ever. Now, I am one to appreciate glorious mullets-- well-kept, groomed... These... Well, these were NOT. There was no mullet-ego with these men. No having one for the sake of having one. It was just.... a given. Who they were born to be. Thereby omitting any need to actually take CARE of the hair. So UGLY. Ha! And....well... that was our date night. Mullets in Arnold. All-you-can-eat cheap food. But ya know? We had the BEST time. Talked and talked and talked and laughed.... Held hands... I LOVED it.
* I have random'ed enough, methinks. So.... On that note. Tell me a recent story of your own: what have YOU done that is out of the ordinary in the last two or three weeks? Good or bad? I wanna know!
(and if you like the Friday Randoms, I was inspired by my friend
Mel
, who has done them a lot recently... So go do your own. 'K? Or Saturday Randoms. Whatevs. If you do, tell me in the comments and I'll list them here with links...)