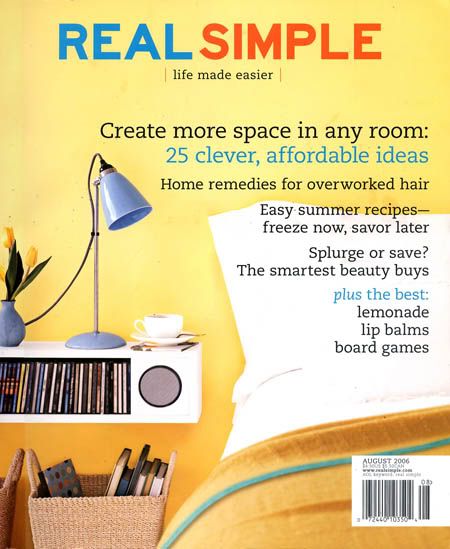 Dear Someone Who Loves Me and
Clearly
Knows Me Well:
I got home today from an impromptu family outing to the CityGarden, and, laden down with diaper bag, wet clothes, towels, and lunch in a to-go bag, I stepped over the pile of mail pushed through our mail slot. Took one step away, stopped, then turned around and went back. Peered closer at the pile. And saw.....
the latest issue of "Real Simple" magazine. With MY name on it.
*squeeeeeee!!!!*
Whoever you are, you are SPOT on. I adore this magazine. It is pretty much a PERFECT magazine for me, from the gorgeous photographs to the clean lines and excellent ideas... The inspiration. And I have never subscribed to it because it it a luxury. Something I can browse at the store and sigh over, but then put back and let go. But to have my very own subscription? TRUE DECADENCE.
Whether my giver intends to reveal themselves or whether it was meant to be an anonymous treat, let me just say--- THANK YOU. This is awesome. I am still giddy. THANK YOU.
And now that I see my OWN reaction to such an unexpected treat, it makes me think... Hm... How can I pay this forward? I'll be pondering that a bit more as I go. 'Cause everyone deserves this bubble of unexpected joy once in a while.
Anyway, to my giver, I am deeply grateful. Have a sunny day!
Love,
Em