*a note-- because Blogger is a vertical friendly layout, your horizontal images will necessarily be smaller than your vertical ones. The photo I posted at the beginning of this post of Noah is HUGE. It is 650 wide by 878 high. If it were horizontal, it would still be 650 wide, but only 445 high. Make sense?
#3.
Once you have the size you want, you can either click "save a copy", keeping the original sized one intact, or click "replace original". I usually just replace the original, because I typically don't have use for a HUGE file of the same pic online.
#4.
Now you are going to upload you Photobucket photos to your blog post. When you go to your Blogger screen, you'll click the photo icon as usual. But instead of clicking "browse" to get images from your hard drive, you will look to the right and instead be entering the URL of your Photobucket image in the box on the right.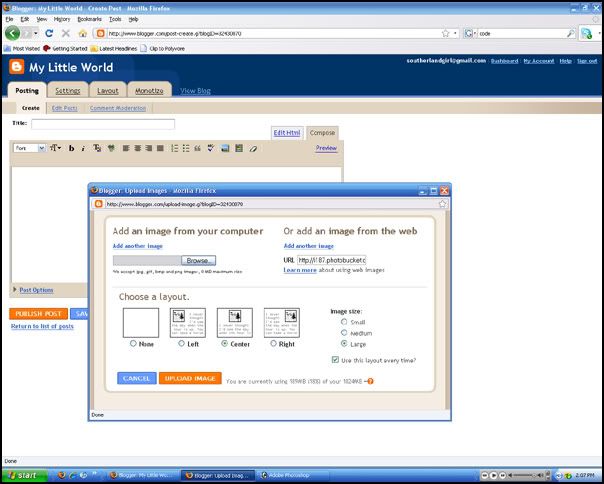 Where do you get the URL? Well, remember the codes under each Photobucket image? Go copy the one that says "direct link" and paste it here. You can do up to five at a time by clicking the "add another image" link. When you have your codes put in, hit "upload". And stand back and be amazed at how much faster your photos load to your blog. Man, HTML is awesome.
#5.
Now. Ideally, you now have a gorgeous, HUGE photo on your blog. Ta-da! But one more thing. Sometimes you have misjudged in Photobucket just how big you wanted your photos. Maybe they are TOO big. Or frankly, maybe you were too lazy in Photobucket to actually RESIZE them. Lucky you-- Blogger has a useful trick.
Okay. To Summarize:
1. You want BIG photos.
2. You'll need an external photo website that provides code.
3. You'll upload your images there first, then from there to Blogger.
4. You'll resize them to your satisfaction either in the photo program or in Blogger.
5. Your friends will OOH and AAH over your blog's new look-- bigger, fresher, more inviting... And Great Aunt Bethyl can SEE the photos, finally.
6. You'll either keep this new secret to yourselves, or you'll link back here and give praise and glory to me, your helpful teacher. Who in turn gives credit back to
Megan Cristello
, who taught HER.
Got it? Now, let's enjoy some more BIG photos to end this session, just for fun, and just because I can. Neener neener.