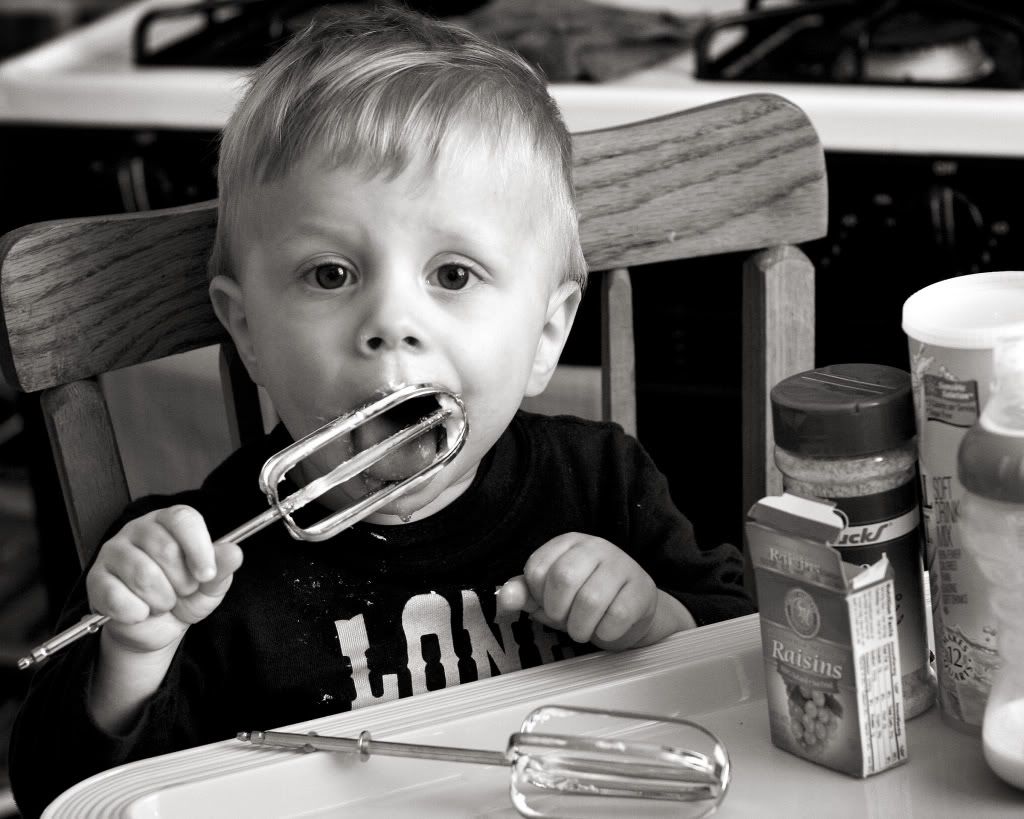 Noah's first "lick the beater" session... Fills me with a sense of coming full circle from the days my mom would bake a cake or make some cookies and we'd all clamor to get a beater. For some, this kind of event might seem mundane and unimportant, but for me, it triggers a poignant recollective experience, and fills me with deep satisfaction at where I am at in my own life.
In a million years, I could have never expected frosting to have this kind of effect.
There is just something about carefully, systematically, naturally doing the things my mother always did-- baking a cake. Mixing frosting. Sewing an apron. Taking a photograph. Something about sustaining the comforting, life-enriching rituals she always did-- the ones we took for granted.... until faced with being the one to do them. Now that *I* am the mother (oh heaven help me, when did THAT happen??), this is MY role-- to provide comfort. To provide moments of sugar-joy. To provide ritual and habit and security and handmade things. And my children will take it for granted also.... until perhaps, if I've raised them right, they'll have their own epiphanies in their adult years-- looking at their childhood through newly-opened eyes, seeing things in their father and me that even WE never saw in ourselves. I find that to be true with my own parents--- that through the lens of time and experience and wisdom, I understand them more. I see what a miracle their stewardship of us really was. How incredibly hard their task was (seven children!) and yet, how incredibly they rose to the challenge.
Ah... it's just a couple of metal beaters. It's just a batch of homemade buttercream frosting (the worn, yellowed, Crisco-stained recipe card in my mother's handwriting that I love). But somehow, the moment I handed my son his first frosting-painted beater, all of this flooded in.
And of course, I needed to take a picture.
Maybe my own sentimentality, my own tender nature makes me do this-- see, feel, then *CLICK*... Or maybe we all have those moments where the past, present, and future align in a perfect moment, and the camera is near enough, and the result is JOY.
Hm.
Anyway... to get back to a lighter tone, here, in all their glory, are the recipients of that batch of frosting... Two cute cupcakes I decorated as a demonstration for a group of fun girls who came over the other night to get a little "resident expert" lesson from me... (who is NO expert-- just obsessive in her hobbies!). The first, a sunflower design that originated from the marvelous book
Hello Cupcake
, which every cupcake lover or mom should own: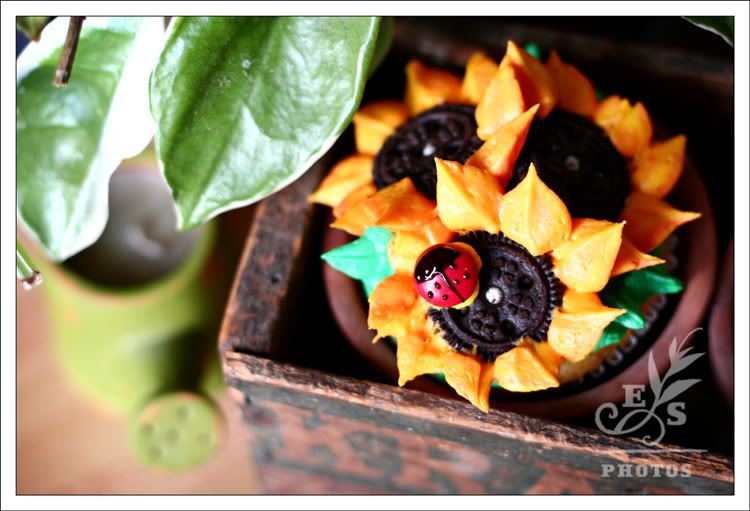 (oh my, how I love to photograph cupcakes. Can you tell??)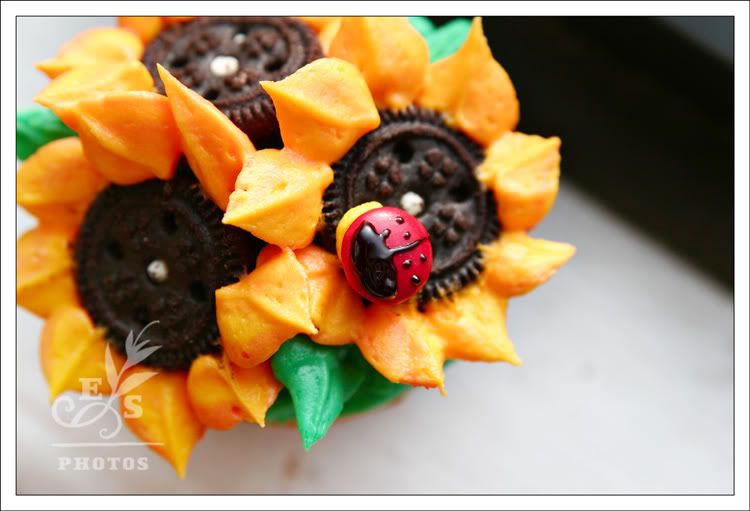 The second design was just a colorful way to use up the rest of the supplies I had on hand: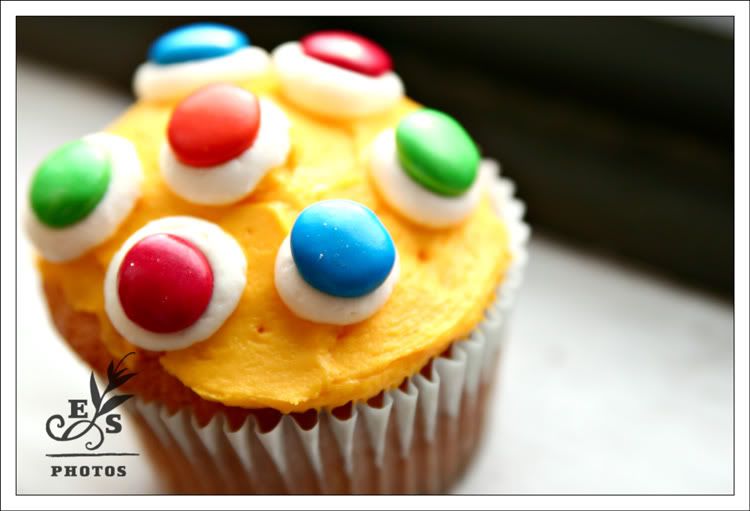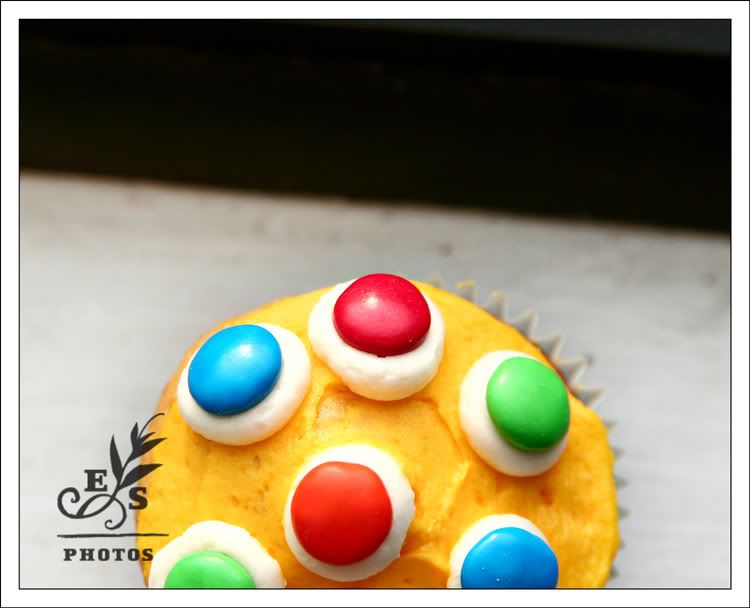 And there you have it.... Frosting= Joy. Truly. Always.