Remember
this guy
? My
hootin
' little sanity saver?
Well, he belongs to this: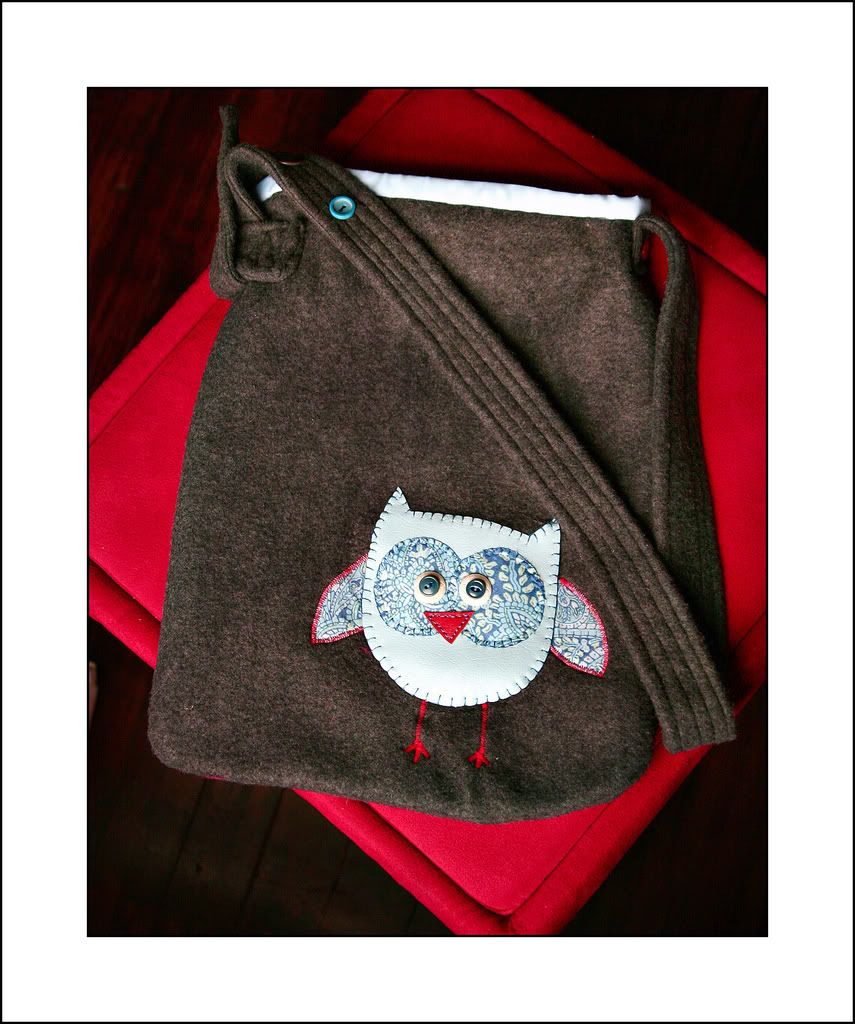 My new purse/bag/carry-all!
I have been toting around the same fun, funky green Old Navy bag for a few months now because of the convenience of the over-the-shoulder strap, but it was starting to get kinda BORING to me. And the green? TOO AUTUMN-Y. I was starting to crave a new purse.
And since my sewing machine and I have been getting better acquainted this season, I got a bee in my bonnet that buzzed to me, "You could
MAKE
your own new purse. You could!
Bzzz
!
Bzzz
!"
Crazy bee. But I couldn't get the idea out of my mind, so after mulling it over for a few days, envisioning how I would do it, what materials I would use, if I was brave enough to attempt a lining, etc. etc... I sat down to sketch the darn thing and make it so.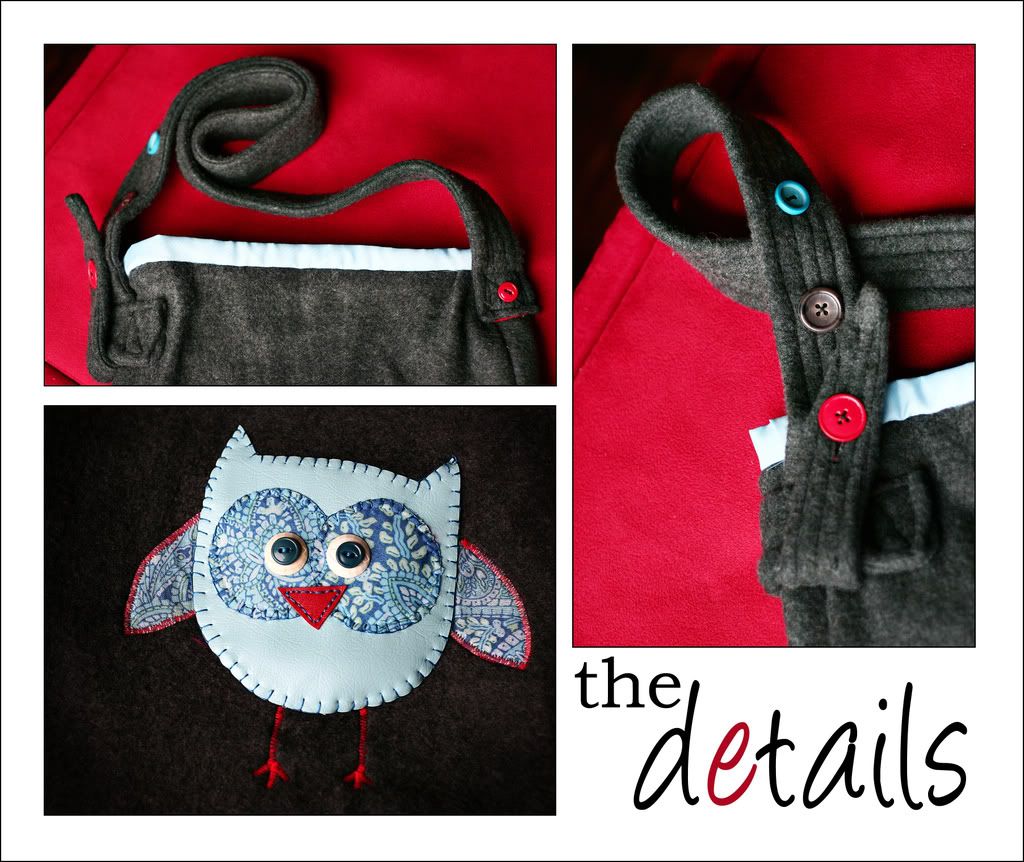 And yes-- I attempted the lining! Yikes!
So I made the whole thing up... except for a little tutorial on finishing the top of the lining, found
here
. (And I really only turned to that after everything else had been done and I was kinda stumped on how to get the top to look "finished".) I used my green bag for the size measurements of this one, and for the length requirements for the strap. (Since the thing is made of fleece, I reinforced the strap with a strip of duck cloth inside it-- then stitched the heck out of it. It keeps the fleece from getting too stretchy when my purse is FILLED and heavy...)
I also made up the inside pocket-lining thingy on my own and I'm delighted with how it turned out...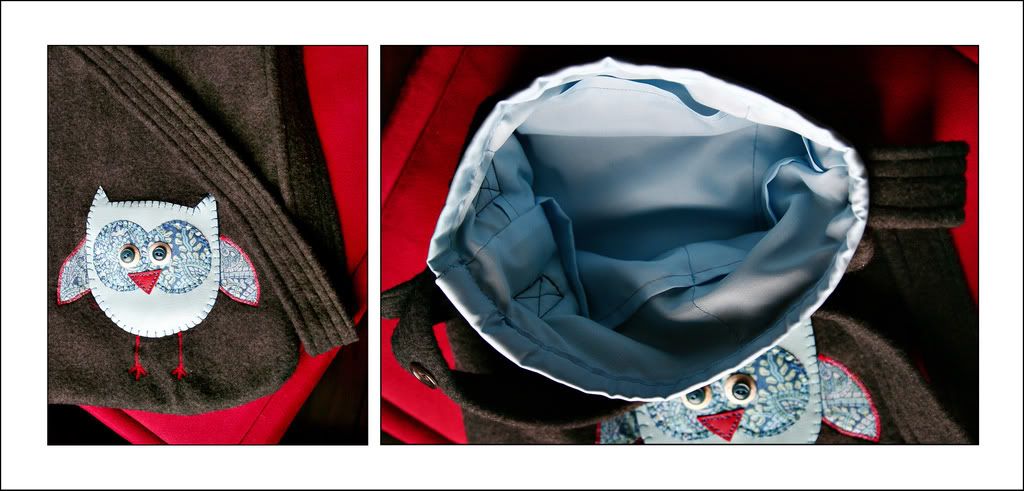 I devised the button-hole adjustable strap out of necessity-- I loved that my Old Navy bag's strap could lengthen or shorten as necessary, but knowing I was going to use fleece, I was not eager to make a separate trip to the fabric store (since I had every single scrap of supplies for this project right here in the Mason Attic) to find something to thread the fleece through. So I pondered and mulled and eventually came up with this: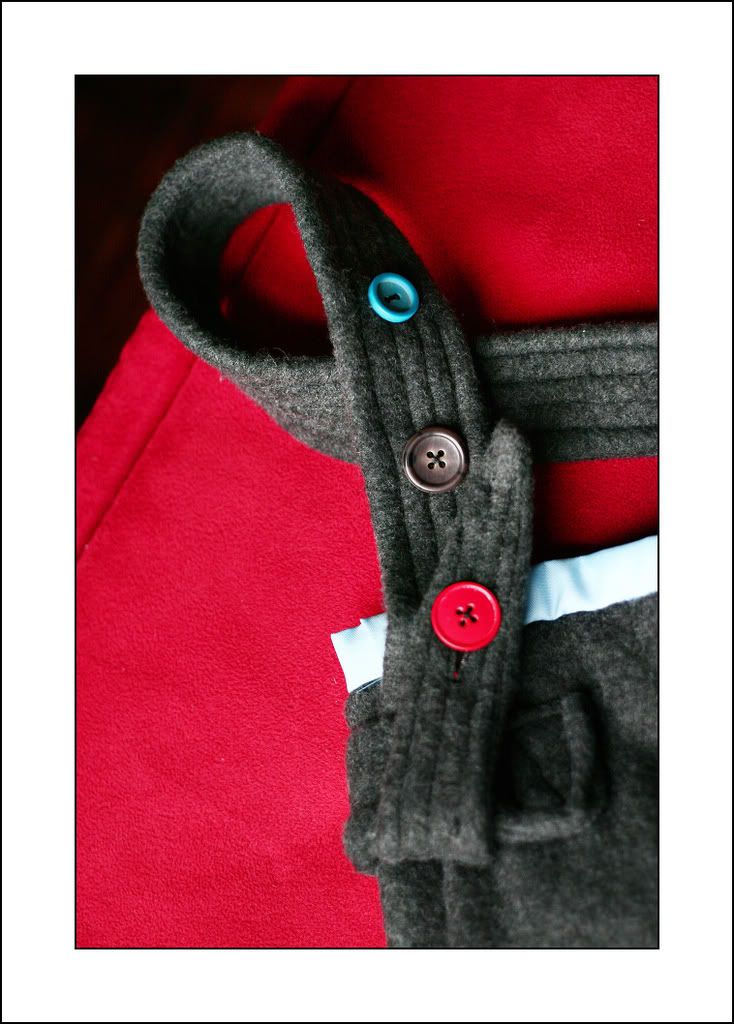 A reinforced side loop to pull the strap through. At which point, I was just going to knot the thing and call it good.... But then the button idea popped in my head and I tried to brush it away-- ("I can't do buttonholes!! And Mom didn't answer her phone to tell me how!")... But it nagged... SO I pulled out my
sewing
machine manual (I know, GENIUS!!) and figured it out on my own. And the whole owl bag became a zillion times cuter.
And the owl? I knew I wanted to applique one out of patchwork fabric... But when I went through my
oollllld
stash of fabric, stuff I hadn't pulled out in YEARS, I found my collection of
naugahyde
!! (Old car seat vinyl). Heck yes, let's do a vinyl owl!
And
slowly
, in bits and pieces, the whole thing morphed into a usable, fun little winter bag for me.
Yay
!
*
And since my sewing machine and I have
been
getting to know each other better, let me share
some
of the fruits of my labors.... My other "friends":
This plush "ugly" monster was lovingly made for my
bessie
Genny
for Christmas: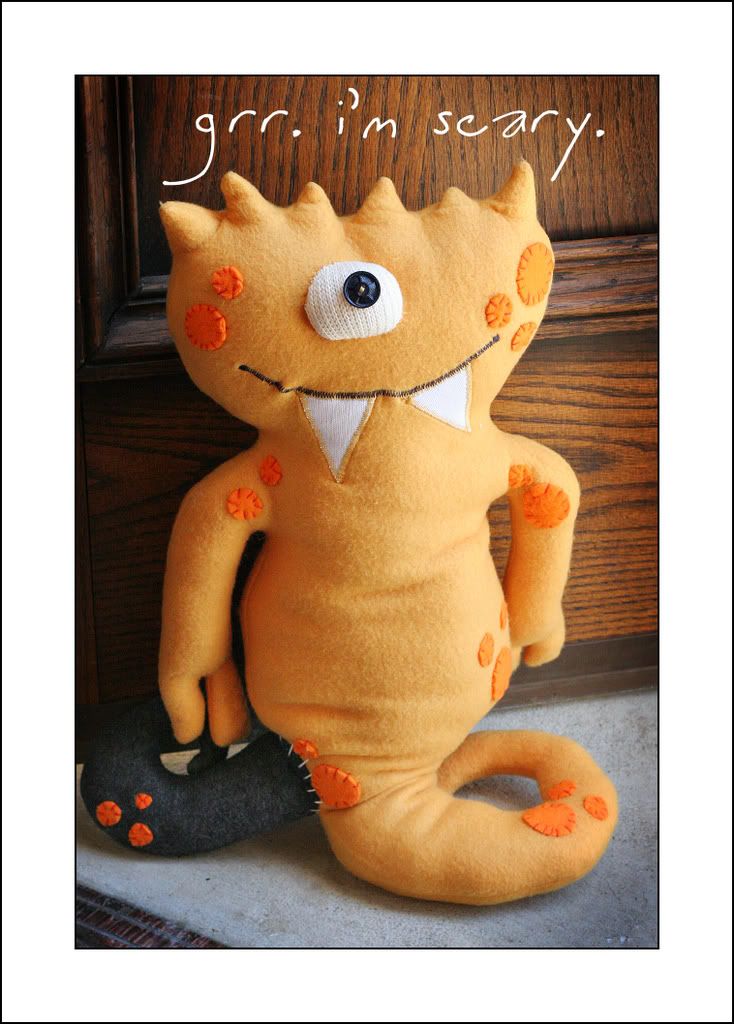 (it's kinda hard to tell, but he has a "grafted-on" leg... Tee-
hee
!)
And his "close-up" (His eyeball is a sock remnant. Love it!):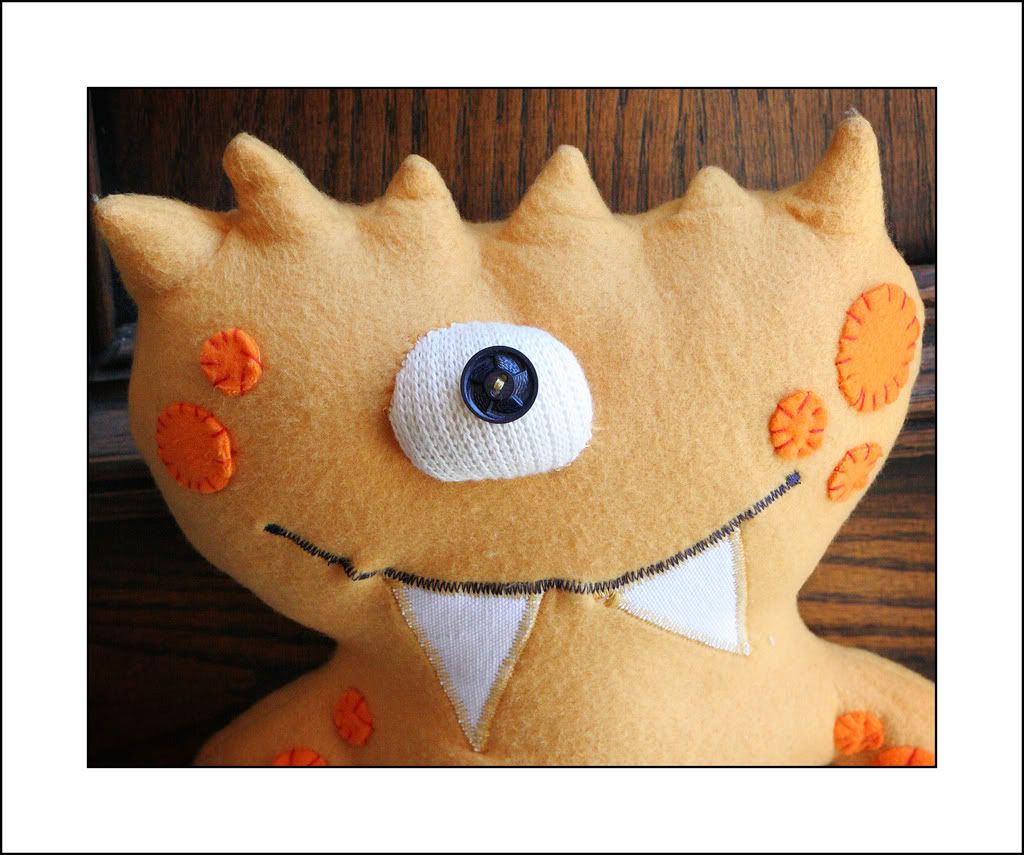 Genny, what did you end up naming this fella?
*
Genny's "ugly" was so satisfying to do, that when
Mary
came to town from Iraq, I decided she needed a smaller, more portable one to take back with her to protect her. And "Frank" was born: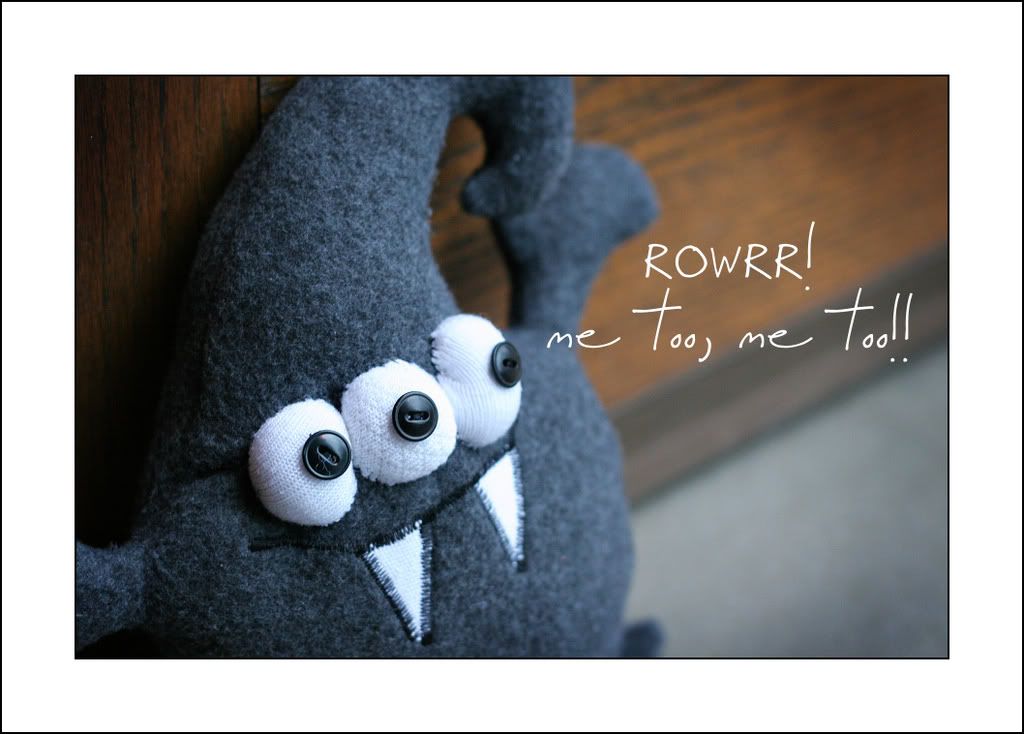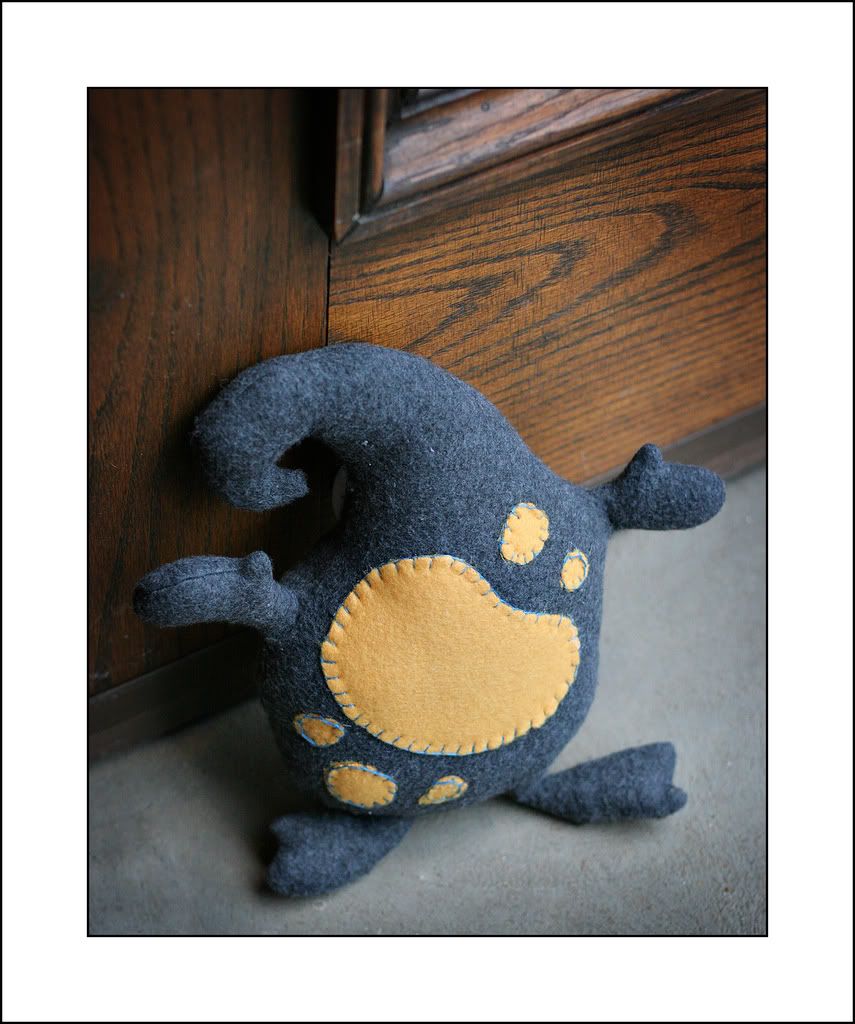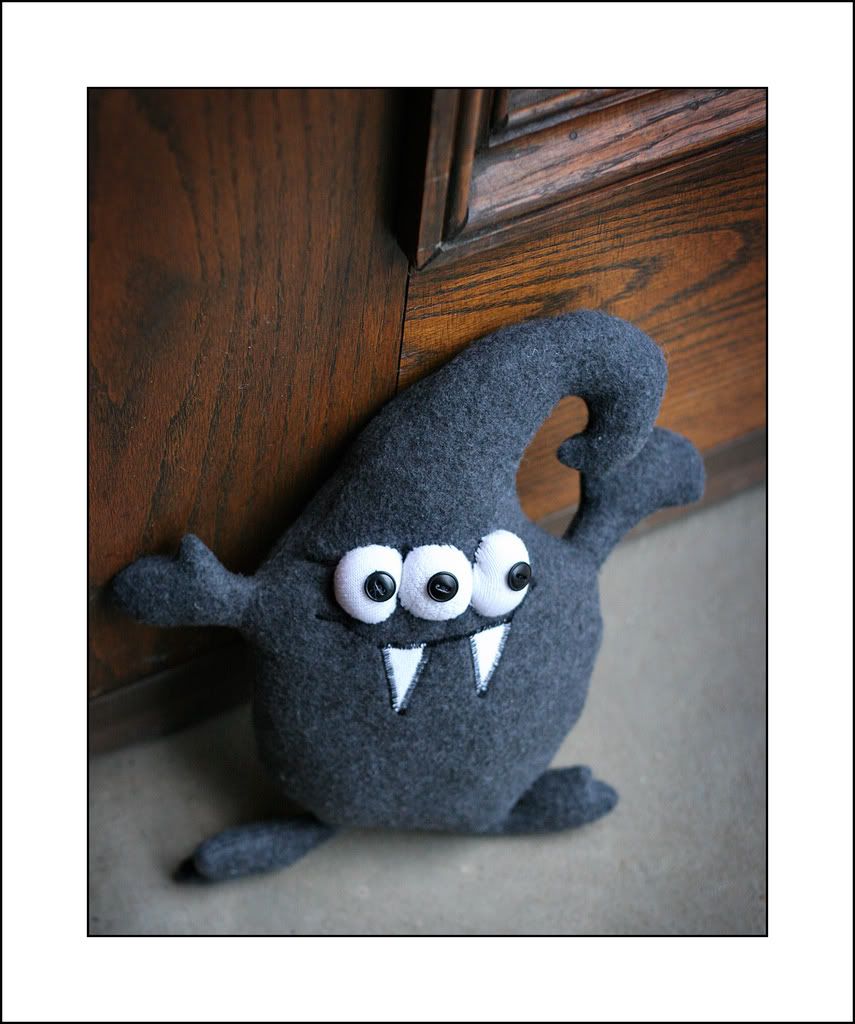 Frank is only a little bigger than your outstretched hand... So easy to take along!
(And can you tell I am kinda loving grey fleece? I want ten more yards of it. Seriously.)
*
And then there are the monkeys. These were my November project, but I couldn't debut them because they were destined to be Christmas gifts. (Remember
Nacho
? He was just one of the many sock experiments and attempts I made that month!)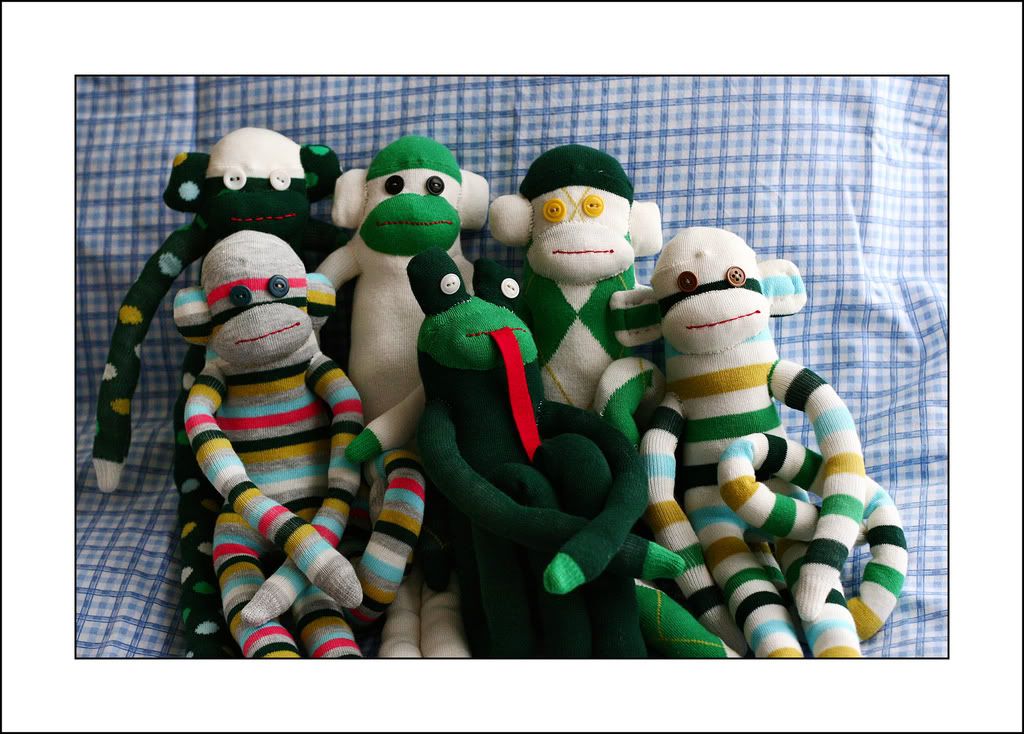 Ah, but did you spy the
imposter
?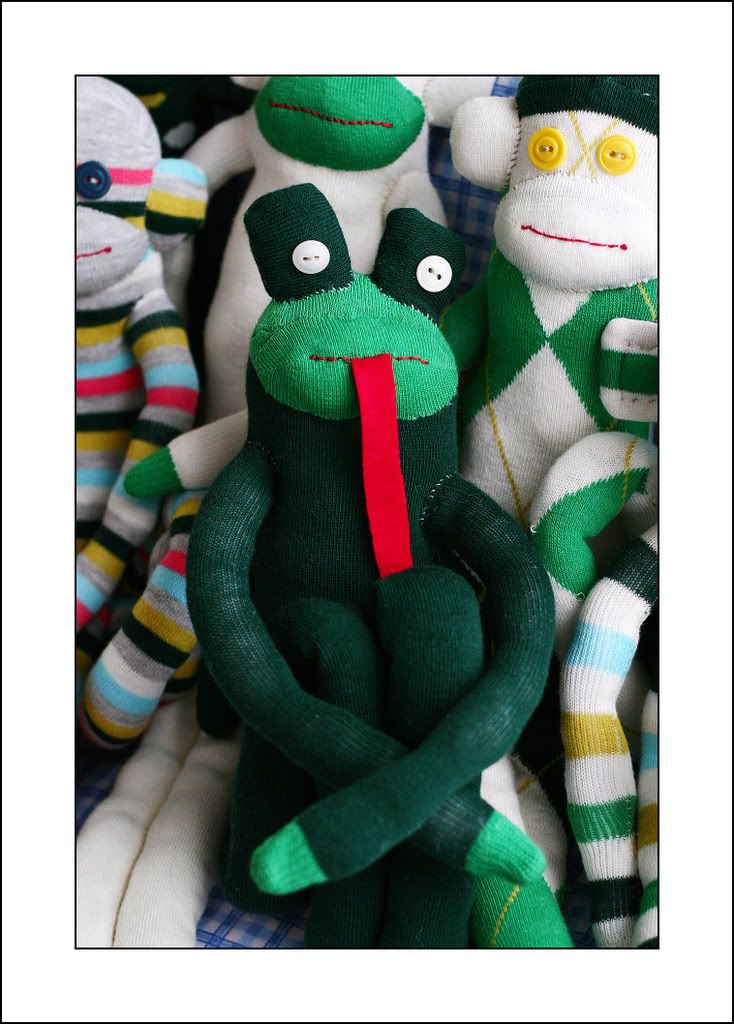 Yeah... that's the Frog. It just didn't
feel
right to make a monkey out of all that green... So the frog brainstorm came about. I like him! (Though he looks a little shy and insecure in that photo, doesn't he?)
So my house has been teeming with monsters and monkeys all holiday season. So fun! Such good company! (P.S. While Target brand socks have lots of FUN patterns, I was NOT fond of how thin and flimsy-feeling they ended up being. These guys are cute to look at, but not really DURABLE, ya know? Lesson learned. But I still love them. :))
And while most of these guys have found a happy home, monsters, monkeys and frogs alike, Mr. Polka Dot in the upper left corner is still looking for someone to take care of him.
And since this post has been about friends and fun, let's have some MORE fun, friends! Who wants the polka dot monkey? He's lanky, awkward, and a bit uptight in social situations, but I think his neuroses are part of his charm. He's also pretty prim when it comes to
etiquette
, so make sure you don't chew with your mouth open in front of him.
If you think you can handle the responsibility, I'd love to share the wealth and let you take him home. In fact, I'll throw in a fun, eclectic mix CD befitting a polka dot monkey, just for fun.
So, if you feel like adopting one of my friends (and gaining a few new tunes), leave me a comment telling me what your favorite animal is and why, and I'll put the names in a hat and pick one next Wednesday, January 14, at 8:00 p.m. CST.
What say you?
*
Anyway, thanks for indulging my sewing side.... It really HAS been an outlet for the winter blahs, and I have many more projects up my sleeves that I can attempt when the next wave of YUCKS strike.
Hope your weekends are helping you to renew and regroup for another week ahead.