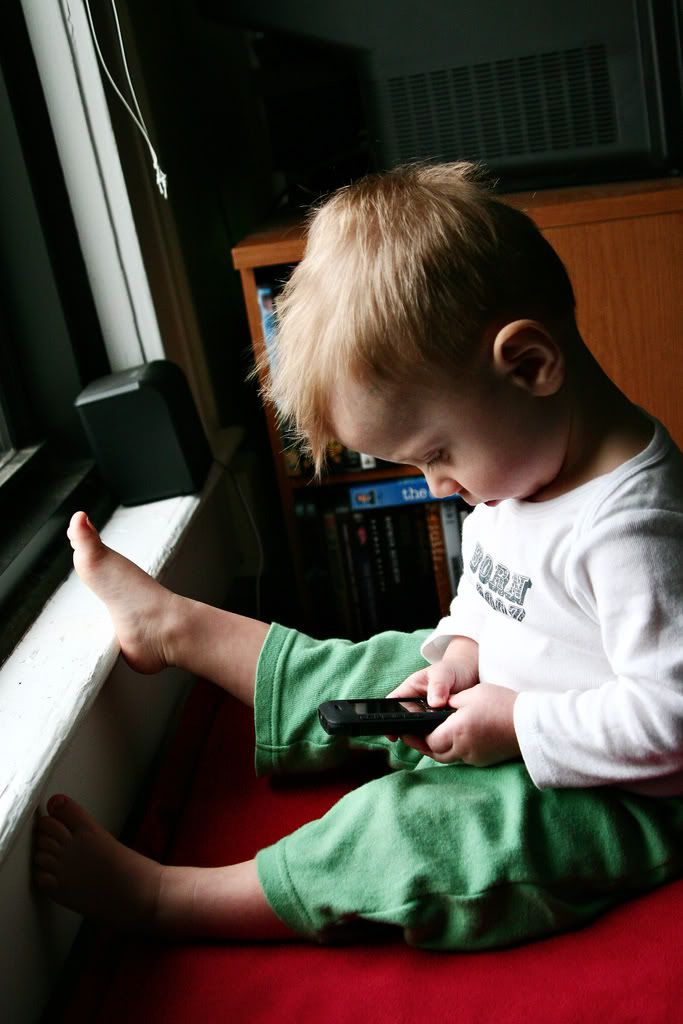 My day, these days consists of:

* trying to "sleep in" as long as possible, while Noah chatters in his crib contentedly. What DOES he talk about in there? I wish I knew. I truly, deeply do.
* zucchini/carrot/pineapple wheat muffin for Noah's breakfast... Along with milk and maybe a few other treats... While I drink a Carnation Instant Breakfast or eat a bowl of cereal... do some dishes...
* lounging in the living room until Noah's naptime... Him playing with toys, exploring, bringing books for me to read, while I read/handsew/dash to the computer to catch a few moments before he comes inquiring as to my whereabouts...
* maybe some laundry... maybe some other task or chore... Always in PJ's, both of us.
* sometimes (more often, lately) some window gazing... "Look at the trees, Noah!" (insert sign for "tree")... "Look, a bird!" (insert sign)... "Do you see the wind?" (sound effects)...
* the morning stretch is usually short... Noah wakes at about 7:30, chatters until 8:00, eats breakfast at about 8:30... and then by 9:30 or 10 he is ready to go down for his nap.
*Naps are mostly successful... and Noah takes about 30 minutes to chatter himself to sleep, and then naps for an hour and a half.
* I....
1. get on the computer... check in with my mama group (hi, girls!), Facebook, Twitter, email...
2. pick up the morning mess in the living room
3. putter. craft. sometimes shower.
4. get back on the computer and "hang out" some more.
5. ~or~ nap.
* for months, Noah's naps have been 1.5 hours, like CLOCKWORK. Except recently, he's snuck in a few longer naps... VERY unpredictable. Like today? I puttered for an hour of his nap, then decided to lay down for a teensy 30-minute nap of my own. NINETY minutes later, he finally woke from a two-and-a-half hour nap. Yum!! Thank you, Noah!
* that kind of surprise makes up for all the times I've planned to nap when he naps, only to have him wake after only 45 minutes. Hate that.
* three or four of my days have Joe added into the mix-- him sleeping off his work shift or having a rare day off.
* when Joe sleeps, I try to keep my music turned down. But I still play it. I'd rather have music noise than TV noise any day.
* after naptime is lunch... Trying to find something that has veggies for Noah that he will actually eat... trying to remember to eat something myself...
* I am currently training myself away from my Mountain Dew cravings by drinking the sugar-free sparkling lime soda water from Aldi. It is yummmm.
* in between getting Noah from his crib and putting him in his high chair, I wrangle a few snuggles and smooches from him. This kid is NOT affectionate. But I make do. :)
* post lunch, I try to get out on a "field trip" of some sort... Either a necessary errand (Walmart, groceries, post office, fabric store, bank, etc. etc.) or a play outing (library, science center, mall, etc.)
* oh yes-- by this time, Noah and I are suitably dressed in daytime clothing.
* depending on Noah's first nap, there might be a second nap. there might not be. I am so easy about it these days.
* if Joe has been sleeping, he wakes about 3:30 pm and gives me a mini-break... I can:
1. nap ~or~
2. play on the computer ~or~
3. get out and do something fun for me (i.e. craft stores, etc.) ~or~
4. run errands ~or~
5. just sit in the living room with both my boys and relax while they play and catch up together.
* sometimes we play in Noah's room instead of the living room. It's a small apartment.
* dinner is at 5:30... Bath at 6:00... bedtime at 6:30....All usually with Joe around, so it is a warm, cozy, quiet family ritual.
* post bedtime can find me:
1. sewing ~or~
2. wasting time on the computer ~or~
3. doing something for the business-- emails, packages, website work, etc. etc. ~or~
4. editing the small load of photos I have these days (such a difference from the hectic autumn! It's been a nice break, but I am getting more inefficient as I get out of practice of working hard!) ~or~
5. lazing on the futon, watching a movie... perhaps handsewing ~or~
6. cleaning up the house from the day ~or~
7. on the phone with a friend or loved one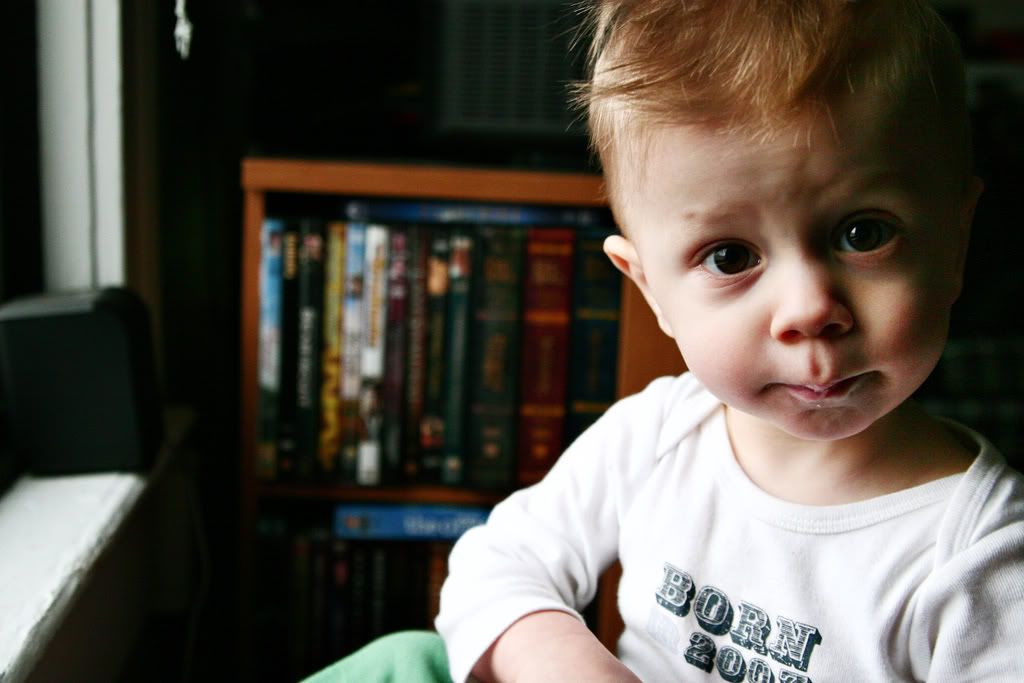 * and at the end of my day, I am curled in bed, either playing solitaire on my cell phone or reading "Little Women" or reading one of my mom's journals I just borrowed... And drifting off.
* also at the end of the day, I am trying NOT to beat myself up for the million other things that are always LOOMING, waiting, undone, half-done... put off... And trying to be grateful for every moment I have.
*

It is a quiet time of year-- cold, silent, still... It's easy to feel STUCK, stuck creatively, stuck inside, stuck with no new adventures ahead...
But it is also a time for routine, for ritual, and for slowing down a little after the hectic holidays and before the warm weather. Time to give myself permission to let go a little... to let myself nap instead of work (did you see that theme recurring? It's been a recent luxury, and not something I got to do much this autumn!). To let the mess stay there a little while. To stop worrying and just get on the floor and laugh with the wonder-filled little man in my life.
This is my day. Nearly every single day right now.
And it is good enough.
*
*photos from a few days ago... Noah LOVES the music player on my cell phone, and if I lock my keypad, he can hold it and enjoy the music for LONG stretches. Here, he is perched, in his jammies, on the ottoman beneath a window where he can gaze out at the neighborhood beneath him. I LOVE this kid. Love his expressions, his jabber, his laugh...
My life ain't glam, but it is deeply, richly satisfying most of the time.