Look what I just finished!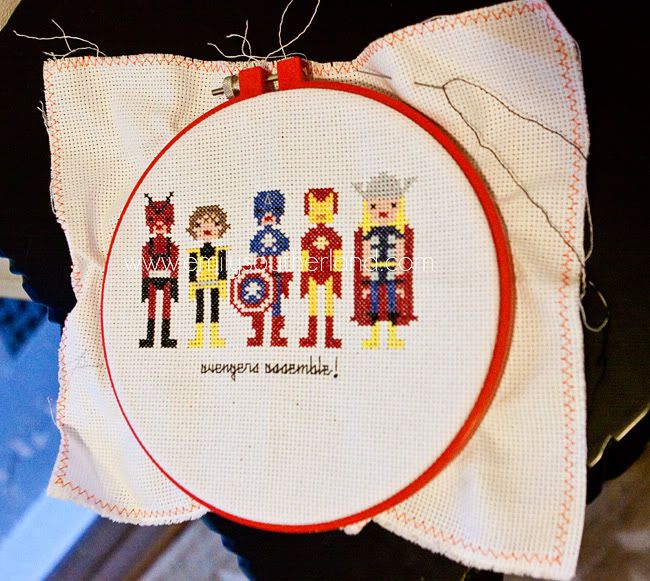 The pattern is by Wee Little Stitches
, and if you are any kind of pop culture fan at ALL, you have GOT to check out their shop on Etsy. They have cross-stitch series for SO many fun groups of people.... Harry Potter, Star Wars, The Breakfast Club, Ninja Turtles.... etc. etc. SO FUN!!
This one is the Marvel superhero team the Avengers, and sadly, Wee Little Stitches is not allowed to sell the pattern any longer because Marvel asked them to cease. But if you HAVE to have the pattern, email them and ask them how to work around that. *hint*
Well, Noah has made an OFFICIAL superhero/comic book fan out of me. He has me wrapped around his little finger and I ADORE catering to his passions. And Joe is THRILLED to see me asking more about the histories and stories of the likes of Iron Man, the Hulk, Thor, Wolverine, etc. It's like a dream come true for him.
And what better way to mix Joe's and Noah's passions with my own creative leanings? A CROSS-STITCH of SUPERHEROES?
Too much.
I adore it.
It will get framed and hung in Noah's room. Or maybe my living room. :)
And it's been super relaxing to work on this a bit at a time for the past couple of months. In fact, today, my whole household is napping, and instead of diving headfirst into a nap of my own (one of my FAVORITE indulgences), I chose instead to relax with some DVR'ed shows and this. And FINISHED IT!
Yahoo!!
Okay. Just waiting for the trio to wake up so we can get bundled up and head out to shop for the family we adopted. I am so excited! It really feels like Christmas around here!