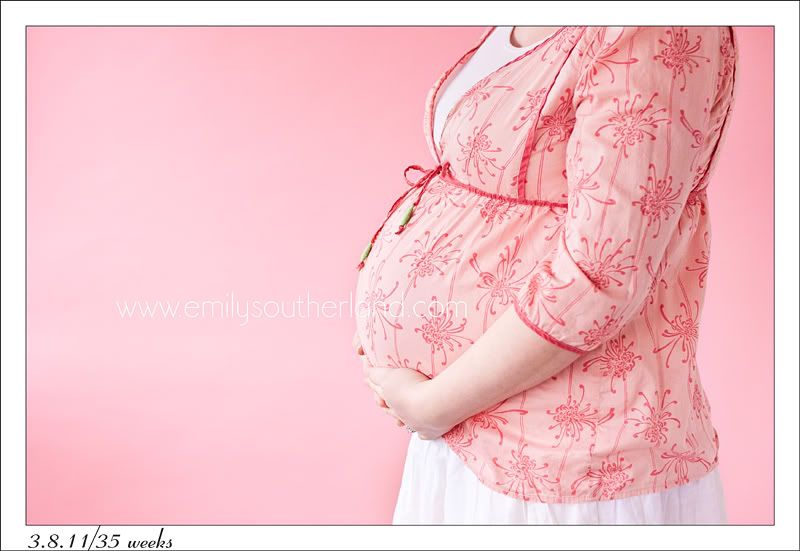 How sweet is all the pink?? I had the backdrop still set up from a 3-month-old session this weekend, so I rounded up a pink shirt and went with a super girly theme this week. It's making me happy to look at it! :)
I'm in UBER-pink mode all around... I finished Lucy's quilt-top this week, and have a gorgeous pink fabric for the back of it. I've been sorting through the clothes I've gotten from my baby shower and from my friend Andrea, and that means I have piles of pink up in the future baby-room. My clever friend just shared the cutest pink
PEEP banner craft
with me the other evening, and so now I have a stack of pink felt bunnies waiting to be assembled into a banner.... So PINK is EVERYWHERE.
Have I mentioned how gleeful I am to have an excuse to indulge this girliness??
35 weeks. Noah was born at 39 weeks + a day or two, so that means this is really the countdown time. I should probably think about buying some diapers. Packing an overnight bag. I DO have babysitting lined up for Noah in the event things start rolling. And I DO have newborn clothes now. We still need to buy a new pack-n'-play for the bassinet time of our lives... Still need to buy some flannel for swaddle blankets... Other random stuff.
But things are coming together. Slowly. Lucy is being a fun little bumper and swimmer in the meantime. I am in LOVE with how much she moves around. so much busier in there than Noah was. The doc reports that everything looks good, even in spite of the random gestational diabetes thing, and my lack of weight gain. Baby is the perfect size for this time, and there's plenty of fluid in there, and she's in the head-down position for the moment. All is well.
I feel like.... It's strange. It's been more like a second trimester for me here at the end-- more energy and motivation than I remember with Noah. I feel like I'm racing against time to get an invisible list of "wants" done before life as I know it shifts entirely. The thing is, when I became a parent the first time, it really was a complete paradigm shift. With the combo of sleep deprivation and suddenly being more concerned for another being than myself ALL THE TIME, it took about a year to get ME back. The ME I felt I knew... The ME I missed. And then it took another year to really feel like I had gotten my LIFE back--- which is funny to even say, because life has never been the same since Noah. But by the time he was two, he was more flexible, more portable... And I was more relaxed about changing things up if we needed to, so we could run errands or go play... And I felt I could leave him in the care of others more readily, so Joe and I could have some US time again. It took TWO YEARS to feel like I had a rhythm that felt authentic to me... the GROOVE I always hoped for as a parent.
So now that Noah is 3, I've had that pretty decent groove for over a year, and I love it. But as the days of being a parent-of-one come to a close, I am having to face that I will likely be back in that year of letting go of the "ME" and the "MY GROOVE" expectations. So these last weeks, there's a mild panic-list of things I'd love to get done before the "ME" goes away....
Unfinished sewing projects
Outings with Noah
Outings without Noah
Photos to compile, sort, edit
Home organizing to do
Recipes to try
Naps and luxuries to indulge in
Crafties I want to try
Skills I want to master
It's disconcerting. It's not upsetting, but it does hover at the edges of my days... the Wish List, the To-Do List... The "Running Out of Time List".
Meanwhile, life moves along... I've been having a lovely few weeks-- lots of social stuff, which has been SO MUCH FUN after a winter so cold that everyone just hibernated for months. Girls' Nights, birthday parties, play dates... Lots of fun things on the calendar.
And we had a marvelous opportunity to get maternity photos taken this last week.... By the fabulous team at
Fresh Art Photography
, based right here in STL. My friend Jodie had some really cool ideas, as well as a new stylist she wanted to try out, so we got to reap the benefits of this brainstorm session and get some RIDICULOUSLY awesome photos done. Even more awesome, they're working on integrating video into their sessions, so we got the most magical family home movie to go with the photos. This short movie is honestly my favorite thing in the universe at the moment. SUCH a treasure to have my little family caught in this moment, being US. To see this treasure, go visit the Dear Lucy post on their blog, here:
And to see the photos, they have another post up:
I am so so in LOVE. What a cool experience. Jodie, Kim, Katie--- Seriously. So. Cool.
And so.... that's probably enough ramblings for the moment. I have lots of randomness in queue to post about... I want to maintain motivation to do so. Just another one of those invisible "to-do's".... I'm making it a goal this week. To blog every day, even if it is random. Even if it is short. Just so I can quiet that particular to-do.