Let's dive right in and talk about THESE:
CUTE, right?!? I LOVE these.
Reusable Snack Bags
. I saw these for the first time this September when I was in California doing photos. Jennie had some in her diaper bag, and I SWOONED. I made her talk to me about them for MUCH longer than what was probably polite, but she humored me, and I was satiated. She had gotten them on Etsy, she said, and there were several versions from several artists. I vowed then and there to look them up and try a few of my own.
When I got home from my trip, she emailed me a link to
a blog that had a tutorial
. How sweet of her, really! I was EXCITED and after obtaining some unbleached muslin, I started trying these things out. They turned out to be SUPER easy, REALLY satisfying, and honestly, they make the cutest little gift to give someone, just because.
Here, based on
ReproDepot's
Tutorial, with a few additions of my own, the Reusable Snack Bag-- the perfect GREEN way to tote around Goldfish crackers, raisins, pretzels, Cheerios, Yo-Gos, and pretty much anything else you want, except maybe applesauce.
Materials:
Cute cotton outer fabric
Unbleached muslin for the lining
NON-STICKY Velcro
Thread
Ribbon/felt/fleece if you want
Step One: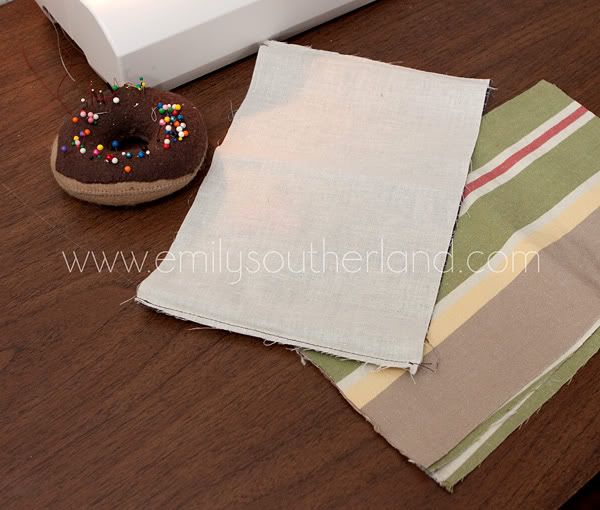 Cut the fabrics. You want about 7"x12", but this can be altered based on your needs or on your fabric stash. Just make sure that the muslin and the cute fabric are the same size.
Place the two pieces with the right side in, and stitch along the shorter sides, both sides, about a 1/4" to 1/2" seam.
Optional PRE-Step One:
Applique a cute thingy on the front of the fun fabric, if you like. This is best done before you stitch the fabrics together. I used fleece, and straight-stitched a heart. to determine where to put it, I folded the fabric in half like it will be eventually, and eyeballed the spot the heart would look good, then pinned it, unfolded the fabric, and sewed.
Step Two
(sorry for that random, out-of-order step just now)
:
Turn the bag right side out and press the seams.
Step Three:
Cut your Velcro to 6" (if your short sides of the piece are 7". If you made up your own size, cut the Velcro an inch shorter than the short side). Then cut the Velcro in half so you have two long skinny pieces. The tutorial I learned from explains this was to make it easier for small hands to pry the bag open. Also, it says to use non-sticky-backed Velcro so it doesn't gum up your machine needle. I concur.
Then stitch the Velcro onto the short, stitched sides of your piece, on the muslin side, using a straight stitch.
Repeat for the other end: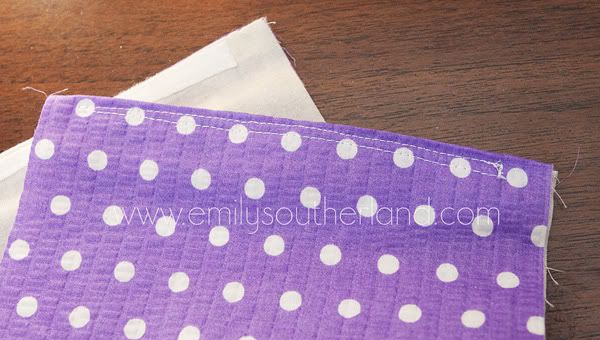 Step Four
(This is MY little addition to the original tutorial)
:
Cut a little length of a cute matching ribbon. Fold it in half, then pin it so the fold faces inward on the fun fabric, like this--
This will be a decorative touch, just for fun.
Step Five: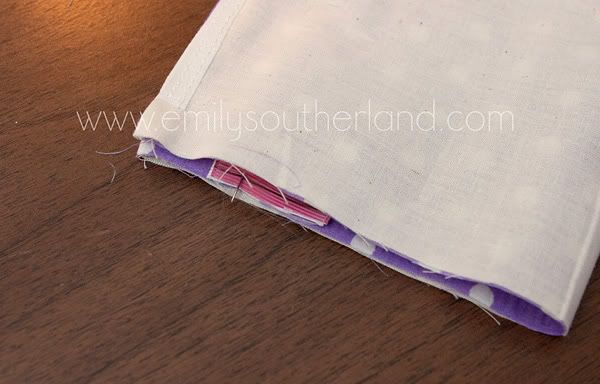 Fold your piece in half with the fun fabric facing in. you are now going to stitch the open sides so it becomes an enclosed bag. When you do this, the ribbon will automatically be stitched into your bag and when you turn it right side out, it will be that cute ribbon tag you see on the sample photo at the top.
Step Six:
Stitch a straight stitch from the top of each open side to the bottom, backstitching on top and bottom. Then, if you really want to be thorough, you can fake-serge the raw edges of the fabric by zig-zag stitching a wide zigzag right at the edge, catching the loose edges--
See how there is a straight stitch to hold it together, but then the zigzag helps "seal" in the frayed edges? Nice! (Forgive the red thread here. Yes, I photographed a DIFFERENT bag than that purple one for this step.)
And then turn the whole thing right side out and YOU HAVE A SNACK BAG!
The first one might take a little time to get the feel for it, but once you've made one, you can crank out like 4 or more an hour, if you feel so inclined. These are very simple, and are great for doing "assembly line" style-- doing all the "Step Ones" together, then the "Step Twos" etc. etc.
And really, who WOULDN'T want one of these? Sure, they are great for kids. But I plan to use one in the movies when I sneak in my own M&Ms. And I think all our hubbies would love us if we made tweed ones for them to take to church so they can have their OWN cheerio stash. Right?
The possibilities are endless. And since they are lined, you can even put things like apples, carrots, etc. in them with little risk of the fabric getting too soggy. And they WASH, so even if they DO get a bit gross, you can WASH THEM! :) Huzzah!
No go forth and make snack bags! Give them as gifts!
*
And that's it for me tonight. I REALLY need to finish editing this one session, but in the process of moving Noah away from the monitor (AGAIN) I brushed the controls and "reset" the calibration to DEFAULT. And frankly, the thought of recalibrating, on top of all the other headaches I have going on right now, makes me want to sit and cry. SO I am boycotting the computer the rest of the night and I am going to pack the heck outta this apartment so that tomorrow, maybe I won't have to do much of anything. Hmm.... A girl can dream.
Off I go!
*