Oh GOODNESS I am so tickled at the response I've gotten already! I really hoped this stuff would resonate with some of you... I hoped this would be a refreshing thing to play along with. Thank you for coming with me on this fun week's adventures!

Before I begin the tutorial, a few clarifications, and answers to a couple of questions from last post's comments:
1. If you are late to the party, that is okay. Just go back to Day One, check it out, and leave a comment there. You can catch up even if it is Thursday or Friday!
2. To get an extra entry in the drawing, you just have to blog about my Tutorial Week, and maybe add some other favorite inspiration sites in your post, to keep it interesting to your readers. Tell them about this contest, but then maybe link up a few other fun sites like Etsy or other crafty bloggesses you know. Fun!
3. If you leave a couple of comments on one day (like my hilarious friend Gen who had to clarify that she wants a PRIZE, not a BABY)... that won't disqualify you at all. I'll count unique visitors once each day, even if you comment three times, for whatever reason.
4. Someone asked what sewing machine I use: I use a very simple little Husquavarna called the HuskyStar 207. I am not sure it is even being made currently, but I have NO complaints about the brand, which also sells Vikings. It has NO bells and whistles, but it is sturdy and hard working and I love it.
5. If anyone has any other fun questions for me (crafty-related, or even totally off-topic!), I'd be thrilled to answer them in the following day's post, so ask away, in the comments.
Okay, on to the CELEBRATION!
Tutorial #1: The CELEBRATE Banner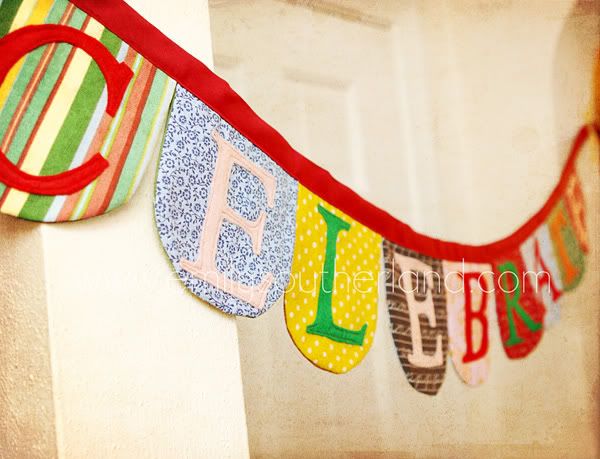 This sweet little creation is one of my new favorite possessions. I love it because it is universal-- you can celebrate ANYTHING, regardless of the time of year or reason. In fact, though it is perfectly multicolored enough to be used at Christmas, birthdays, graduations, boy events, and girl events, the things I most look forward to hanging this up for are the small victories and days when my children (or hubs!) just need to know their everyday achievements are being noticed... So I love the thought of hanging the banner for a great spelling test grade... Or a Boy Scout merit badge earned, or a raise at work... or an unbirthday party with cookies for dinner's main course. I love the thought that there is ALWAYS a reason to CELEBRATE.
I DIRECTLY credit the inspiration for this lovely banner to the Etsy shop,
The PolkaDot Parlour
, by Morgan Moore. She is currently closed, preparing for a new little one, but over a year ago, I found
her version
of the banner and bookmarked it, determined to make my own one day. It only took a year to get my butt in gear, but once I finally got to it, I found that it was satisfyingly meticulous, but ultimately pretty easy to make. The hardest (and most fun part, to my crazy mind), is the slow, methodical, careful outlining of the felt letters with your machine-- carefully making sure to catch each corner and each curve. It took the longest, but was the most "fun". Weird. I know.
So. Wanna make your own? Here, my steps:
1. Prepare Letter Pattern: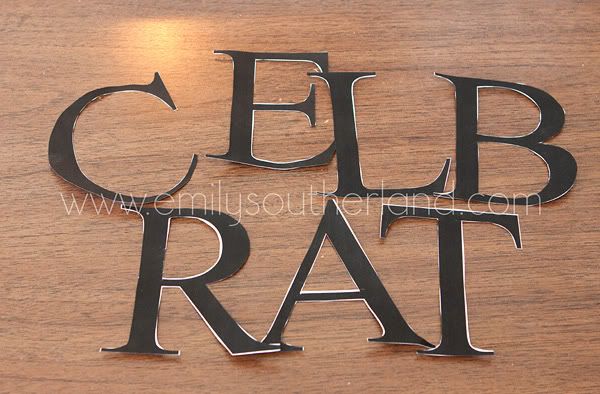 To get the pattern for my letters, I went into Microsoft Word and typed the word "celebrate", then enlarged it until each letter was between 3" and 4" tall. This ended up making each page only have about 2 letters on it, which was fine. I went with the standard "Times New Roman", in capital letters, but you could go with a million other fonts and styles. After printing them, I cut them each out-- not PERFECTLY, as you can see, 'cause, well, that's just really too meticulous for me.
2. Pin/Draw/Cut Letters:
I used cheapo standard felt from Walmart... But in my perfect world, I'd buy the "sample pack" of wool felt from
HERE
, **swoon** and only ever use this felt. It is between 65% and 80% pure wool, and I LOVE the idea of having this on hand all the time. Alas.... I haven't pulled the "buy" trigger yet... Just... Trying to be thrifty, I guess.
As for cutting the letters, I tried two ways-- keeping the pattern pinned on and cutting around it, then tracing the pattern and cutting it without the paper on top. I likes the pen method better, but had to be careful not to keep the ugly pen line on the final letter. Go with your heart on this one.
3. Cut the Scallops:
I drew my own pattern, made it a square with the rounded part added onto the bottom with the final measurements about 5.75" x 6". I cut 18 total, one for each letter, and one for the back of each letter. (This banner looks pretty from behind, too!) I intentionally mismatched fabrics and patterns, then played and rearranged the pairs until I liked the result. This is a GREAT project for using scraps!!! :)
#4. Pin and Sew the Letters: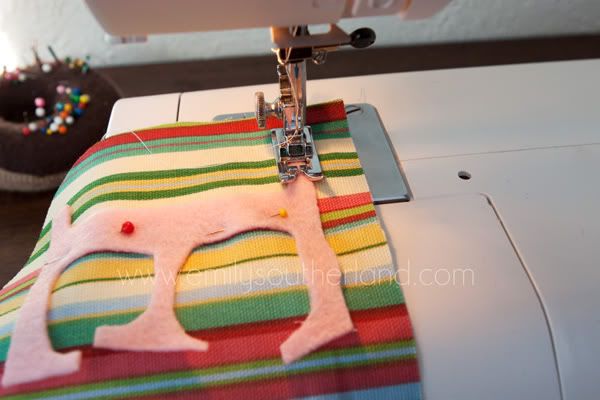 The first image here shows my preparations before sewing-- making sure each color of letter looks good on its fabric, and each pattern is not next to a duplicate pattern, and then making sure the back looks good with the front. It was all more work than it had to be. I think this thing would look charming even without all that arranging and rearranging. Just go with it. You can be like me, or be a LOT more chill about it. In fact, you could go with all one fabric and all one letter color and call it good. That would STILL be cute!
The second image shows only a small portion of the gleeful process of sewing on each letter. I didn't pin the heck out of it because felt sticks so well on fabric... And I was going so slow as I stitched that I could readjust the letter parts as needed. I used a medium stitch, but not a TINY one, because if you make your stitches too small, it bunches up the felt and takes even LONGER, if possible. I outlined the entire letter, as well as the inner cutouts for each letter.
Make sure you keep the letter away from the edges of the scallop at least 1/2", so there is room to sew the scallop later.
#5: Sew The Scallops:
After sewing on every letter, you now get to sew your fronts to your backs. Place them RIGHT SIDES facing in, and sew with a 1/4" seam around the "u" part, leaving the top unstitched.
Once you've sewed the scallop, snip the curves (dang it! I didn't take a picture of this! If it confuses you, let me know!). Basically, to make sure the curve stretches nicely and un-boxy, you clip the edges every 1/4 inch or so, from the edge of the fabric to just before the seam. DON'T CLIP THE SEAM! Bad!! You only have to do this where the curve is, so the straight sides can be left alone.
after clipping the curves, turn the scallops right-side out and press.
#6: Put it All Together: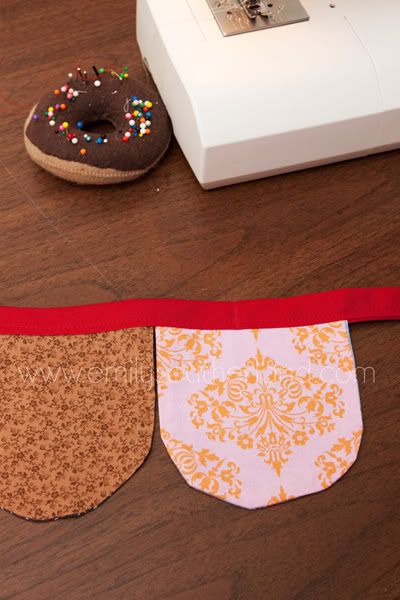 (Ah, look at those fabrics together in harmony-- the fancy Amy Butler pink with the cheapo Walmart brown calico... See? We can ALL get along!)
To bind the scallops together, I used standard 1" Bias Tape from the notions section of your Walmart or Joann's Fabric (or Hobby Lobby. Or Hancock. Whatever!) Place each scallop, in order, inside the bias tape until the raw edge is bumped up to the fold. Pin each one with one or two pins to hold them in place. Make sure there is about 2 feet of extra bias tape on each side, like this:
To begin stitching, fold in the short edge of one of the ends about a half an inch, then begin sewing, making sure to backstitch.
Continue topstitching the whole bias tape length, making sure to catch each scallop and fold in the other end nicely. I did this between 1/4" and 1/8", to keep it looking neat.
And you are DONE! Ready to celebrate, no matter WHAT the occasion!
Tomorrow, I will tell you ALL about that cute little fire truck below, and what exactly it's sitting on... So tune in! And don't forget to comment, to keep qualifying for the giveaway at the end of the week! Love y'all for making my day so delightful with all your comments!!