So, for many many many months, I have had these gift cards to my favorite store in the whole world,
Anthropologie
. Every time my husband and I go that the mall that has this store, (and it is my closest one, so it is often), I make him go in there with me so I can ogle. I can't help saying EVERY SINGLE TIME, "I wish I could just LIVE here... Look-- a bed, a kitchen, and a bathtub? What else does a girl need? And so many clothes to choose from each day!"...
*sigh*
Though I adore this shop, if you've been there, you know that everything is RIDICULOUSLY expensive. So I have been hoarding these three gift cards, totalling $200, because I know I will never again get the blessed chance to buy something I REALLY want there that is NOT on sale. It's silly, but I really have hung onto them, waiting for the PERFECT BUY, letting my mind go wishy-washy with every considered purchase over time:
Will I HATE that I "wasted" my hoarded gift cards on this? Will is be something I'll love and use for at least a few years? Is it "me"?
I am so weird. I finally realized I just needed to USE these gift cards ($150 of which I have had for nearly one and a half years. Yep. Yikes.) and get them out of my life so I'm not obsessing over them any longer...
So I did. Last winter, after Noah was born, I spent my biggest card, the $100 card. I had wanted to not be huge-preggy when I used the card, gotten for my birthday six months before, so I was excited to finally go, I think in February. I took my common-sense/good-feedback sister, and I was SET on buying something lovely. We started in the sale room, because my philosophy was the same as many of you-- I have $150, how can I stretch it?
(A note on sale things: Sale stuff at a gorgeous store like Anthropologie feels like a compromise--"Oh, it's on sale, and I
can
love it, so I should buy it".... Instead of seeing it on the rack, catching your breath, THEN looking at the price tag. In the latter, you KNOW you want it from the start. In the SALE room, you're talking yourself into wanting it. But at this time in my story, I wasn't thinking that way… I just wanted to MAXIMIZE my Anthro experience.)
I tried on lots of stuff... and found a BEAUTIFUL deep violet angora sweater with velvet ties that tied in back and velvet millinery flowers and seed pearls on the front in a beautiful splash. GORGEOUS. And on sale for $78. Down from $148. A STEAL! And of all the shirts and sweaters I tried on, it fit the best. I felt pretty wearing all that soft stuff, and I looked NOT PREGNANT in the mirror, and with my sister's advice, I decided. I WILL BUY THIS! And did. And felt a
little
nervous that I had just bought a sweater for so much more than I usually spend, but it was lovely and it was ANTHROPOLOGIE, so YAY!.... Never mind that I only chose it because it was the best of the SALE items.
...And the first time I wore it, and looked in a REAL mirror, and not a perfectly-angled, somewhat dim elegant dressing room mirror such as Anthropologie has, I HATED HOW IT LOOKED ON ME. Hated it. The ties made me look
all chest
, and the bottom half flared out, but not in a cute way, and the purple was a bit garish.... and YUCK. And my heart BROKE. I had just used up most of my gift card stash on a sweater I would never ever wear. And I remember the saleslady saying that this sale was final, so there in my closet this lovely, soft, vintage-look, UGLY-ON-ME sweater sat. $83 dollars (inc. tax) later.
*sniff*
Luckily, and this has a happy ending, I was buying a teensy sale thing (probably a drawer pull or something, for $4) a month or two ago, and told the lady I knew all sales were final, and she said perkily, "Sales are NEVER final!" and I laughed and said, "Yeah right, what about a sweater I bought in February for half off and never wore?" She said, "Yep, that too!" and I said, "But I don't have the receipt, only the tags..." And she chirped, "That's fine!" And.....
So I brought that cursed sweater back over six months after-purchase and got a new gift card for $83 and I have decided never to compromise again.
And so when I saw this:
I had to have it. For REAL this time. Never mind the price tag. (Seriously, Anthro—WHY SO EXPENSIVE ALL THE TIME??)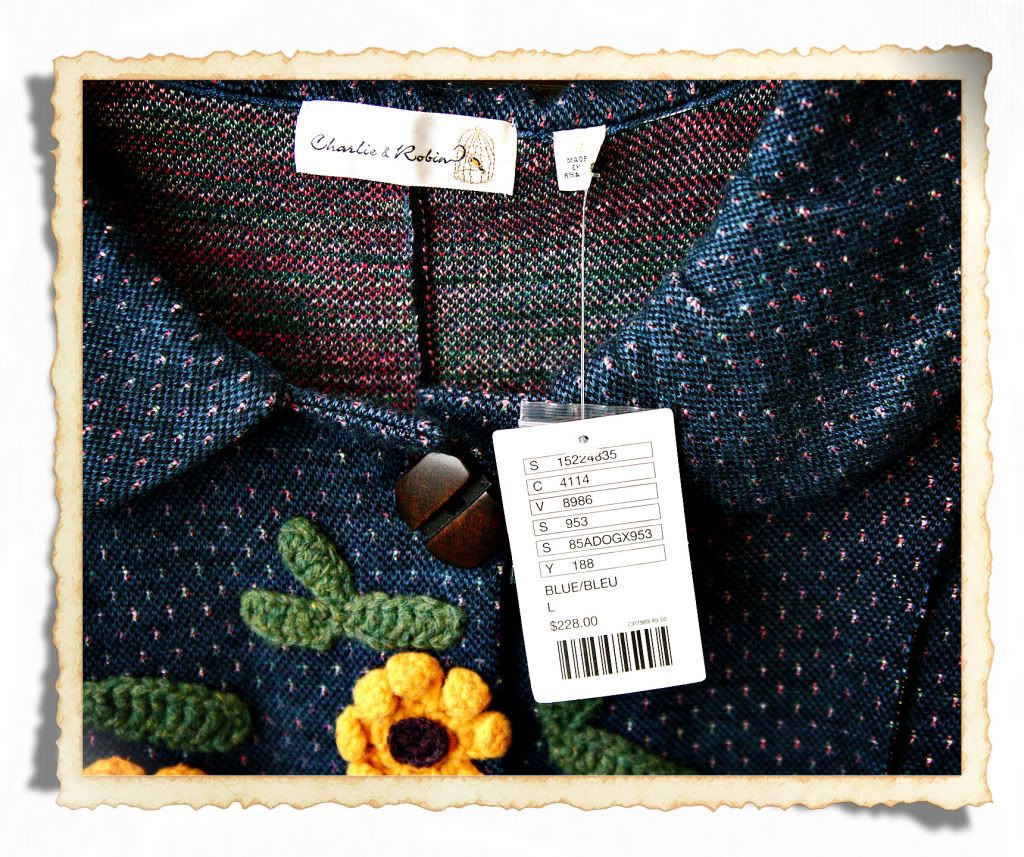 Never mind it would take a bit more of my own moolah to cover the balance.
It was time to free my heart from the Anthropologie Gift Card Burden once and for all. And you know what? No regrets. I love this sweater. And I'll love it until I don't anymore, and then, well, I'll be okay. And maybe one magic day, another Anthro gift card will find me, and we can start this game all over again.
The end.