Nothing like hopping in the car with the plan to just DRIVE.... and drive and drive, until you are two time zones away... right?
Honestly, while many people dread the prospect of driving cross-country, I really love road trips. I went to school out West, so my trusty little silver Civic has logged thousands of miles going the 19 hours there and the 19 hours back.
There's just something about the flat, dusky plains at sunset (or sunrise)... something about the beginnings of the Rocky Mountains, so inconsequential at first then suddenly jutting out into the craggy, snow-capped wonders you see on postcards. Getting all the way through one whole state, thrilled to just be somewhere else. The shabby, local gas stations. The miles you log beneath your wheels. The mix CD'S. The junk food. The fitful naps in the passenger seat.

I really love these trips.

That is, if I don't happen to have a baby along.

...Okay, let me revise that. Actually, Noah was really, surprisingly great on the trip. He really was. Having him along was an excuse to stop and take longer breaks. He was surprisingly easy to get to sleep along the way. He was generally charming and sweet and easy-going. In fact, when he would finally get taken out of his seat after a three-hour chunk, he was SO ridiculously thrilled and giddy to be free that his whole body would bounce and quiver with utter delight at the fresh air blowing through his hair. It was a glorious sight, each time-- his pure joy at his temporary freedom.

And yet-- something about having a baby along takes away the true FREEDOM of a road trip. The feeling of leaving your cares behind. Because all you care about is still right there, and this helpless little creature NEEDS you, and you can't just drive and drive and drive and meditate on the surroundings and let the music wash over you... You have to figure out how to get baby food into that little guy's mouth while the car is moving. You know?

So. This trip was markedly different from all the ones we have taken before. And that's okay. Life is markedly different in general since having Noah. It's to be expected. And we managed to make things work, even with the new and added responsibilities. Like, with all the added baby gear we have to pack, where will we put Noah?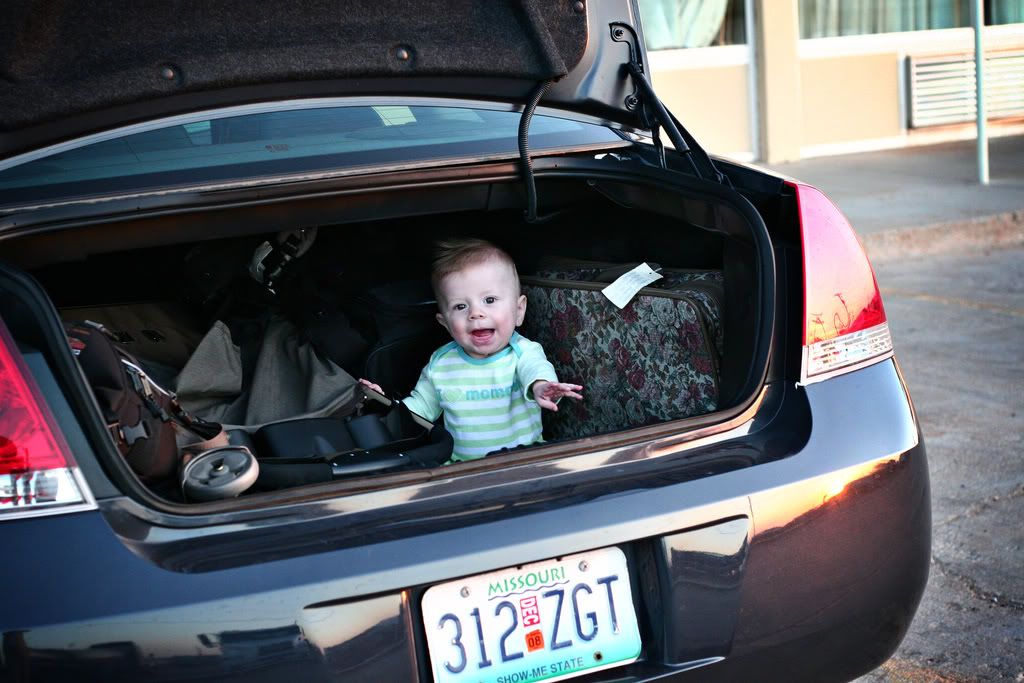 Why not?
he seems happy enough...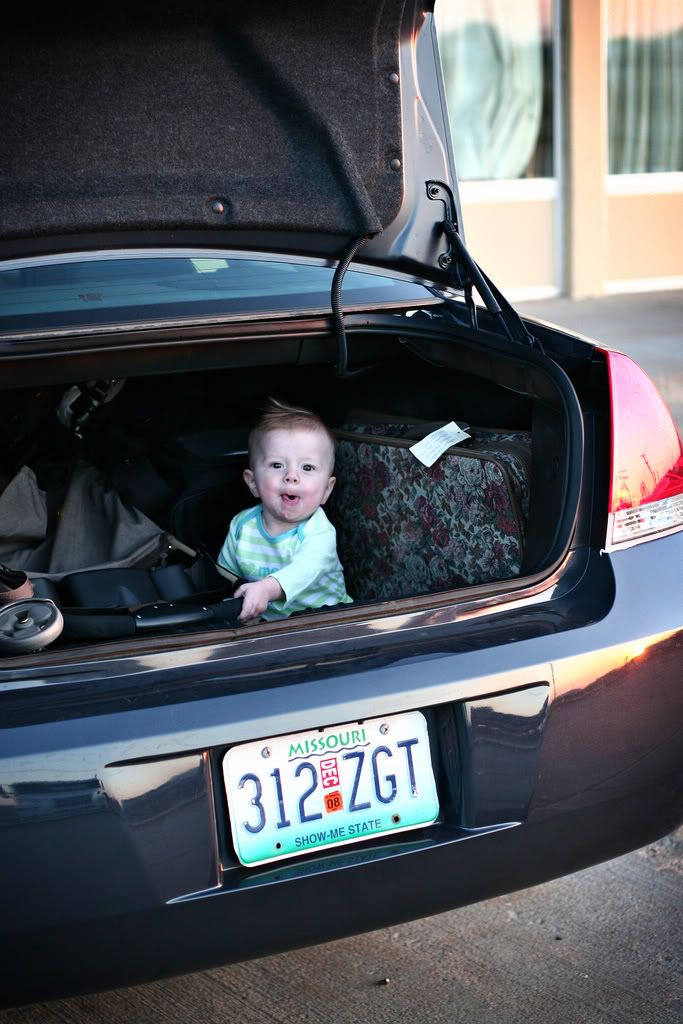 though there aren't really any restraints to keep him safe, per se...
...but he really seems to like it in here.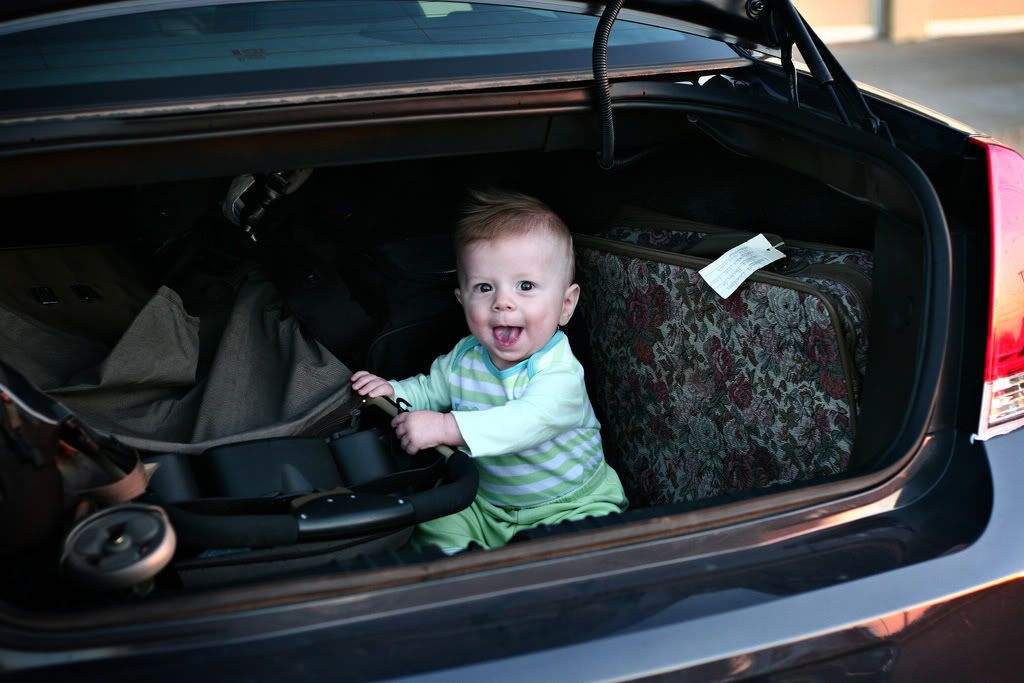 ...Ah. Maybe not.
Okay, okay... we DIDN'T let him ride in the trunk the whole time. He was safely buckled into his car seat every moment the car was moving. I promise.
It's just that when I was loading up the rental car the second morning of our drive, it just got really hard to juggle baby and luggage with the two arms I was born with. And this seemed to keep him happy enough, ya know?
So. As far as our trip went, the time on the road was pretty okay. (And we WON'T go into gory detail about the actual night in the hotel between driving days. THAT was a mistake. Like Noah was going to actually SLEEP or something. Dang, we were really better off just continuing to drive and drive. At least he sleeps in his CAR SEAT. Ugh. But no more about that. It is a horrifying night I'd like to forget. )
Now the rest of our trip?? Hmm... Maye that'll need an entry of it's own. Or two.