Please, no!! No summer school please!!! Tomorrow, at the crack of dawn, I must be back at school pretending to know what I'm talking about to a bunch of 9th graders who are as apathetic about being there as I am... And it's my BIRTHDAY. Boo! Boooooooooooooooooooooooooooooo...

Today was WONDERFUL. My baby was wonderful, I got several things accomplished (which may not sound that cool to you, but it has been an elusive thing for me since being home with Noah) and all was well and good in Emily's Little World. I mean, you shoulda seen the SMILES this baby was giving me today! While he played INDEPENDENTLY!! And didn't WHINE!! And he let me take him to the bank and the post office and the drugstore AND the grocery store, and was cute and charming the entire time!! And he played with kitchen stuff while I made him homemade baby food to freeze (squash and peas). And I managed to get dinner microwaved (whaddya want from me?? It's better than cereal!!) for my hubby before he was out the door for work tonight. I feel like a SUCCESSFUL stay-at-home-mom!!
And right on the heels of this thrilling, self-esteem building day, comes SUMMER SCHOOL. Ugh. Where I have to think about bedtime for me, and alarm clocks in the morning, and pumping at work (double-ugh!!) and squirrely kids and DRESSING PROFESSIONALLY... and losing the rhythm and momentum I've been building up as a stay-at-home-mom... I am so so sad.
Okay, okay-- granted it is only for two and a half weeks. And it pays SO WELL. But still. My heart is heavy at the thought of it. My tomorrow is going to come too soon.
Anyway... No pictures for you... nothing inspiring either. Just a bit of my true thoughts blurted into the blog universe. Take it or leave it.
*sniff*
...okay. One photo. Noah with a wire whisk and silver mixing bowl, using his Boppy for support, sittin' with me outside as I cleaned his exersaucer...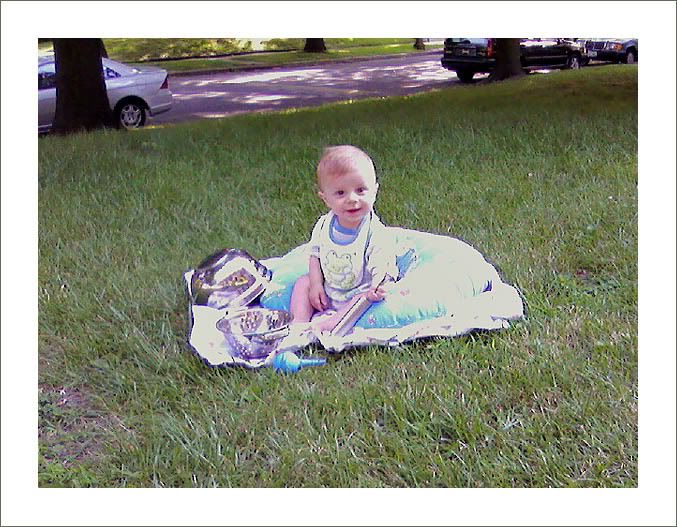 {photo taken with my cell phone this afternoon}