On my first official day as a stay-at-home-mom, I did the following:
1. Woke with Noah at 7:30 am
2. Fed him and myself (breastmilk for him, Lucky Charms for me)
3. Took a 45 minute walk around my lovely, shady neighborhood with Noah in the mei-tai sling
4. Came home and changed him into his clothes for the day, then played a bit in his room (books and stacking rings)
5. Sang him a few songs and put him down for his morning nap at 9:30am
6. Jumped in the shower
7. When I got finished, I heard Noah crying... obviously his nap wasn't "sticking" at the moment so I got him out of his crib and let him play in the kitchen floor with measuring cups and funnels while I blended baked peaches into baby food puree and froze it into cubes.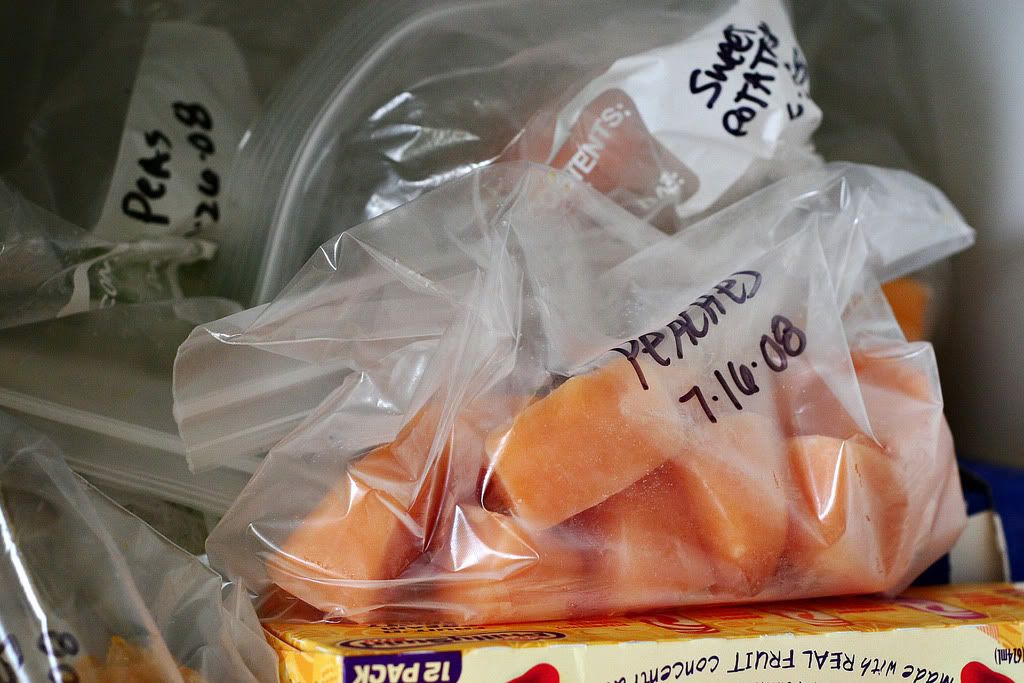 8. The food processor scared Noah, so I consoled him by letting him try the peaches for the first time. He LOVED them.
9. 10:10 am- I finished my food stuff and re-did the naptime routine with Noah. This time, it stuck and he napped.
10. During his nap I: put on makeup, did the dishes, surfed the internet, made some phone calls, did two loads of laundry, and played on the internet a bit more.
11. When he woke at 11:30, I packed him and myself up and we headed out to a play date with my friend Liesl and her son Ian. We stopped at the store first to pick up some fruit and dessert for our outing.
12. From 12:30-1:45, we hung out at Liesl's house, had lunch, talked shop, and kept the boys from poking each other's eyes out in curiosity.
13. Noah and I left when he started getting cranky, and we headed home to put him down for his afternoon nap.
14. From 2:30-4:10, Noah napped. I did too. (so did Joe, who had been sleeping since he got home from work this morning at 7:30 am. It was a quiet, sleeping house this afternoon. I LOVED it.)
15. 4:10- Noah woke and Joe took over for a bit. I switched the laundry again, started dinner, and played a bit with my boys.
16. We did the evening routine together-- (Noah's dinner of veggies and cereal, his bathtime, and his bedtime) then had a quick kiss goodbye as Joe headed back to work.
17. For the evening, then, I have been working on editing photos, with little breaks here and there.
18. Noah has already woken once, which is unusual for him, and he wouldn't settle himself back down... I really think his teeth are bothering him. Poor guy. So I nursed him, though he most definitely didn't NEED food, because it comforted him enough to help him get back to sleep when I laid him back down.
19. And here I am... procrastinating bedtime, feeling satisfied, enjoying this little bit of "me time", and looking forward to doing it again tomorrow.
20. And I have to end with three of the cutest photos I've taken in a while. Because he is the best thing in my life right now, and I am loving being his mama: