It's been a week since I blogged last. A long.... long...... long..........long week. Seems appropriate, then, that Day 21, the next photo in line, is this one: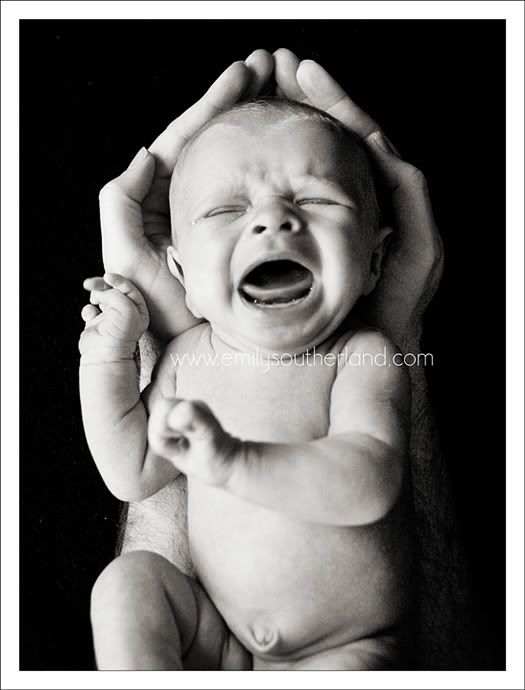 Day 21, back in early May. She had been excruciatingly difficult ALL day. By the time it was photo time, she had actually given in to sleep, and I thought the photo I'd been planning might work. I got Joe ready to assist with his hands as props, and we almost got everything lined up. And then she broke wide open again, bawling. Frustrated, both from the failed photo attempt and from the day-long exhaustion of dealing with her crying, I said, "Fine. Let's just shoot THIS. This is how she was today anyway. Day 21 is THIS." And I shot four or five frames of that crying, and was done. The end.

Because THAT was Lucy, that day.

See the tear squeezing out of her right eye? SO sad. Seriously.

The truth is, as lovely as Lucy is in her photos... as sweet as she looks when she sleeps, she is NOT an easy baby. Want evidence? Want to see the OTHER photos from my Lucy Days that I haven't shown here yet?

Warning-- these might break your heart: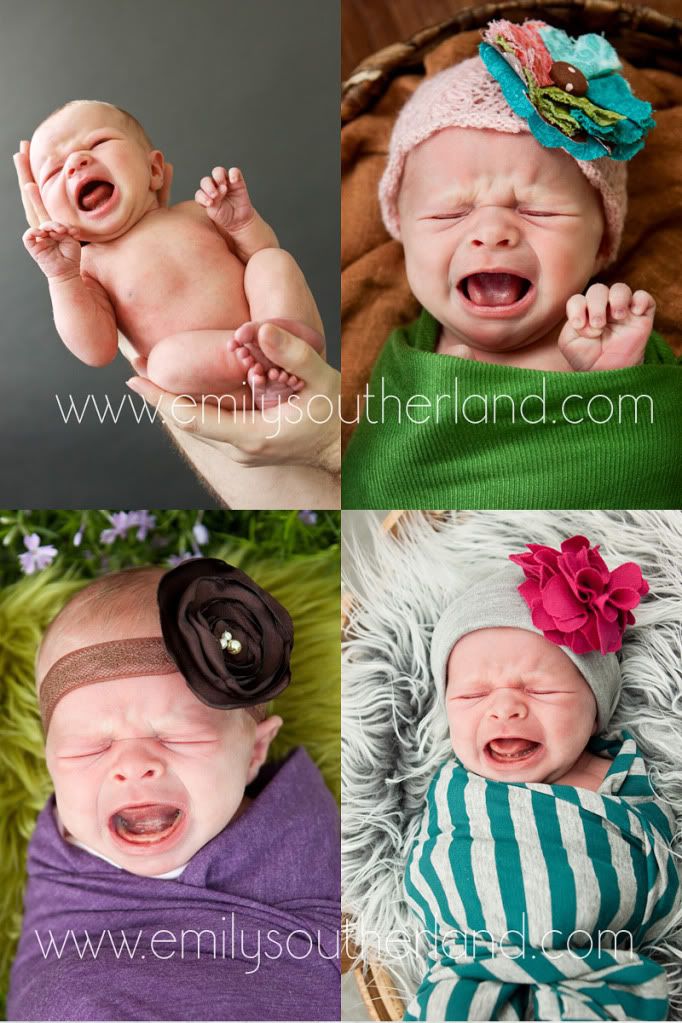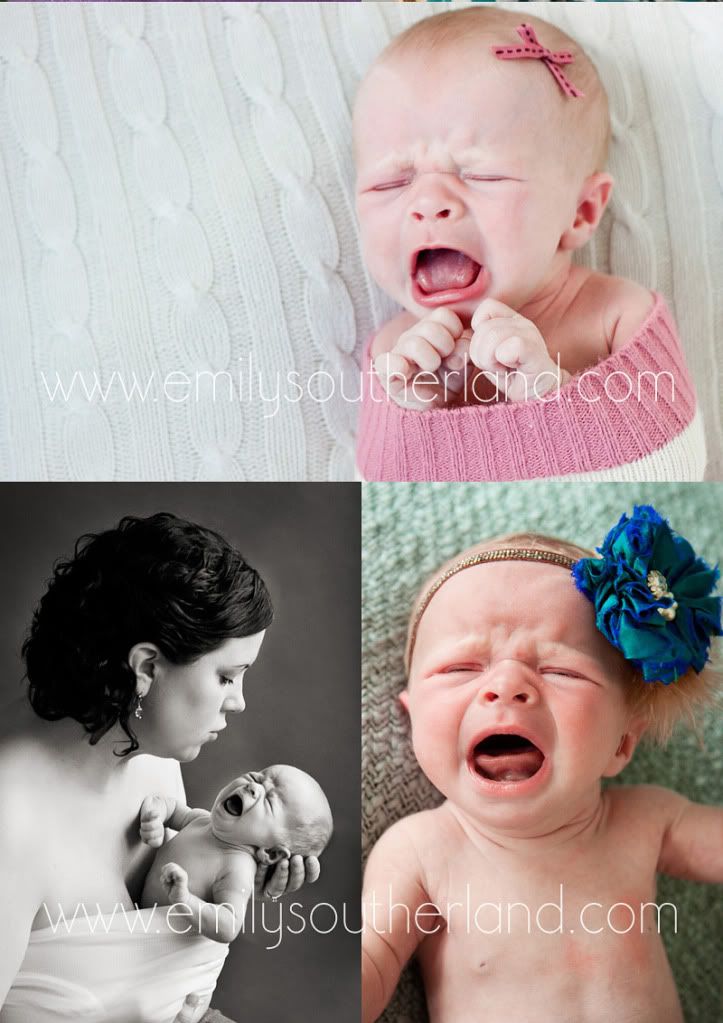 It devastates me to admit it... breaks my heart to face it... And took me SEVEN weeks to finally confront the truth--- but here it is: my beautiful baby is one of THOSE babies. A colicky baby.
I have a colicky baby.
Why is that so hard to confront? To admit? To face?
We all want our babies to be the pinnacle of perfection: Nurse like a champ. Sleep through the night. Contentedly coo in a bouncy chair. Self-soothe. Charm everyone they come in contact with. The ultimate Angel Baby.
When things turn out differently, there's this grieving period, I think. Mourning the baby you THOUGHT you might get and coming to peace with the baby you have. Pretty as she is, as much as I cherish her, I have been working through those less-charming reactions and emotions. The things we NEVER want to admit in public:
I LOVE my baby.... but I'm not sure I LIKE her much right now.
I wish being a mother of two was still a dreamy "someday" and not a difficult NOW.
These aren't pretty feelings. It puts knots in my stomach to confess them, and I am daily struggling to reconcile them and get through to the other side.
I'm pretty hard on myself these days... I feel selfish. I feel a little nuts. I feel frustrated. I feel disappointed. Surprisingly, what I don't feel is alone. As I've been letting the truth of Lucy's temperament be known, I've found that there is an incredible network of mamas out there ready to lend instant love and support to me-- ready to lift me up with emails, notes, cards, calls... Incredible sympathy. Stories of their own struggles with tough babies. Encouragement. Advice. Tips. Ideas. I have felt so humbled to be loved by these women in spite of my not-so-pretty feelings. These women have helped me get out of the fog of new-mom-crying-baby despair a little... to see the light at the end and to keep pushing to get there. Ladies, if you're reading this, you know who you are. You are saving me, daily.
I feel it is important to reassure anyone who might not get to talk to me one-on-one these days that I am doing okay with regards to post-partum depression and such. My frustrations and anxieties are direct responses to the stress of the nonstop crying in my home. I've been reassured by my OB and nurses that for now, this isn't PPD.
What it is, is a sweet baby that is high-maintenance and VERY needy. Very particular in what works to calm her, to get her to sleep, to keep her asleep. There is a LOT of crying. Intense crying. We're lucky that she's not the WORST colicky baby ever--- we do get some good days, and good half-days. But when it's bad, it's exhausting, and frays the nerves of everyone in the house.
(Want a 30-second visit into what I'm talking about? Watch at your own risk. And turn the volume down a little. This is Lucy from just two hours ago:)
*
I don't know... I could write about it all day... hash through what makes it "colic", describe why I think it might be silent reflux, go into the details of how she seems to KNOW when I am not using both my hands to soothe her, and immediately wails until I give both hands back to her. I could talk about pros and cons of the ideas many of you are thinking of suggesting. Most of what you'll try to tell me, I have already heard in the last 7 weeks, and have tried. Not that I don't appreciate advice and theories... I've just been dealing with this for so long already that most of the conversations have been had. Books? Read 'em. Slings? I use three different styles regularly. Swaddles? She lives in them for sleeping. Swing? Hates it. Baths? Hates them. White noise? LOVES the vacuum, is apathetic to most other types. Car rides? Nope. She screams til she sleeps. Gripe water? We give it to her. I think it's a placebo for ME more than anything. Mylicon? Seems to help her toot a bit more. We use it. I just talked my pediatrician into giving me a trial prescription to Zantac, so we'll see if reflux is part of it or not.
The truth is, among all the tricks, ideas, stories, and everything, it's probably just going to take TIME. The cure of TIME.
So. For now... it's just good for my heart to get the story out. To confess that my baby isn't the Angel Baby we all hope for. To purge a bit of the guilt for feeling frustrated at my life right now. It's not pretty. Any of it. Her crying. My feelings. The mood in the house a lot of days. But. We're managing. My main goal is to seek out and create pockets of peace. Good moments. To remember to look upon her sweet sleeping face and let myself love every bit of her while she is quiet and still. I am trying to laugh a bit more. Let go a bit more. Find new ways to do things with one hand. Accept help. I am trying to pray more. I am trying to listen to what I am supposed to learn from all of this.
Much of the time, I am just coping. Getting from one moment to the next. But sometimes, there is grace. Sometimes we hit a sweet note of joy. Sometimes she is cooing and smiling and Noah is doting on her and Joe has a yummy dinner in the oven and I have managed to comb my hair that day...
Little things get us through.
I don't want to lose this entire period of her life, when she is so perfectly tiny and lovely, to grief and stress. I am grateful for the photos I worked so hard to get in her first 30 days... So that when we emerge from this tough time, I have evidence of the good and not just memories of the bad.
I want to remember her tiny blonde widow's peak hairline.
I want to remember how every time she is done nursing and I sit her up to burp her, Noah runs over and excitedly says, "Hey Luce!" and tries to get her to smile at him.
I want to remember how well Joe and I have been working as a team to manage this time in our lives.
I want to remember the incredible circle of support and the light and lifting up of all the prayers from loved ones and friends.
I want to remember her little fists. Her perfect little nose. Her tongue darting out like a snake.
I want to remember how she slept in our arms ALL THE TIME (And love that we got that time with her instead of resenting that it took us away from other things.)
I want to remember the incredible joy I feel when she gives us 10 or 15 minutes of sweetness and contentedness.
I just..... just want to remember that this, even this, is beautiful.
So. That's all for now. Forgive the less-frequent blogging. They say this colic stuff peaks around now, and then gets better. I certainly hope that's true, because this week has been the hardest yet. I'll be back when I can... But until then, this baby wants BOTH my hands most of the day, and I'm gonna give them to her. She needs me. And I'm okay with that.