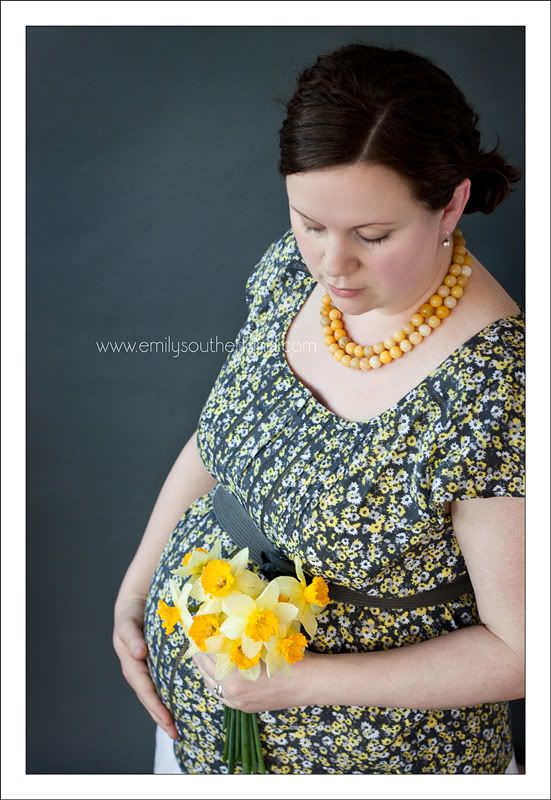 Goodness, I don't mean to sound eager, but I really would love if this was the last one of these... I just love the idea of Lucy coming THIS week... Not the next one. Ah well. Time will tell!
Things I have gotten done:
*
had my last session before taking maternity leave. SO much fun shooting Jodi and Scott's engagements on Saturday! It was a perfect day.
*
I have the changing table and pack-and-play/bassinet and nursing corner set up in my bedroom
*
I have made burp cloths and most of a mobile, among a zillion other silly, fulfilling nesting sewing projects
*
I am 3/4ths packed for the hospital
*
found a "going home outfit" for the baby girl
*
I've begun a crazy, ambitious, super cute giftie for Noah that Lucy will give to him in the hospital. I'm in love with this one!
*
I found a baby swing to borrow, and have washed the cover to that and to the car seat
*
We have our house mostly put back together after the big exodus of Kate's stuff... Just the dining room needs some help.
*
Gonna get my toenails painted tomorrow.... :)
So... Really, baby girl. I'm pretty ready. Come out and play any time!
Meanwhile, the spring weather has come back, and I love it! I am also getting excited to be done with the diabetes thing---- I am going to celebrate with a MASSIVE glass of cold skim milk and about 10 fresh chocolate chip cookies. I am not kidding. That is what I miss the most. (did you know milk's lactose is a SUGAR, so I have to be super moderate about the amount I drink? What a cruel joke!! I mean, MILK is GOOD for you. ARGH.)
I am getting excited to play with my own baby girl for photos... (Stay tuned this week for a session or two of OTHER baby girls I've photographed recently--- just to get us all revved for Lucy!)
And I am super excited to have Jodie and Kim (
Fresh Art Photography
-- the gals who rocked my maternity photos!) play with Lucy for a newborn session of their own. I love that it'll be like TWICE the props and goodies and cuteness because they have so many fun things that I don't. :)
I am getting amazingly excited for all my mutually preggy friends to begin announcing their arrivals--- Melanie and Erin and Ashley are first up... And Kelly... All you guys better text me or something, because I am almost as excited for YOURS as I am for mine!!
And I am still trucking away at my trusty sewing machine... Crankin' out a project a day, at least, just because it makes me SO FREAKIN' HAPPY. I have photos. I need to blog 'em. I love this kind of nesting!!!
(It doesn't help that Kate turned me onto
Pinterest
, and now I see lovely things all day long and say, "Hm... I have stuff to make that. I could do that!" ... And then.... I go DO it. Ridiculous. But so much fun!! [username: emsoutherland-- come play!])
Aaaand..... What else? Oh, darn April. I have been trying to get caught up on my business bookkeeping and BOY is that not fun. Anyone in STL have an accountant they LOVE and can recommend? I love mine, but I think I'm more of a burden to him than anything, and I'd love to try someone else out at least once...
Why must I think about numbers and sales tax and FEDERAL tax when I'm supposed to be sitting happily rubbing my big belly, thinking about flowers, bunnies and babies? Really? Blergh, you stinkin' business responsibilities.
Anyhoo...
I s'pose that's enough rambling for now... Here's to Week 39 being THE week! And for the rest of you, here's to SPRING! (And Easter chocolate!)
*