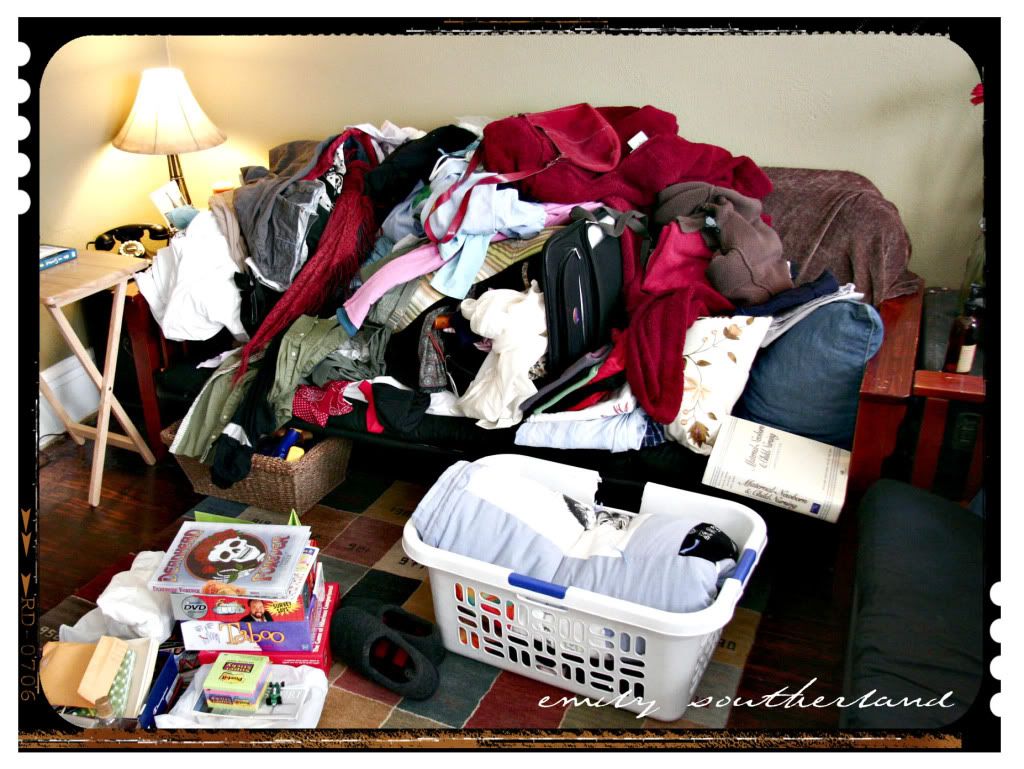 On
Jodie
's suggestion (it's cathartic! Put it out into the universe and let the universe give a little back to you), I am sharing from a venting email i tossed off tonight to very patient friends of mine:
"As for me? I.................I'm just TIRED. and OVERWHELMED. Nothing bigger or more malignant going on. I am:
sick of the clutter that only I see and therefore only I tackle... and I do not have time to deeply address the clutter because my spare moments are spent cleaning up the daily messes or keeping up on business emails or (let's admit it) with my online girls. And then evening hits and i need to be WORKING, or I feel like a pile of useless procrastination... so evenings are out for any personal catch-up. Add to that my back has been really hurting for over a week-- a sore, tight, muscle-y ache that only deepens as I sit in this chair longer...


Add to that I have this absolute NEED in me to be creative, but the pro photography isn't filling that need, and yet it consumes my every moment, so there IS no time for ME. Real "Me Time".


The more I type, the more I just want to cry.


I am just beaten down. And it is just today. Tomorrow, I'll put on my superhero cape again and manage with a smile on my face, and truly not even feel beaten down. Until I trip over another pile of crap or Noah fights another nap or I realize we're on our last roll of TP or some other trigger. Most days, most of the time, I am FINE. It's just when one thing trips me on my path, the rest of it comes ZOOOOMING back into focus and I remember how MUCH WORK I ALWAYS HAVE TO DO. And I feel alone. and I feel like NO ONE CAN SAVE ME, or provide relief.... and I have to just grit my teeth and push through.


and I am scared that this is what my entire mothering career will feel like. Not 100% of the time, but in consistent waves. Consistent enough to wear me out and kill my spirit a little more each time I freak out.


And what might possibly help here? Oh, let's just conjure up a no-holds-barred dream list:

1. cleaning lady

2. nanny 1 or two days a week

3. a project room of my own

4. Joe knowing how to eliminate clutter, instead of just reshuffling it, or worse, not even noticing it.

5. three or four photography sessions a month. No more than that.

6. regular exercise.

7. drinking more water.

8. Praying more consistently.

9. Feeding my spirit more consistently.

10. Close friends nearby, so we could make the boys watch the boys and I could go to a dang movie or dinner with some girlfriends.

11. More space

12. less stuff

13. personal chef

14. jacuzzi

15. massage and pedicure and haircut and highlights


....So. Obviously, as I was typing all that, some possibles flowed out. Some of those are do-able. but when i feel so MIRED, starting any healthy activity seems impossible and insurmountable. And that's what i gotta fight.


Anyhoo... more than you bargained for, but I just hit a breaking point this evening, and your asking me about it made me force myself to sort it out.


Anyway, I'm out...


Em"
++++++++++++++++++++++++++++

And there is me. Genuine, real, and OVERWHELMED. I wrote that email at about 6:30 p.m. and it is now 11:30 p.m., and already I am feeling more okay with life again. I took two hours tonight away from my computer and the photo editing and I watched the Thursday shows (LOVED poor Toby's facial expressions the whole time! Loved Steve Martin on 30Rock. Didja know he plays a MEAN banjo?! Not on the episode. Just in real life.)... and while I sat and watched, I worked on a little crafty and then cleaned up a Craig's List toy for Noah that turned out to be pretty cool, bot that I'm not looking at it in the corner and only thinking of Stranger House Filth.
And after my two hours "off", I was able to get back to my ever-present task of editing photos and I have been working hard.... and so. And so I feel a bit better.
and tomorrow is another day. And we'll see if it ebbs or flows. I can handle either one.
*
{photo is not actually from today, but from another classic "life is overwhelming me" post back in January 2007. But it is a pretty accurate representation of how my life is flowing, and how I'm feeling!}