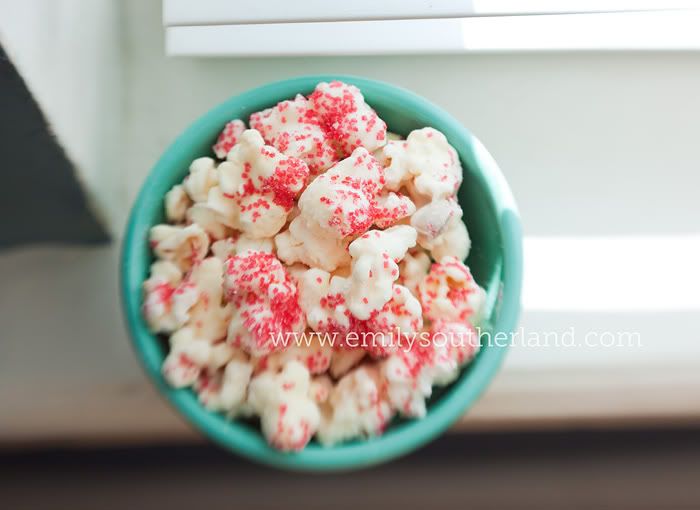 Just a small bowl of the best snack EVER, introduced to me by my dear friend
Melanie
. We got a big bag of this from her for Christmas the other year, and since then, Joe and I are COMPLETELY converted. Joe gets so excited when I get motivated enough to make a batch.
And really, it's not hard. I just have to remember to actually DO it once in awhile.
Quick, here's how:
Pop 1-2 bags of popcorn. Doesn't really matter what specific kind--
just use what you have on hand.
Get one bag of white melting chocolate wafers or one bag of
white chocolate chips.
Melt the chocolate via microwave or double boiler. (If in the microwave,
do it in 30-second intervals, stirring after each one, to keep
track of the melting process.)
Use a spatula/scraper to get all the melted chocolate out of your bowl
and into the bowl of popped popcorn.
Stir/toss/coat the popcorn. Spread the coated popcorn onto a wax-paper
or foil-lined cookie sheet so it can dry evenly.
And then, for fun, get your favorite color of sugar sprinkles and shake
all over your finished batch of coated popcorn.
Other ideas: Add M&Ms or Craisins or mini marshmallows or nuts or other kinds of sprinkles or candy corns or WHATEVER to the mix before you put it on the cookie sheet.
Last tip: Bag some up to share with friends, otherwise you'll eat it all yourself. Trust me.