It's still February, despite the 55-degree weather we were graced with today. And as the winter comes to a close, I've been meaning to talk about wintertime and trying to shift my mindset about time spent outside even in chilly temperatures.
The thing is, I've been musing on that idea for two or three winters now, and I really like it. I like the idea of encouraging my children (and myself) to get outside and learn to find magic in nature, even when it is grey, dreary, chilly, and wet. There are adventures to be had if you look for them, even if we'd all rather they happen in 75-degree sunshiney days in fields of rich green grass. I want my kids to experience nature in all its incarnations.
So it's been a goal of mine to get outside, even in the winter. There's a book I got as a gift this year that has been lovely to read because it has validated all the above ideas I'd already been having, and helped flesh out the concept a bit further. Called, 15 Minutes Outside: 365 Ways to Get Out of the House and Connect With Your Kids by Rebecca P. Cohen, this book is EXACTLY what I've been trying to get my head around-- the idea that encouraging my kids to connect with the outdoors will be something that stays with them, shapes them, for their entire lives.
And so--- this winter my children and I have been on dozens of walks... Explored parks... Talked about North, South, East and West while Noah chooses which way we'll turn next.
We've learned about milkweed pods and seen their magic when they dry out all throughout the late fall and prepare to crack open and let their fluffy confetti go in the late winter.
We've trekked through puddles, mud, snow, and rain.
Noah and I each got a new pair of rain boots, compliments of Grandma Vicki. And we've worn them lots.
Lucy got two snowsuits for Christmas and Noah got snow pants.
When asked what we might want for Christmas this year, I encouraged outdoor equipment, and Noah got a fantastic set of portable soccer goals and a pair of roller skates.
During Noah's November birthday party, we made all the kids spend the majority of the party outside, running and playing.
And through books and with the help of his preschool, Noah has been learning about hibernation, migration, and what animals do in the wintertime.
Which brings me to my little crafty project, and the subject of my next blog giveaway contest.
The one animal around our house that we've come to depend upon for nonstop action, even in the dead of winter, is the hardy, stubborn, brave SQUIRREL.
(not my image! Thanks, Google.)
I know--- he's not the most romanticized animal in the world... He's pesky, he's a scavenger, and he's noisy when he runs along our rain gutters in the morning. But he is here. And he is the epitome of a creature unafraid to embrace winter and be outside in the worst of it.
So I decided to make a pair of squirrel ears for Noah. And a sock acorn. I figured we could get outside and play imagination games and pretend to be winter animals. I figured he could learn a bit about the squirrels and come to relate a bit with them. At the very least, I thought he'd be stinkin' cute in a pair of fuzzy grey-brown squirrel ears.
Confession: This idea came to me TWO YEARS AGO. And I made the squirrel ears TWO YEARS AGO. And I intended to blog them and do a giveaway TWO YEAR AGO. Oops. Ha. Here, as evidence, is Noah, TWO YEARS AGO, in his new squirrel ears: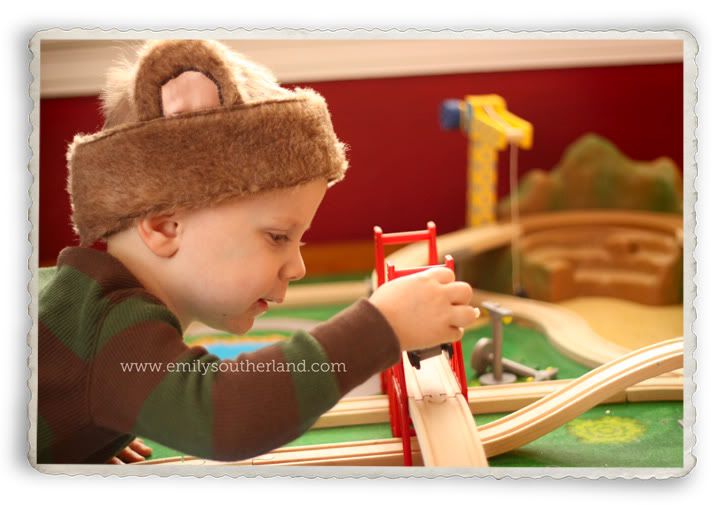 And here, just yesterday, using my dinky cell phone, is Noah in the same squirrel ears...Just him, his Old Mai, a sock acorn, and a random woodsy pine tree leftover from Christmas.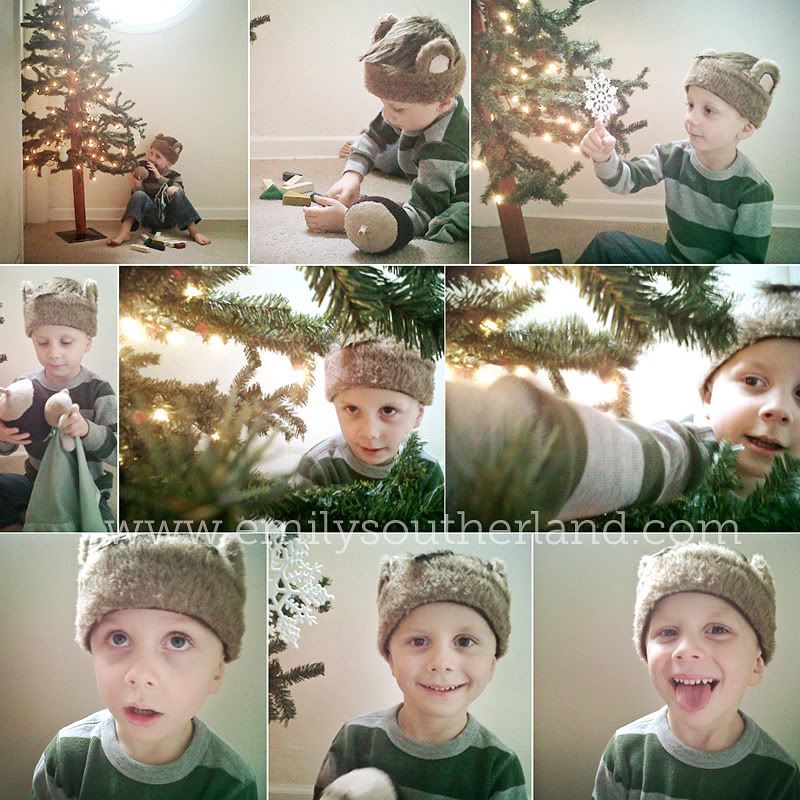 Showing that a good idea can stay a good idea for a good long while, and it's never too late to follow through on a brainstorm that hatched TWO YEARS AGO. It's also evidence that this idea of embracing winter with my kids has been brewing for a good long while.
And sidenote: I love my Noah. Just had to throw that out there. Even in rinky-dink cell phone photos, his amazing soul shines through. He is my sweet love.
ANYway.
The time is now, and I still have a darn cute pair of squirrel ears, sized for a kiddo from about 2 years of age to about 4-5 years of age, and a sock acorn with a wool felt top.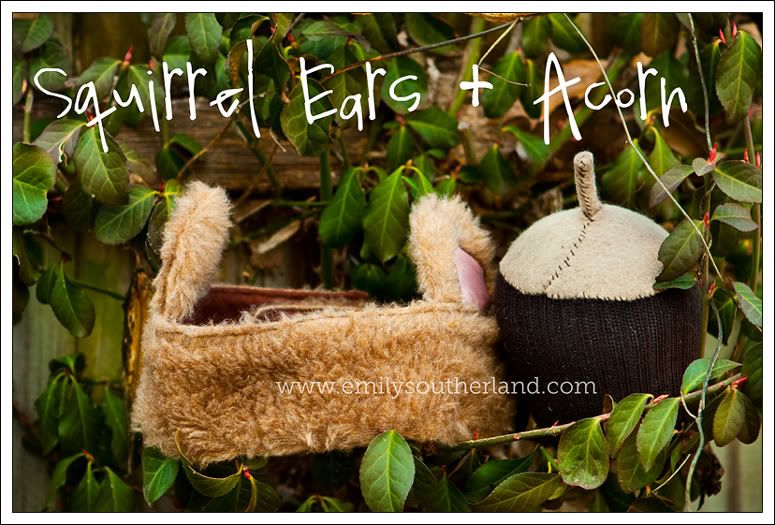 Along with the squirrel ears and acorn, I'll include a little note that gives you some fun ideas on how to play games with the acorn--- just simple twists on old classics like "Hot Potato" and "Boolah Boolah"... games like that.
I'm going to tuck all of this into the mail to one random blog commenter at the end of the day on Monday, February 20, so that gives you all weekend to remember to get over here and post a comment. I'll stop counting comments after 10:00pm CST on Monday, and will let Joe pick a number between 1 and whatever comment we make it to, and that will be the winner.
To grease up your dusty brains as to what to post in your comment, riddle me this: what is one of your favorite "make-believe" games you played as a kid? My siblings and I played My Little Ponies, He-Man, and many other imagination games based off of Saturday morning cartoons. I could go on for hours about the minutiae of those old games, but.... I've been writing this post forEVER and I really just want to sign off and go snuggle with my hubby in front of a TV show. So ha. No more.
Leave a comment. Enter to win. And GET OUTSIDE even when its crappy. Your soul still needs it, even if its NOT sunny and 75 degrees.
P.S. Would anyone be interested in a tutorial on either of the above items? I can do one, but only if there's interest. Lemme know...