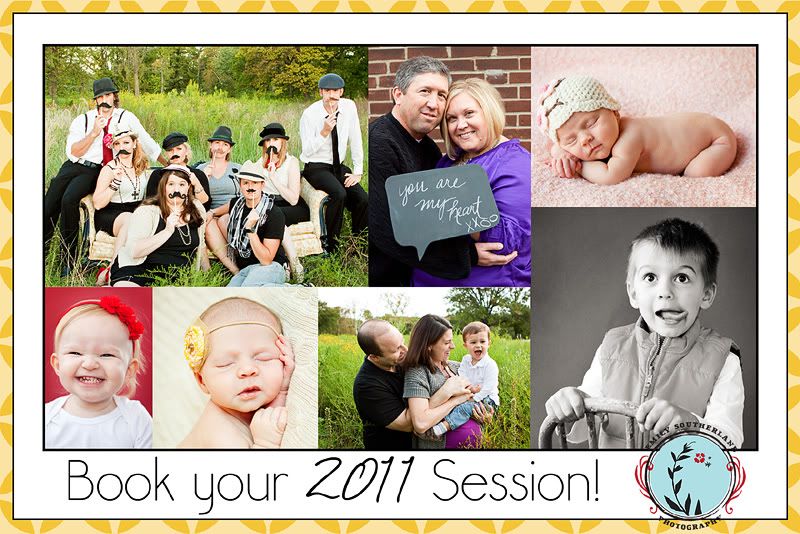 After settling into the New Year, I'm ready to get down to work again and have decided to offer a limited time special for 2011 bookings. This is a rare offer, so listen up!
If you are one of the first
TEN
clients to contact me and book your 2011 session with me, AND you get your session retainer paid to my by
FEBRUARY 1st
, I will give you your choice of:
A.

$50 off of your session AND a mounted 11x14 print of your choice (value: $55)
~OR~
B.

$100 off of your session
You can do this a couple of ways: To book any session with me, you need to put down a $200 non-refundable retainer with me. This retainer goes towards your collection of choice. You can use your SPECIAL OFFER DISCOUNT at the time of retainer payment, or you can use it at the time we actually shoot your session, when you pay the balance of your session collection.
To see my current pricing and explore the four collections I offer, go HERE.
To take advantage of this special, you are not required to SCHEDULE your session to happen in the next two weeks--- you are merely putting your retainer down to hold a session SOMETIME in the year 2011. I can offer two spots per month every month this year EXCEPT April and May, when I am on maternity leave.
At the time of booking and paying your retainer, you can specify which month you want to be put on my calendar. If I have a free spot, I'll put you down for that month and we'll narrow down your session date and details as we get closer to your month.
This special begins RIGHT NOW, so if you want to get in on this deal, contact me as soon as you can to make sure you're one of my TEN clients who get this deal. When the ten spots have been filled AND PAID FOR, I'll come announce that the special has ended.
I can't wait to begin filling my pages with 2011 fun. Are you going to be one of my clients this year? :)