Joyful turns of events of late:
1. I am feeling nearly 100% improved from the craziness and pain of the autumn. Betty is healed, according to the docs (she's still a bit lumpy,and might need a lumpectomy eventually, but no more infection.) And the reactive arthritis that turned out to be FAR worse that the actual Betty Issue is GONE. It was over a month of constant, debilitating, daily-life-affecting pain--- the inability to walk in any normal fashion, constant Tylenol, tears, hours of couch time--- and forget about being able to get out and do things with Noah or make dinner for my family. It was awful. So to be able to declare that it is gone, that my body is finally settling into NORMAL pregnancy quirkiness (i.e. fat ankles, itchy belly, etc.) is one of the happiest statements I can make. I'm BETTER!!!
2. Joyful turn of events #2: Joe is sewing.
Oh yes, you read me right. JOE (my sweet mime-y, French-reading, Lego-collecting, sweet-toothed, amazing husband), is SEWING.
He's still on the hand-sewing level, but the actual words, "I think maybe I need to learn how to use the machine" came out of his mouth a few nights ago. Can you even contain yourselves? 'Cause I cannot. I am totally, completely endeared by this turn of events. TOTALLY.
And what, pray tell, would pique his interest enough to get him to sew?
Meet the Monsters:
I'm not sure they have names, but they CERTAINLY have personality! Like this one--- he's pigeon-toed and grumpy, but a softy at heart.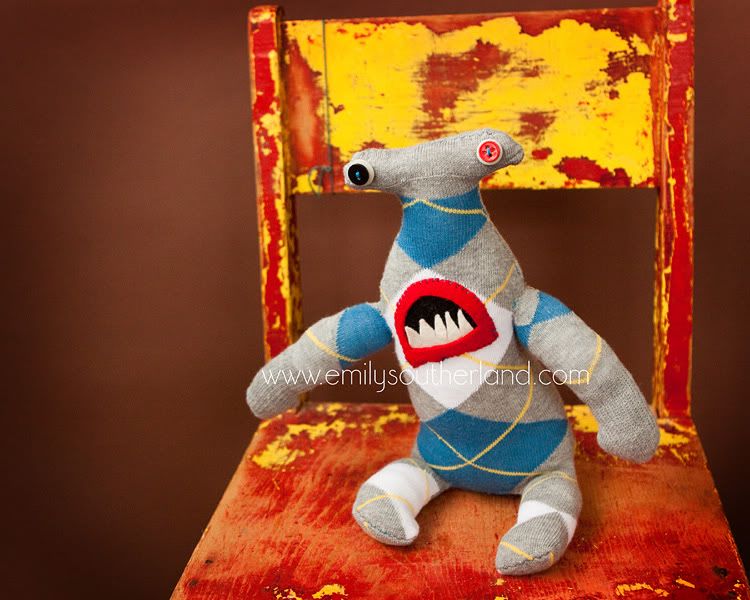 And this one-- he might be little, but he makes up for it in his brash, outgoing personality. You can't miss him in those stripes!
And this clever little one--- still has his baby teeth, but he's a tough guy who loves to give hugs with his stripe-y arms.
I mean,does it get any cooler than this?? And these are just his first three. Joe is showing no signs of stopping, and it warms my crafty little heart. I dabbled in sock critters a couple of years ago--- LOVED making monkeys and monsters--- so my stash of socks-to-be-used was still plentiful, and I had lots of spare buttons and batting... So when Joe got interested, it was no work at all to sit him down with supplies and some basic instructions and let him soar.
It's pretty darn awesome. Be prepared-- I think this might be a hobby he keeps for a while.
And musings: Well.... okay, actually, I don't think I have the steam for deep musings, like I intended. I wanted to talk a bit about the pregnancy at this stage, talk about some of my 2011 goals... Talk about winter blahs.... But....I dunno: I have some pretty music playing in iTunes, Noah is stinkin' CUTE in his fuzzy pj's as he plays with Play-Doh, and I talked myself into a pretty good state of well-being by braggin' up my hubby just now. I probably don't have much else to ponder or whine about for now. Maybe when the grey chill seeps back in, I'll come back and purge a bit of the mind clutter... Perhaps.
Til then, hey-- it's FRIDAY!!!
Oh, and guess what I feel off of the wagon with aall through my illness? Sharing sessions. Yeah. Yep. And I still have several from 2010 that should be aired. So... I want to do that this month. But I know that for some of you, that is the LAST reason you read, so I'll try to keep posting MY stuff, too.... and for those of you who ONLY come for the photos, I promise to get back on that.
But back to FRIDAY--- woo hoo, right? We have missed Joe all week as he went back to work, so that's why we love Fridays over here. Why do YOU love Friday today?