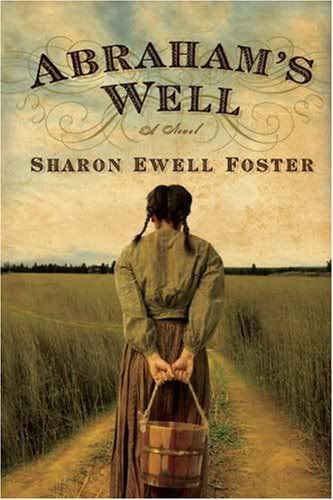 Abraham's Well by Sharon Ewell Foster
I never get books read recently... So this is an accomplishment. This is a simple, moving book, easy to read, easy to get involved with... and it tells a piece of American history we don't know much about. It isn't going on my top book list of all time, but it was well worth the read!
When I read a book, if passages speak to me, I fold the lower corner just a little so I can go back and copy them down in my journal at the end... And seeing as I have been TERRIBLE at journaling recently, I might as well write it here... Since the book is a library book, borrowed from my mother-in-law all the way from Korea. I need to return it to her tonight!
Here are the two corners I folded down in this book:
On changing ourselves--
"No man wants to look and see that he is broken, that he is diseased or disfigured. But if he will be brave, if he will judge himself, then, like Jacob, he can change...
It is a hard thing to see yourself-- to recognize that you are broken, to see that you are wrong. It is painful to see that you are diseased...
Stepping into the water to be baptized is easy-- but honest confession of what is wrong with you hurts right down to the depths of the soul... I know. I'm telling you what I know. It hurts so deep, like a wound to the mortal body...
and it is even more painful -- after you know it must be done-- to rip out that thing about you that is evil. And, my brothers and sisters, don't let anyone fool you. It is not easy! That diseased part of your soul, it hurts like disease in your arm. You can feel it...
Most people run from it. They are not brave like Jacob. They don't want to feel the soul's disease, the soul's pain. They try to pretend, like Jacob did for so long, that the sickness is not there. So they try to cover it by acquiring more things...
It would be wrong of me to deceive you, to tell you that changing is easy. Cutting that disease from your soul is painful. It means you have to cut away a piece of who you are.
[But] We can choose to be courageous people. We can choose to stand, to fight against what is wrong inside ourselves. We can choose to be made whole."
-Brother Jesse's Sermon, pages 215-216
Miss Susie's Wisdom--
"You can't get to joy being mad. Take it from somebody who knows. Being mad will kill everything around you. The madder you are-- the more mad you plant-- the more mad you'll get. It's just like adding salt to the pot. The more you add, the more you'll get in the end. Too much salt won't never make a cake turn sweet."
-page 257