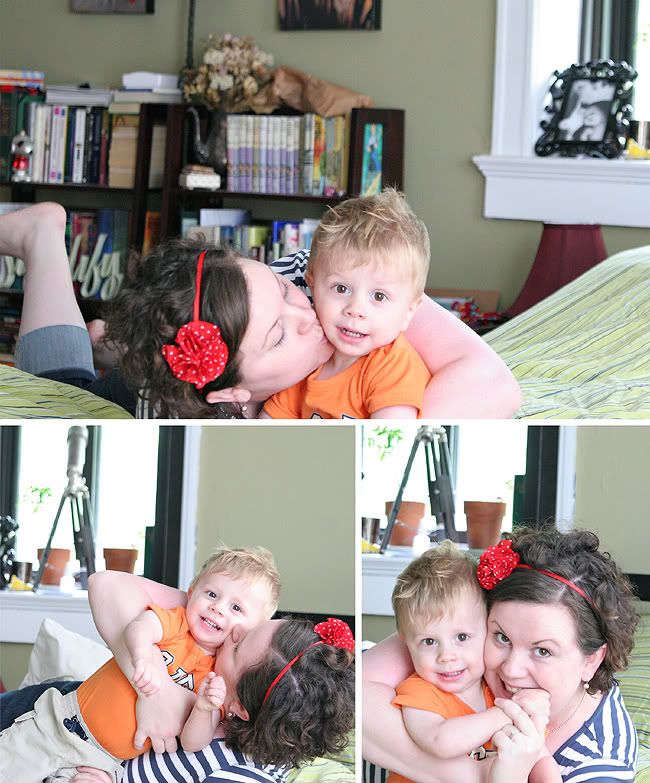 I read
Pioneer Woman's blog
. LOVE her. Love her photography blog as well... If you are at ALL interested in photography, this
photography section
is chock full of tutorials, ideas, information, and free goodies. You must become a reader!
The other week, one of her guest posters wrote about getting IN the photos with your kiddos. She had such a way with words... Like this:
"
So here's the deal…
1. In five years you will look five years older….you WILL look young in the pictures you take today!
2. Ten years ago I thought I was fat. Oh my goodness….I should have taken pictures THEN.
3. Your children look at you all day long. THEY know what you look like. They won't care how you look in the picture.
I really don't like how I look in pictures. It pains me. I still want to look like I did when I was 25 years old. And really I'm shocked that I don't.
But seriously. My children love me just the way I am. Chins and all.
Consider this your call to action!
You can do it. I know you can. If I can, you can!
Let your light shine. You will never regret it!"
Oh, the whole post is incredible though, so
go read it
in its entirety.
The point is.... I think of this post often. Thought about it again yesterday when I decided to play with the self-timer and see if I could make it a game with Noah.

He was TOTALLY into it. I would set the camera, attempt focus (without being able to look in the viewfinder because of the way I had the camera perched on my dresser... yikes!), and push the button. I'd then
run run run
over to the bed with a silly laugh and expression and Noah would watch me and laaaaaaaugh! I'd grab him, then remind him that there was a cool flashing, beeping light and to look at it. And we'd both look over just in time to grab a shot, which 3 times out of 5 was terribly out of focus or off-frame. But. He loved the game so much that when we'd get done with a shot, I'd ask if he wanted to do it again, and he'd look at me and say, "'Gain?" And.... of course I complied! I loved it! My kid, the photo-jaded model... asking for MORE? We had so much fun.
I love the message in the earlier quote that our children love us just the way we are. Clearly, Noah didn't care if we were in focus or looking foxy or anything. He just enjoyed the fun of the moment.
So go.... get in a photo with your kiddo. Perfection is not expected. In fact, this last shot is my favorite, shot from the whole thing...Shot from above us as we lay on the bed. And cropped eye/chin/intent expressions and all... well... I wouldn't trade it for anything.