Oh my friends. This iPhone of mine is getting a LOT of action in the photo department. It has been so much fun to be able to take my usual "crappy cell phone pics" throughout the day, but have them be... well, better than crappy. And to have some fun editing apps to play with. And frames. (I'm a sucker for frames. Even if that makes me outdated one day.)
It's just another way I can preserve my personal history, savor moments, wax sentimental, "keep" my memories-- in a life where I am a self-admitted personal history junkie. I still take out the big camera, sure. But for the quick snap--- the one moment I know will pass before I can get the lens cap off, there is nothing like a cell phone camera to grab the moment. Here, a few from the last couple of weeks of December: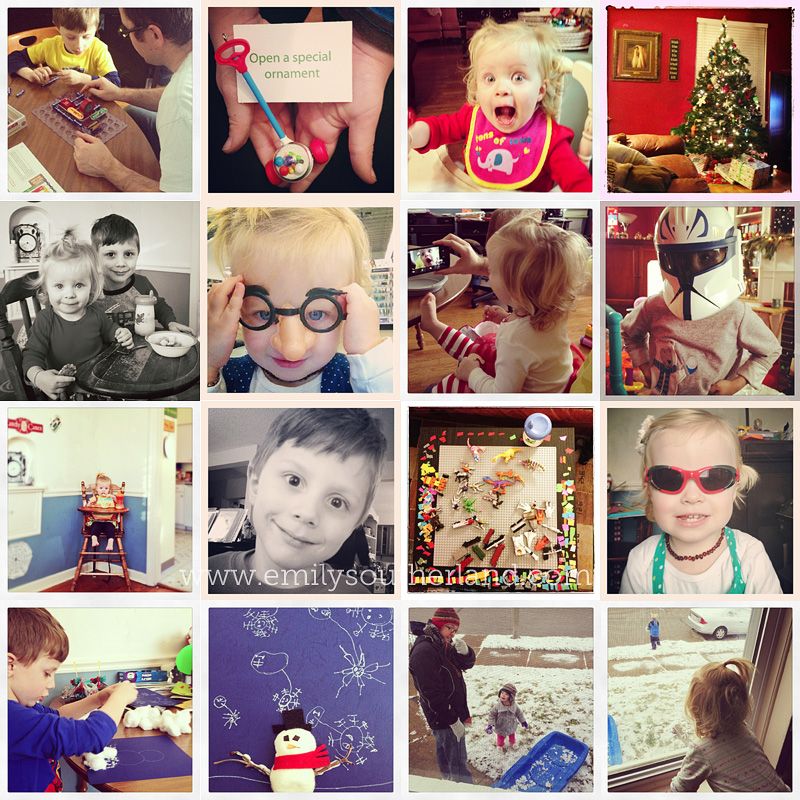 Even at a poorer resolution and quality than a "real" photo, those little gems up there are so special to me. Crappy cell phone photos have always been special to me.
Which brings me to a project I've been making an effort to keep up on--- something I think lots of you might not have even considered trying, but something I personally think is SO worth the few hours of time/effort it would take to get one done. I'm talking Blurb books, people. Using the fabulous Blurb book website and bookmaking program (free!) to gather and assemble and PRINT your cell phone photos into a little book of their very own.
Anyone following my blog for any amount of years knows I am a disciple of Blurb.com, the bookmaking website. I first used it to create an epic keepsake coffee table book of our trip to Europe in 2006. Another favorite project was making Lamby's ABC Book for Noah for Christmas the other year. And throughout all of these and other "special projects" using Blurb, I have been working so hard to get my massive quantity of personal photos into yearly books for our family to enjoy--- the modern take on photo albums.
(And here is the burden of my life: I am still 3 years behind on those big books. This is all I've managed to get completed. *sigh* Still, how nice is it to have a stack of at least a few years of photos??)
But those cell phone photos. Especially pre-iPhone, they were, let's face it, pretty crappy. Why clog up a lovely family album with those stinkers? And yet..... what to do with them? Just scan through them on my phone from time to time? What about when the phone crashes or gets wet, and those photos are gone forever? Sure, they were crappy.... but they were special moments.
So I decided they needed a Blurb book of their own. Not a big 8x10 or 12x12 book... Just the small 7x7" size... Something small and no big deal.... but something that got them on paper and into my hands in a more permanent way.
See those very topmost books? Right above Noah's preschool book (that's another project for another day. Let me know if you wanna know about it. It's another marvelous use of Blurb to get things consolidated and preserved. LOVE.)-- those smaller books are my cell phone photo books. AWESOME.
So far, you see my 2008-2010 book (my cell phone didn't have a camera prior to those years, so that's as far back as these books will need to go.) and my 2011 book. I maintained the same cover design for both books and will do the same for the 2012 book--- I love the cohesiveness of it, with small changes made to keep it interesting.
I then added some insert pages that I designed in Photoshop that help organize the photos inside. Not many of them.... in the first book, I just added an insert when the year rolled over from 2008 to 2009, then from 2009-2010. Example:
But beyond the covers and those few inserts, everything else is done within Blurb's bookmaking program, Booksmart, and you do not need any other program to work on it. I use Blurb layouts, don't add any fancy stuff, and keep it simple with white pages and thin black borders around some of the photos. (Depending on the layout you choose, Blurb gives you the option to add frames. Some layouts don't have this option. I don't have a preference, so I'll add thin black frames if/when it permits, and shrug it off if it doesn't permit.)
The beauty of these small 7x7" books is that you can cram lots of photos into the pages. They're not high-quality photos anyway, so they don't need full-page bleed treatment. The point is to have them in one place to enjoy, so having lots of small images on one page is fine. And I don't reserve these spots for just the photos I take of people. Any cell phone photo I took, random though it may be, goes into this book--- the next image has: location scouting, new packaging for my biz, a funny street name, and then a walk I took with Noah when he was 10-11 months old. Random. But all tell part of the story.
(Anyone else melting at Noah as a baby? Seems so long ago!!!)
Something funny/fun I then added to the end of my 2008-2010 book was this page: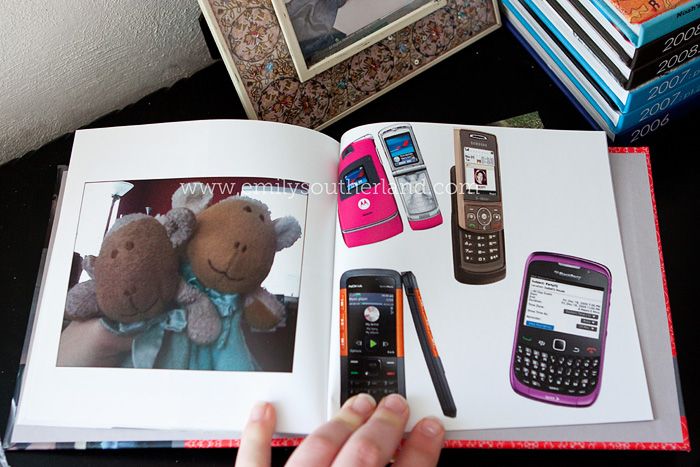 Those are google-image photos of all the phones I had from 2008-beyond that helped capture the images in the book. The same makes, models and colors. I know that one day this will not only amuse me, but my kids when they see "those old fashioned cell phones from the olden days". It makes me smile to see this page. And again, it is part of the story-- the history.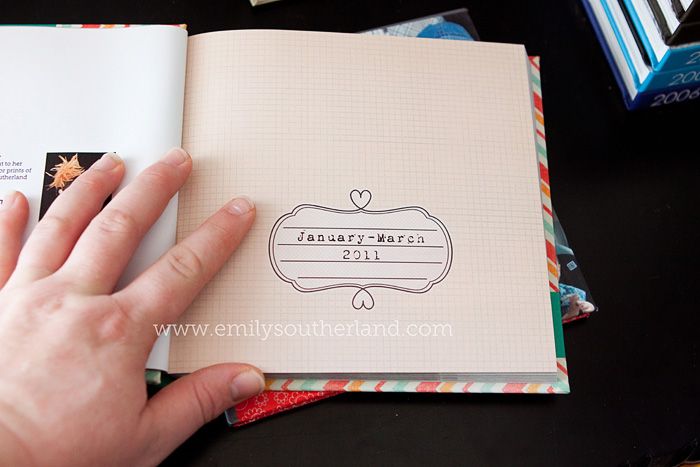 And then a few pages from my second book, the 2011 book. This book is divided by quarter, so the divider pages tell what months are what. At this point, I'd begun taking a LOT more cell phone photos--- particularly once Lucy was born. A friend of mine who'd had a baby just a week before me (Hi, Misty!) would text me a photo almost daily, and I'd text her one back.... we'd share our baby oohs and ahhs and woes that way, and taking more and more photos became a habit. So 2011 got its own book. And a thicker one at that!
Lots and lots and lots of moments... Mostly mundane, not worthy of even a paragraph of description... and yet those are the moments that make up the majority of life. The details caught in them--- the clothes we wore, what we ate, where

w

e spent our time.... will be precious to us one day when memory becomes a bit fuzzy.
And though the photos themselves are, in large part, also fuzzy, they are there. And they matter to me.
Do your phone photos matter to you?
Does this seem like something you'd cherish for yourself?
I challenge you to go to

www.blurb.com

(no they're not paying me. BUT THEY SHOULD. I preach the gospel of Blurb ALL THE TIME. Pay me.) and download their free program, Booksmart. I challenge you to "start a new book" and choose the 7x7 size. I challenge you to upload as many of your cell phone photos as you can get your hands on and begin just dropping them into this new Blurb book. Don't even worry about order or captions or design. Just begin getting the photos into place.
If it starts to excite you-- starts to make you feel like this could be worthwhile.... THEN go back and decide how you want to continue the journey. Add captions? Add divider pages by year or month? Or just throw a bunch of photos in the book, title it "Cell Phone Photos Since 2007", print it, the end.....Well, that is still going to be one really fun book to have in your home. I promise you.
I challenge you to allow your small moments, seemingly insignificant, to be special enough to put into a real book.
From there--- who knows? You might get the bug. And might suddenly have ideas for 10 more books. (Beware that bug. It comes with a hefty dose of guilt when you don't get them done in a timely manner.)
And to facilitate this project, I am offering to:
1. Make myself available via comment section here to answer your questions as best I can (reminding you that I am not 100% expert in Booksmart, and Blurb is not paying me. THOUGH THEY SHOULD.)
(and reminding you I am great with child and may not be as prompt as we'd all like once he arrives) So leave a comment and check back to see my reply. :)
2. figure out how to make a free front and back cover template available to you for your own use. They'd look just like the ones here, but with masks/spaces for photos and a mask/space for you to use your own digital paper. Someone tell me how to host a PDF or PSD for downloading here? Anyone?
3. Heck, if I can figure that out, I'll make the insert page available for free download, too. You'll only need some PS knowledge to tweak the templates to be specific to your needs.
4. Heck x2-- I'll make a plain 2011, 2012 and 2013 cover available if I can--- just patterned background and title "Cell Phone Photographs 2013", etc. and host them as JPGS so you don't even have to edit them-- just drop them into Booksmart as the cover images. EASY.
5. Because I think these kinds of projects are worthwhile. And immensely rewarding.
And who doesn't love the idea of their own stack of lovely lovely finished Blurb books in their entryway?
And with that, I'm out of here. I accidentally took like 400 iPhone photos in the month of December 2012 alone. My 2013 cell phone photograph book has some work to be done. YIKES. I'm off to be productive.