See this lovely magazine? It is a beautifully-produced regional publication that focuses on life in my hometown of Columbia, Missouri. Though it revolves around one medium-sized city, it is truly a quality production. Gorgeous art direction and writing, relevant articles and DIYs... Simply a well-done little magazine.
Peek a bit closer--- see the title about the superhero party?
I am ridiculously excited about this. You see, the assistant to the publisher, Lily Dawson, is sister to my bessie Genny. And one day, when working on her idea list for an upcoming issue, she randomly Googled "superhero birthday party" and my blog was one of the first hits she got. It was only after she read through my blog post that she realized SHE KNEW ME. Wild! So she approached me about using some of my images and my party ideas for a feature article.
Um, YES???? So cool! Check it out:
They were incredibly generous with the amount of pages they dedicated to the article. I just kept turning pages and seeing more! I cannot tell you how thrilling it is to see all of these images in print. I loved assembling this party, LOVED throwing it, loved seeing my son so delighted with it... So it's such an honor that the magazine saw value in it as well.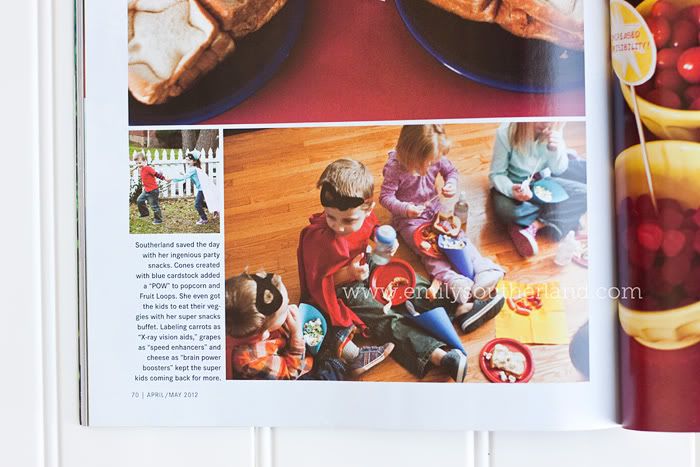 I admit--- I am extra tickled to see this full-page shot of my cute son. He cracks me up!
Lily and Co., thank you for making my YEAR with this amazing feature. I am honored and delighted and still can't quite believe how amazing it all looks. Truly, thank you!
So. In addition to getting the beautiful copy of Columbia Home in my mail the other day, I also got a copy of this magazine. Anyone heard of it?? It's called Seeing the Everyday, and it is breathtaking.
It came in my mail with no announcement, no fanfare.... And no name telling me who had seen fit to subscribe to it on my behalf. Remember
THIS
post? Getting a surprise subscription in the mail was so much fun back then, and it was ridiculously happy-making to have it happen again.
I mean, you guys--- this magazine. Oh, SWOOOOOOOON. It is GORGEOUS. It has no advertisements. It is on lovely heavy matte paper. And it is simply full of incredible photographs and small essays about embracing the ordinariness of our daily lives. Reflecting on where we've come from, dreaming of where we'll go... but mostly, it's about BEING IN THE MOMENT. Sound familiar? It is like this magazine was written just for me. Every new page, every new photo I saw made me even more giddy and joyful. PERFECTION.
I took a few photos of the gift.... thinking I'd come back to the blog and do another dedication and thank you to Anonymous Giver.... And not 30 minutes after snapping the photos, as I'd reluctantly put the magazine down and was stirring a pot of pasta for our dinner, my phone rang. On the other line? My dear best friend Katie. First thing out of her mouth?
"Did you get the magazine?"
Oh, Katie.... yes. Yes I absolutely did. And it is absolutely perfect. Thank you for knowing me so well.
Anyone have a magazine they swoon over? Anyone ever gotten the perfect gift at the perfect time? To this DAY I think about my Real Simple subscription from Genny in 2009--- utterly PERFECT-- and am so tickled to add this experience to that pile. I am so lucky to have the friends I do.
Happy Wednesday to y'all! Hope you get some happy mail of your own soon!