* That Lucy ended up having to cry it out for her first nap, and then didn't even end up sleeping
* That Lucy still won't flip from tummy to back and gets REALLY mad about it.
* That I didn't manage to get a shower.
* The few stubborn ants that haven't succumbed to my latest ant trap attack. Gross.
* My hair. Too short to be put up, too long to look good down without work.
* My current feet. I'm wishin' for a pedicure I don't have to do myself.
* How Noah repeats something a gabillion times until I stare him in the face to acknowledge that I HEARD YOU.
* Feeling behind on work.
* Seam-ripping something I appliqued on with the tiniest/super close stitches. A MESS o' threads to cut and cut and cut.
* Letting Noah watch too much TV... even if it WAS WALL-E, the cutest cartoon ever.
* Finishing a sewn humpback whale from
this Finnish blog
and not doing too shabby of a job.
* How Pinterest inspires me daily and I actually manage to DO things from my boards on many days of the week.
* Lucy's now 2.5-hour nap marathon since missing her morning nap.
* Batteries in my baby monitor so I can carry it outside while Noah and I play in the sunshine.
* A flowy skirt that feels comfy and pretty, even when I haven't showered.
* Little dangly earrings from Katie.
* Mozzarella caprese for lunch, using farmer's market Purple Heirloom tomatoes and my own basil. YUM.
* That today is a day Joe comes home on time. Its always better with him here.
* Lucy's growing patch of blonde hair on her head, filling in her widow's peak hairline. So fuzzy and soft!
* Noah's incredibly developed imagination and the way he views the world.
* Moon dough and exersaucers, both occupying each kid for just a little while when I needed space today.
* The sun coming out after a grey morning.
* The weekend is almost here.
Some from today's playtime....
I love this next one... Just an unguarded moment as he checks things out...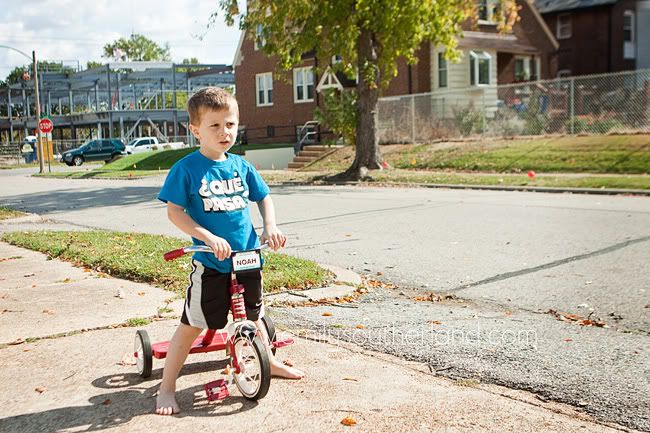 And one of Miss Lucy from last week, since she was napping today when I took out my camera. See her growing head of hair? And that tongue-- she LOVES to poke that thing out and sample the world around her... :)
(Aside: Gosh, I have so many other photos of my kiddos I've taken in the last two months that I love.... But haven't gotten time to edit them. A casualty of the pro sessions coming back into my life. I hate it. I need to remedy it. Soon.)