I splurged the other week and bought the prettiest pair of leather boots... SO pretty. Achingly pretty. finally worth me breaking my typical shoe budget of $30.
And then my fat calves got in the way. These calves didn't used to be fat. What an indignity-- to see that part of my body expand with the rest of this post-children body. Boo.
Well, I pulled and pinched and squeezed, and managed to get those pretty boots all zipped up... And I got to feel sassy and great at the Alison Krauss concert last week with Joe in my pretty new boots. Never mind the pinchy feeling 'round my fat calves.
So I thought.... I made them work! These babies are keepers!
Until today.
Today, the pulling, pinching and squeezing didn't work so well.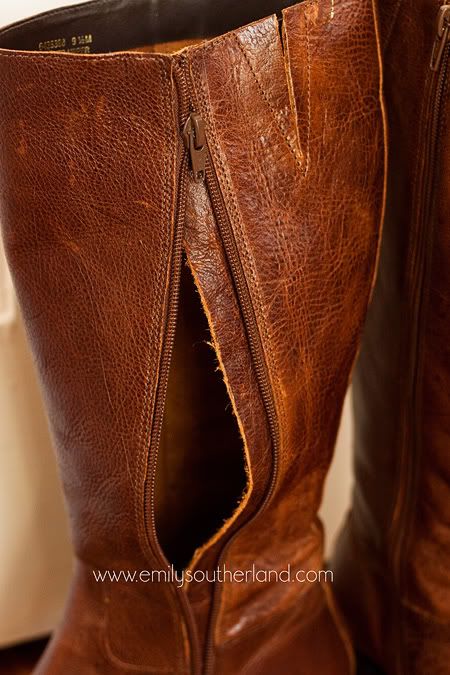 Waaa!! The saddest thing I've seen in awhile. *sniff*
I mean, these pretty boots are so PRETTY. They're real leather, in the loveliest deep, rich color...
And the DETAILING... Oh the DETAILING....*sigh*
Welp... that's what I get for trying to be stylish. The universe telling me to "HUMBLE DOWN, SISTER!"
Telling me to go back and put on my $45 TJMaxx fake leather boots I wore last season... and be okay with them.
Though the color is NOTHING like those pretty boots.... And they're not taking my breath away or anything...
But they DO have a sassy red zipper.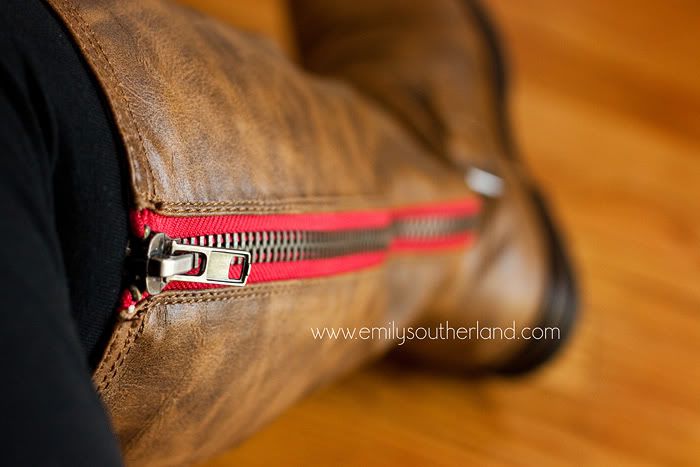 And that will be good enough. Farewell, pretty leather boots. I hope I can get my money back on ya.
(For the rest of you, though, who DON'T suffer from Fat Calves... go buy those boots. SO pretty, and really quite reasonably priced for real leather calf-high boots. Check them out here:
Nicole Ranger Riding Boot
. They got great reviews! I promise not to be too jealous of those of you that CAN wear these.)
On to happier thoughts.
Today, Joe took Noah to go play soccer. A perfect brisk first day of October... perfect for soccer.
In his absence, I enjoy seeing the signs of Noah around the house. Lately, it's been dress up props to fuel his vast imagination.
Both sets of dress-up stuff were "potty prizes" for Noah's potty training. He earned them one piece at a time. He LOVES them.
I love that even when he's not in the house, he's everywhere.
And Lucy? She came with me this gorgeous, crisp morning, to the
Clayton Farmer's Market
. She sat happily in my sling and I puttered happily around the offerings... Finally settled on some winter squash, some sweet potatoes, and some
locally made chocolate
, Little Dipper Chocolate. It was a perfect little outing, capped by the easiest put-down for her nap that I've ever had-- she was dozing right when we got home, so she let me take her gently out of the carseat and re-settle her in her crib-- barely a fuss at the transition. I love that girl.
Speaking of naps, these are rare "nap photos" of LuLu taken the other day. Normally I am so paranoid about her getting good sleep that I would NEVER risk waking her by taking a camera into her room... But I had to wake her to get Noah from preschool so it was a perfect opportunity... and she could wake slowly to the small camera noises I was making. I love the sequence here:
1. completely asleep...Notice her hand gripping her Bunny? We have another lovey-baby in the making!
2. A little jolt from that first shutter click
3. I get in a bit closer/she lets go of Bunny
4. She begins to wake.
5. Still hazy, she looks at me, not really seeing...
6. the "startle", when she really SEES me... makes me laugh, but I also feel sorry for her--- I am so sorry to wake you, sweet baby....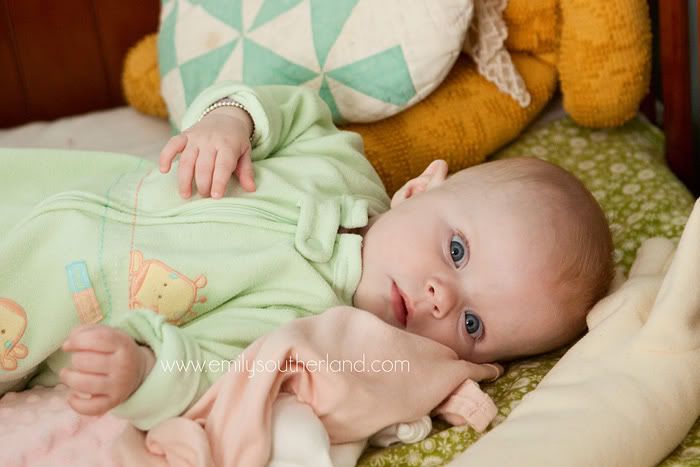 And at that point, I put the camera down to snuggle her, warm and sleepy and sweet...
Anyway.
Good stuff. Well, the boys are home, so I'm off to go return those boots and buy some supplies to make a Halloween wreath. Happy Saturday to the rest of you!