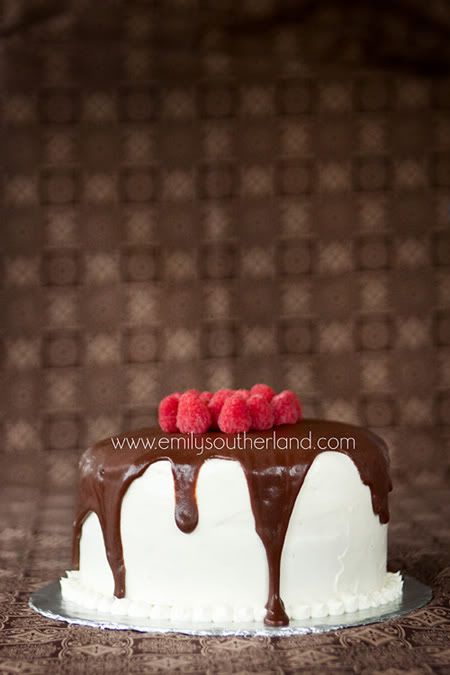 My sweetie requested only one thing for his birthday--- no grand gifts, no big parties... He just wanted cake. He didn't have anything more specific than CHOCOLATE as his request.... He just wanted CAKE.
So.
I pondered cake for a few weeks. Slowly, the ideas came together. First, I saw
this wedding cake
on Pinterest. Very cool and kinda manly with its chocolate drip effect. I knew I'd be using a Cake Doctor recipe for the chocolate cake--- altered cake mix, so it's not fully from scratch, but also more dense and good than the basic box mix--- and I also knew I'd be using my mom's buttercream for the main frosting. Adding a chocolate drip on top didn't seem too hard, so I had the basics worked out.
I didn't need to do a tiered cake like the wedding cake-- but I did want a layer cake. I decided on 9" rounds, and after reading one recipe where the girl split her 9" cakes into two thinner cakes, making four thin layers, I decided to do that. Next, I needed to ponder what would fill the layers. Joe LOVES raspberry and chocolate together, so I decided first to do raspberry pie filling between the layers. But the more I pondered that, the more boring it seemed. What about a MOUSSE? Yum!
So this chocolate layer cake became a raspberry-filled, buttercream-topped, chocolate-dripped layer cake idea. And I had my plan. I compiled some recipes to get all the pieces together, and over the course of a few days, I made this craziness happen. There was a LOT of mixing... and I do NOT have a gorgeous stand mixer like many folks do (though I dream one day of a yellow or aqua Kitchenaid on my countertop). So my hand mixer got a LOT of action, and those poor beaters got washed and rewashed a LOT to be used again and again. And after all was said and done, I'll say this-- this cake is not for the faint-of-heart, or for someone wanting a quick and tasty treat. It took time. And effort. And LOTS of love. But I am thrilled with how it turned out. And that thrill was quintupled by the reaction from the recipient... My sweet Joe, whose jaw dropped in just the right way and whose compliments were just the right words.... And I knew I'd hit a home run for my hubs on his birthday.
And that's what counts. :)
So. For anyone who feels the need to replicate this insanity, I have compiled ALL the separate recipes that go into creating this and have thereby made my OWN recipe, free for the trying. Presenting:
Joe's

Chocolate

Raspberry

Vanilla

Buttercream

Layer Cake with

Chocolate Drip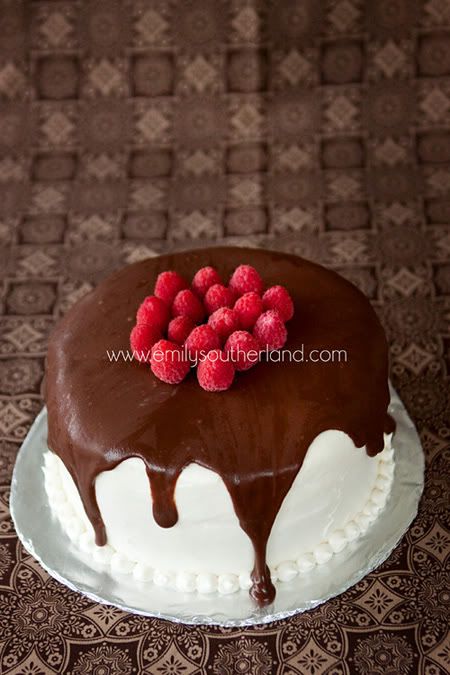 Cake: Devil's Food Cake mix, instant chocolate pudding mix, sour cream, vegetable oil, eggs
Buttercream Frosting: butter, vegetable shortening, milk, vanilla, powdered sugar
Raspberry Mousse: unflavored gelatin, raspberries (fresh or frozen), granulated sugar, eggs, heavy cream
Chocolate Frosting: Baker's semisweet chocolate squares or semisweet chocolate chips, heavy cream, butter, powdered sugar
Step One:
Bake the cake. You can freeze this cake for later, so it's okay to make this in advance when you have some time.
Darn Good Chocolate Cake

(from food.com recipe here)
1

(18 1/4 ounce)

package

devil's food cake mix




1

(4 ounce)

box instant chocolate pudding mix

1

cup

sour cream

1/2

cup water

1/2

cup

vegetable oil

4

large eggs

Preheat oven to 350°F. Grease 2 9-inch round cake pans. Dust with flour and tap out the excess; set pans aside.

Place the cake mix, pudding mix, sour cream, water, oil, and eggs in a large mixing bowl. Blend with an electric mixer on low speed for 1 minute. Stop and scrape down the sides of the bowl. On medium low speed, continue to blend for 2-3 minutes more. The batter will be very thick and should look well combined. Pour batter into prepared pans and smooth it out.

Bake for 27-32 minutes (I started checking the cakes at 25 minutes-- it was like gooey chocolate pudding-- then 3 minutes later it was perfect. Another couple of minutes and I think it would have been dry, so keep an eye on your cakes.)

Allow to cool in the pans on a wire rack for 20 minutes. Run a knife along the edges on the cakes pans and carefully remove cake by inverting it; allow to cool for 20 minutes more on the wire rack right side up. When the cake layers are completely cool, cut layers in half.

Blackberry Mousse

(I subbed raspberries)

1 teaspoon unflavored gelatin
3 tablespoons cold water
1 cup blackberries
1/4 cup granulated sugar
1 egg white
3/4 cup heavy cream
In a small bowl, sprinkle the gelatin over 1 tablespoon of the water and let stand until softened, about 5 minutes. In a blender, puree the blackberries with the remaining 2 tablespoons of water. Strain the blackberry puree into a small saucepan; there should be about 3/4 cup. Add the sugar and bring to a boil. Simmer the blackberry mixture over moderate heat, stirring occasionally, until it is slightly reduced, about 5 minutes. Stir in the softened gelatin until dissolved. Let the mixture cool.

In a medium bowl, using an electric mixer, beat the egg white until firm peaks form. Using a rubber spatula, fold in the cooled berry puree until no streaks of white remain. In another bowl, beat the heavy cream until softly whipped. Fold the whipped cream into the berry mixture and refrigerate until chilled, about 1 hour.





Step Four:

Prepare your cake base. You can use a cake platter or a foil-covered cardboard circle like I did. Place a blop of buttercream on the bottom and spread it a bit. This is the "glue" that will anchor your first layer to the bottom. Place your first layer of cake down and center it.

Step Five:

Make the chocolate frosting. This will happen right when you are ready to assemble and decorate your cake, since it is a cooked frosting.
"Perfect" Chocolate Frosting

(from food.com recipe here)
6 oz. semisweet chocolate (either 1/2 bag of chocolate chips or 6 squares of Baker's Chocolate)
1/2 C. heavy cream
1 C. butter, cut into tablespoon size
2 1/2 C. sifted powdered sugar
Place a large bowl, filled halfway with ice, in the sink (a bowl that is large enough to hold the pot that you will cook the frosting in). In a medium size pot over medium low heat, melt chocolate, cream, and butter.Stirring constantly, cook the mixture until all of the butter and chocolate melts and thickens.Cook for 5-6 minutes. DO NOT LET BOIL.
Remove pot from heat. Whisk in the sifted confectioners' sugar until mixture becomes smooth (approximately 1 minute), then put the pot on top of the bowl of ice (be careful to not allow any ice from the larger bowl to get into pot with the chocolate mixture).
Beat with an electric mixer on low speed for 4-5 minutes until frosting becomes smooth, thick, and fudgy. Remove from ice. It is ready to use now.
Step Six:

Pour enough of the chocolate frosting onto the first layer of cake to spread it and cover the layer. Don't let it drip down the sides.
Step Seven:

Place layer two of cake atop the chocolate.
Step Eight:

Get your raspberry mousse and spread a thick layer of it all over the top of layer 2. Add layer three of cake atop the mousse. Don't let it come out the sides too much-- clean up as necessary.
Step Nine:

pour more chocolate frosting onto the new layer, as before. Place the last layer of cake on top.
Step Ten:

using about 1/3 of your buttercream in a separate bowl(we're trying to keep crumb contamination to a minimum!), do a "crumb coat" on the entire layer cake. This is a thin layer of frosting that covers the entire cake, used to seal in the crumbs of the cake.
Step Eleven:

Place cake in freezer for about 15-30 minutes to get everything nice and solid and the crumb coat really firm.
Step Twelve:

Bring the cake back out and frost the entire cake with the last 2/3rds of the icing. Spread it thick to avoid pulling dark cake crumbs into the top layer. Smooth it as much as you'd like. If you want, pipe a border on the bottom of the cake (I did a "dot/pearl" border.)
Step Thirteen:

Chocolate Drip time! You'll now need to reheat the chocolate frosting. The frosting thickens as it sets up, and also becomes hard to spread or pour as it cools. To get it back to pouring consistency, put back on LOW heat and stir constantly until you get the spreading consistency desired. Be patient!
Step Fourteen:

Carefully and slowly pour the frosting onto the top of the cake. Keep it confined to the top as you pour, then set the pot down and nudge the chocolate towards the sides of the cake with a spatula. Let it drip down the sides naturally-- don't "fake" the drips. If there doesn't seem to be enough chocolate to drip, pour more on the TOP of the cake, near the center. The outside edge will spread outward from that. go slow if you want to keep the drips under control. OR, if you just like the idea of a big mass of yummy chocolate on the top, pour at your leisure and let it fall where it may... it'll still taste marvelous without the pretty drip effect!
Step Fifteen:

Top with fresh raspberries if desired, then put it in the fridge til you're ready to serve it.
Ta-DA!!
*
Aaaaand seeing how between baby meltdowns, mama meltdowns, and toddler potty-training, this post has taken three days to write/compile/proofread/format, I'd better just get it posted and move on. So no pretty conclusions or deep thoughts about anything.... Just.... Enjoy the cake idea, and go get something done on YOUR to-do list! I am hopelessly behind and have a few things I'm off to go do myself. Toodles!!