Back when I was sewing daily.... Ahh.... Man I miss those times. From January until the day Lucy was born, I was ADDICTED to getting behind my sewing machine and cranking out projects and doo-dads and blankets and such. It was truly my form of pregnancy nesting and it felt GOOOOOOD.
So now that I am lucky to get behind my poor machine once every two weeks, I am feeling wistful nostalgia for those old days, not-so-long-ago.
I have a gazillion photos of the things I was making this spring, and felt like pulling them up to revisit them... and thought, why not? I'll tuck them on the blog, too. Maybe one of these projects will inspire someone to go make something of their own. For me, it's just nice to reminisce about the time when I had nothing but time and two hands to make sweet things with fabric. One day, I'll get back there. I vow it.
First, what is it they say about a bird in the hand? What about TWO birds in the hand?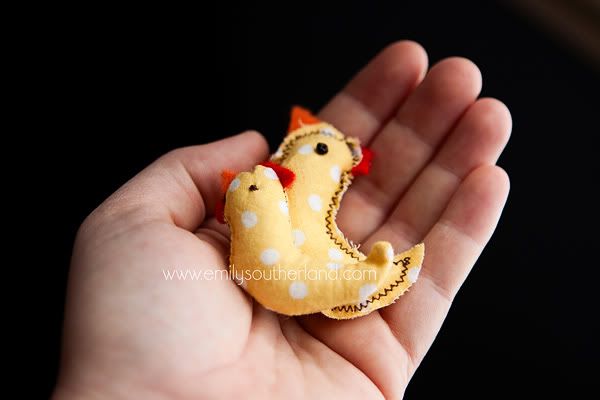 These teeny little chickens were a random project I whipped up one afternoon after Noah and I brought home some cute wooden birdhouses and I let him paint them. We only had turquoise paint on hand, so we painted those suckers a total blue--- no other colors. After they dried, he was kinda getting bored with them (who wouldn't, right?) so I popped back behind the machine and made him some impromptu chicks to go inside. You can see, I tried two different techniques--- the inside-out-sew-then-turn rightside-in, and the outside-outline stitch where you didn't have to turn the bird rightside-in. Technique #2 was easier, but Technique #1 was cuter. So. There. I love them.
#2: Birdie Crinkle Taggie
Something about birds on the brain... ha! This was a taggie blanket I whipped up for my friend Jessica's baby shower. She likes bold color and I had some fun Amy Butler fabric scraps that fit the bill... plus lots of ribbon remnants... So voila! A Birdie Taggie!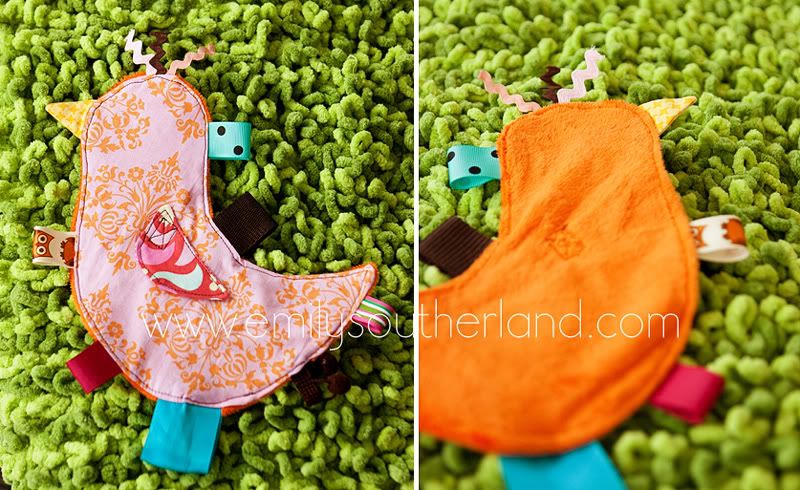 I freehanded the bird shape and the wing/beak. I drew the pieces on typing paper first, then cut the fabric out. To make it a CRINKLE taggie, I took the bag from an empty box of cereal and rinsed it, patted it dry, and cut a big rectangle out of it-- bigger than the bird. This stuff is PERFECT for making a taggie crackly and crinkle-sounding, and I LOVE adding it!
To sew together, you just put your bird shapes together with right sides facing, then lay your rectangle of crinkle paper on the bottom. You pin all your ribbons and the beak so that they are pointing into the sandwich, then sew a 1/4" seam all around, leaving a small 2-3" opening unsewn for turning the bird later. Once you've sewn the border, you trim the crinkle paper so it is the same shape as the bird, then turn the whole thing right side in. I made the wing separately and sewed it on last, sewing it on with a sturdy square-and-x pattern on the top of the wing. The rest of the wing is unattached, so it is kind of a taggie, too.
To finish, I added a button eye (not shown), but officially, this is a no-no for kids under 3, because they can chew it off and choke. But I warned Jessica of that hazard and washed my hands of it. Ha! :)
Cute, and so easily adaptable for any shape-- not just a bird. The next pic/project shows a regular ol' square taggie!
#3: Matching Burp Cloths and Taggie
This set was a gift for a sweet friend. The burp cloths are just prefold diapers with a rectangle of flannel sewn to the center... And the taggie is basically done the same way as the bird above. This time, in manly fabrics. You know, 'cause the baby who received these is a boy.
#3a:
A close-up of the manly burp cloths, and a shot of the stack of girly ones I made for Lucy and Lucy's friend Holland.
#4: Robin's Nest Appliqued Onesie
As you've seen, I've kinda had birds on the brain... so when I was thinking of fun things to applique onto a onesie, I got obsessed with the idea of making a robin's nest, complete with turquoise eggs. Lucy was born in the spring, after all. Newly hatched, if you will... I did these on 0-3 month onesies.
The eggs are fleece and the nest is brown quilter's cotton. The eggs were sewn on with a basic straight stitch, but I used a tight zig-zag and some crazy maneuvering to get the nest outlined. I kinda love how it turned out!
#5: Ice Cream Cone Appliqued Onesies
These ones were way easier than the nest onesies... Just basic applique techniques with some straight-stitch diagonal lines on the cone added for detail. Again, there's one for Lucy and one for Holland. I did these on 3-6 mo. onesies, since ice cream cones are summery.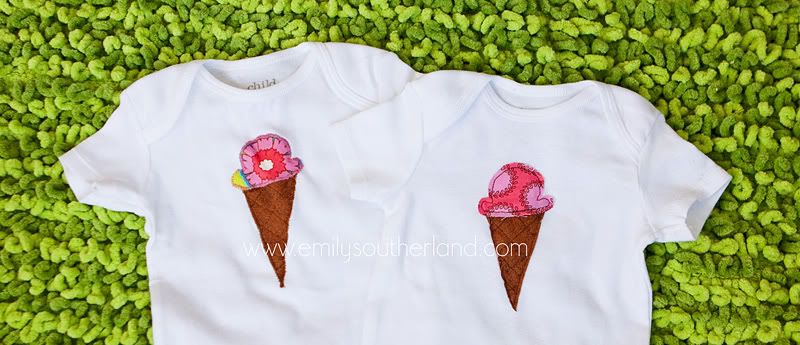 Again with the Amy Butler fabric scraps. I love her stuff so much that I honestly keep the most ridiculous small scraps... Ya never know when you might get to use them, like on these cones!
I had a good friend move into a new home, and I got to make her a housewarming gift. She has a really cool retro vivid vibe, so it was so much fun picking fabrics and colors to make her potholders. Once I had all the materials assembled, I realized I'd HAVE to make myself a set, too... I just loved them too much.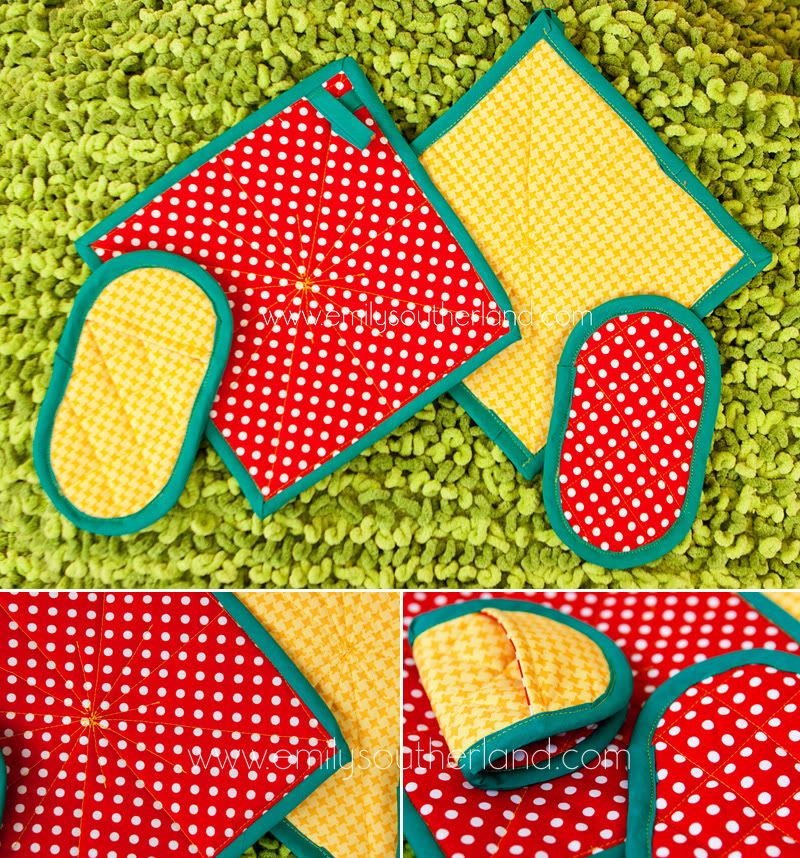 The big square is a classic potholder, and the little oval is a fingertip potholder-- the fingers go in the top pocket and the thumb holds the bottom part and you've got a nifty, small, handy potholder. I found the tutorial here:
CraftyAsianGirl pot holder tutorial
. When it came time to quilt the big square, I got crazy and did a sunburst style--- totally dreamed it up last-minute, and in the end I LOVED it--- it suited my friend's kitschy style and just made the whole thing extra happy. :)
#7: Quilted Laptop Sleeve:
Last one, I promise! This one was a birthday gift for my baby sister. It came directly from a pattern in this book:
One-Yard Wonders
, by Rebecca Yaker and Patricia Hoskins. I got the book for Christmas and WOW I love it!!
This sleeve took some time and love, mostly because I got enamoured with the idea of doing it in patchwork on the front... And there are some glaring errors (see the houndstooth column on the right? I didn't measure my patchwork panel correctly and had to compensate. ACK.)
But I love it--- and hope the girly who received it loved it, too... I never heard back. Ahem.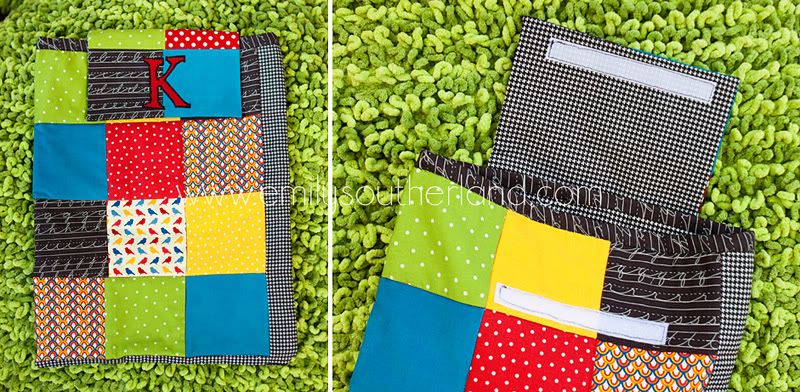 At the very least, I hope her laptop actually fits inside it. Haha!
Ah..... the days of gluttonous sewing....
But never you fear. I HAVE managed a few things since Lucy's arrival. They are fewer and further between, but I AM getting some things made. I have a small, simple quilt in the works... I've made a couple of headbands/flowers, I made a FABULOUS craftie for a friend that I just have to buckle down and photograph before I give it away.... And I have more things lined up to make. I want to keep trying to get a few minutes in every few days. Sewing has become my meditation, and I love it.
Okay. Off to tackle putting groceries away. Then maybe making lunch for the big kid. Gotta use Lucy's nap wisely, right??
Oh, and anyone have thoughts/tips on how to ensure your littler one gets a GOOD morning nap, even when you are driving all over town dropping the bigger one at preschool and such? If she falls asleep in the car, do I just keep driving??? Sounds awful!
Or do I suck it up and concede a weaker nap on those days? Sad for her!
Anyway... I'll take any of your stories/ideas/thoughts. They're much appreciated!