Just for fun... Inspired by
THIS
post from a fellow Pea.... (scroll to the bottom of the post. Her stuff is much hipper.)
My Purse, 1.16.10:
Itemized Contents (not alphabetical. Sorry Gen.):
Noah's
sippy
cup of water
hand sanitizer
wristlet
made by Sarah
MHB
Trident gum
cell phone
blueberry candies from Trader Joe's
Noah's plastic pirate
weekly/monthly planner
altered tin holding my business cards, made by Anna
aqua wallet
Hancock Fabrics weekly mailer
2 random photos from my senior year of H.S. (??)
Noah's used tissues
new tissues
fabric tissue holder made by Lindsey
small notebook of to-dos and thoughts and lists
iTouch
one of Noah's bibs
pencil case from old diaper bag
Noah's plastic glow bracelet
Noah's wooden dump truck
red polka dot coupon organizer made by
Lynsay
Noah's fruit snacks
keys
2 pens
shopping list
note from accountant
2 receipts
baggie with unused wet wipes
paper insert from
Playmobil
toy
And just because my front entry where I took the pic didn't have enough room to REALLY dissect my purse all at once, I took this little project a bit further and looked inside the items that had more to show.
First, Anna's tin, where I keep my business cards:
Next,
Sarah's
wristlet
, which I take EVERYWHERE and love that I can take it out of the bigger purse and have autonomous use of it. My ID,
CCs
, and
chapstick
are the key items here. The change and
receipts
are side effects of taking this EVERYWHERE.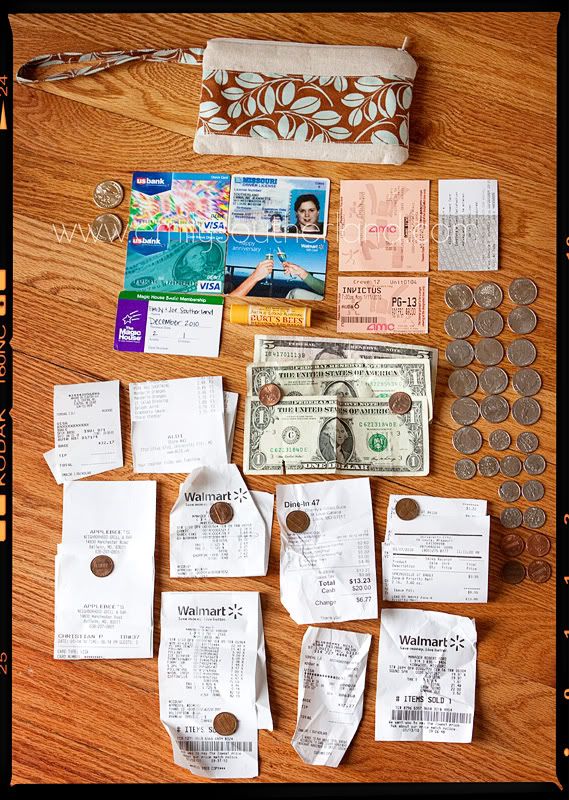 Lyn's red coupon organizer, where I write my shopping lists, and where I keep my business notes and receipts, and where a few other
miscellany
has snuck in: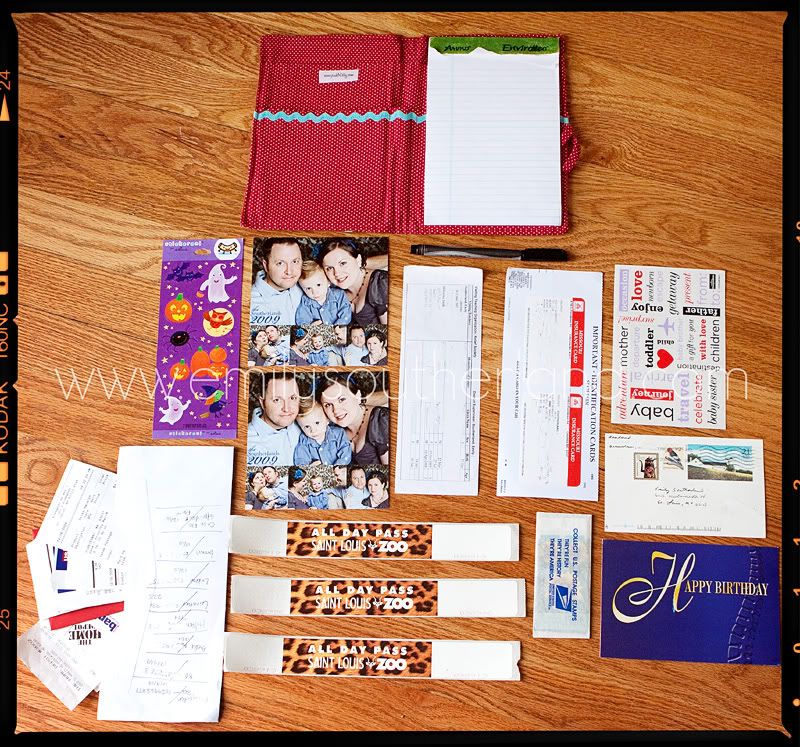 My pencil case,
commandeered
from my old diaper bag to be used like Sarah's
wristlet
, but which never
fully
functioned as well. Now I use it to hold crayons and markers for Noah, and where I keep my personal receipts when I remember to sift them out of the
wristlet
. Tithing slips, too.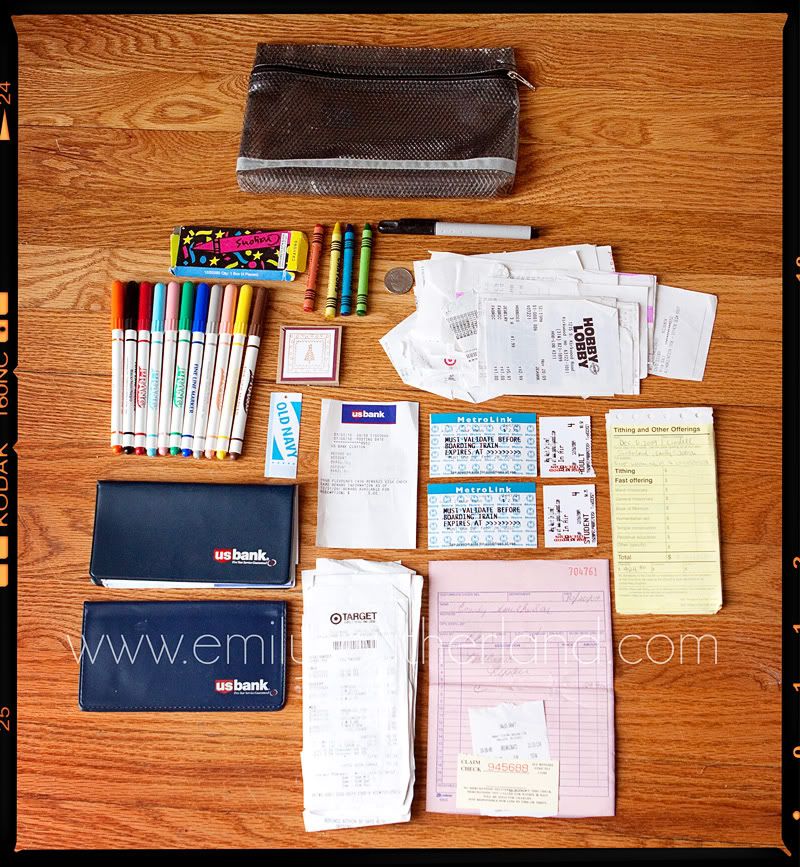 And the aqua wallet. Though stripped of my ID and main
CCs
, I still keep a TON of stuff in here, so it still has use to me....And yes, that's a Hot Topic frequent shopper card. What? You didn't see me
hangin
' out in the Goth Shop? Ha!
Lots of other randomness in here... Kinda fun to see it all in one place!
So there. Secrets revealed. Minutia raised to the level of art. Or something. Anything shown here make you laugh? Surprise you? Make you smile? I'd love to know!
Now what's in YOUR wallet? (said with a Nordic accent like the commercials.)
Anyone else wanna play? No editing out the dirty tissues or too-many receipts to Target. Show me the good, bad, and ugly of your purse RIGHT NOW. :)
(except maybe blur out your important info... That could be bad. Mine's all cloned out to be safe...)