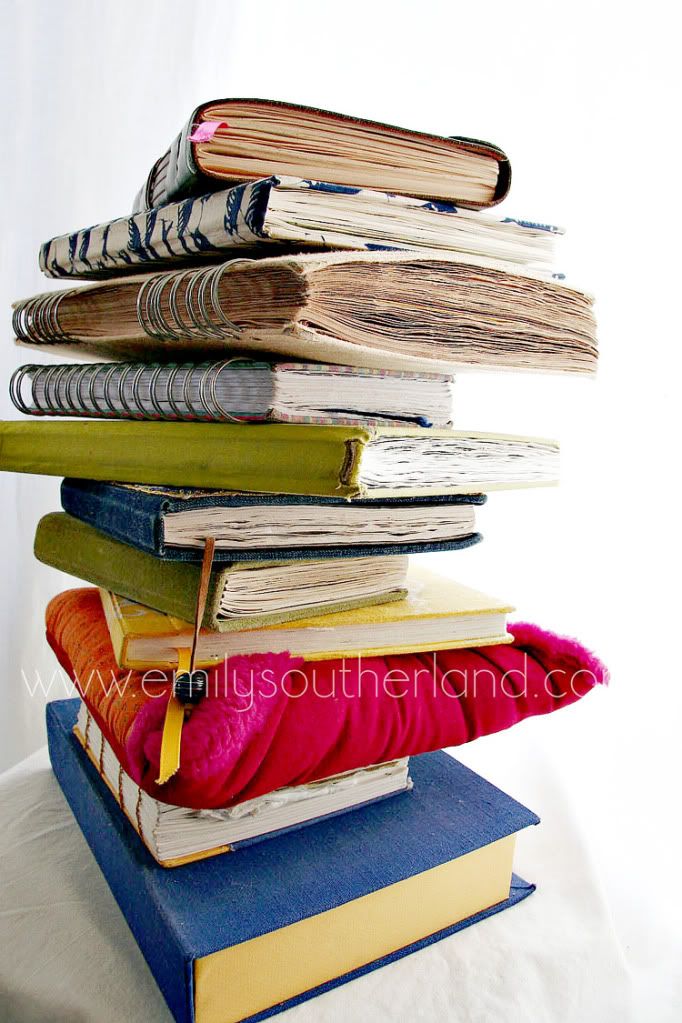 It was around this time of year, thirteen years ago, that I became a TRUE journal writer. Up until that time, I had tried and failed again and again to keep a journal/diary. I had lovely gift journals lined up on my shelf, filled with three, maybe four sporadic entries before the motivation disappeared until the next gift journal. Such were my younger years.
But then, a year into college, something CLICKED. I was in San Fransisco, exploring the
SFMoMA
and the several cool shops nearby, when I found a PERFECT blank book and a perfect set of colored pencils.
I decided, suddenly, I wanted to just keep a notebook of observations, random thoughts, sketches, and clippings, starting with the amazing trip I was on right then. Not even a JOURNAL. And it was THEN, that CHOICE right there, that changed
journaling
for me. No longer did I need to document every day in detail... I just..... began capturing moments. Not daily... Just when it felt right. And that began a lifelong love of observing, saying thanks, and jotting my life down... a little here, a little there... In books, on blogs... Just--- finding time to BE IN THE PRESENT for a minute and put it down for remembrance.
I've been packing a LOT recently, and just got to my stack of journals... lovingly placed them in a waterproof tub along with my favorite inspiring books I keep nearby. this tub won't go into storage. This tub will stay near me, even in our time of transition. But being taken off the shelf and placed AWAY makes me nostalgic, so I thought it'd be a crazy little idea if I looked through them a bit before retiring them... and finding what I was writing about on this day of the year for the last several years. So I skimmed, enjoyed, lovingly touched my old journals and found November 5-- or the closest date to it, in several of my books. Scanned them... Dated them... and here for posterity-- a sampling of ME, from age 20 until today. My woes, my to-do-lists, my little moments of gratitude, my thoughts...
Why not?
This is me. It is who I was, who I am, and who I will likely be, even many years from now... So enjoy-- if only for the visual randomness. But if you get bored and really wanna read, I'm giving you permission. I think some of them might be read-able even in scanned, web form. If something amuses, surprises, or resonates with you, please feel free to share with me in the comments. This is, after all, a bit of my soul I am sharing. Share back, if you feel it.
1997- third year at
BYU
, Galaxy Core friendships...
roomies
with Cindy...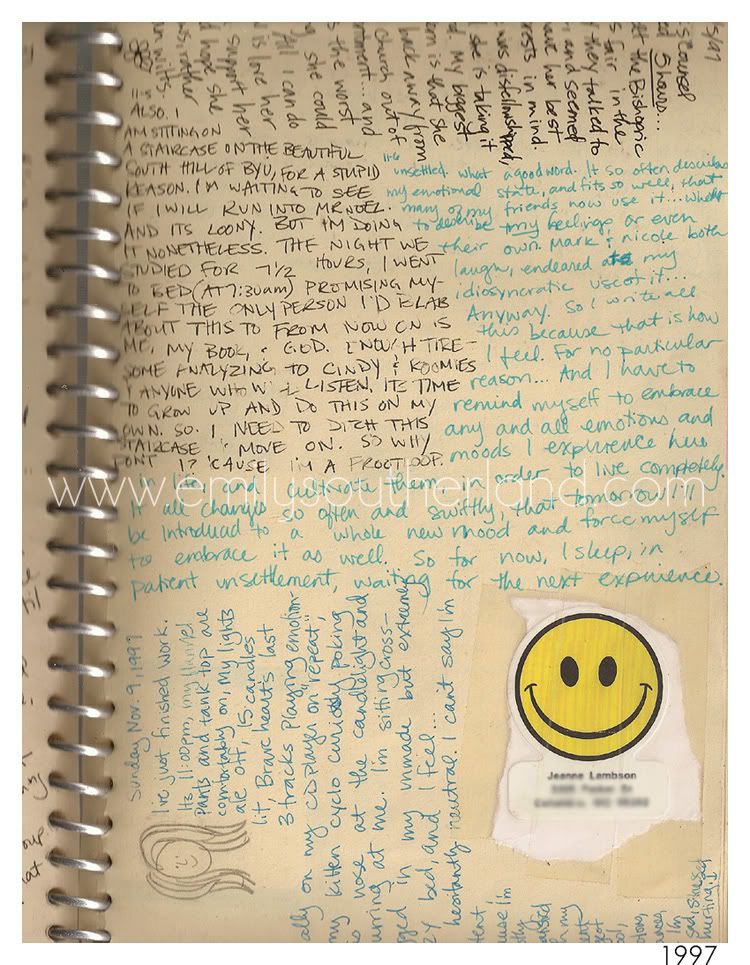 1998- Made this journal in bookbinding class, still at
BYU
, changed majors to English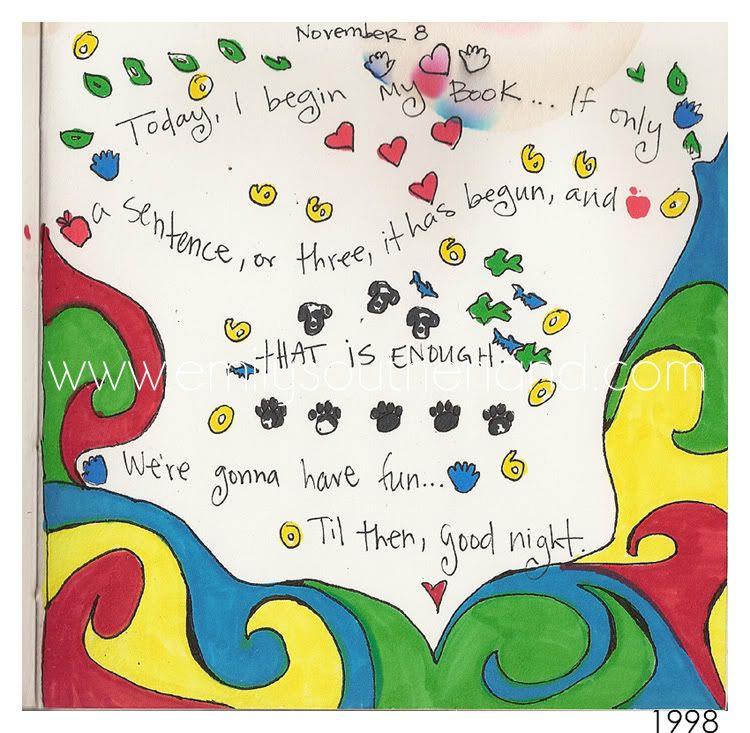 1999- Macaroni Grill,
BYU
still, a bit adrift, but on the cusp of learning who I REALLY was...
2000- Living alone for the first time, passionate about writing, independent films, and single for the first time in three years...
2002- FRESHLY moved to St. Louis, did not know a soul in town, trusting the Divine to lead me where I needed to be... But lonely.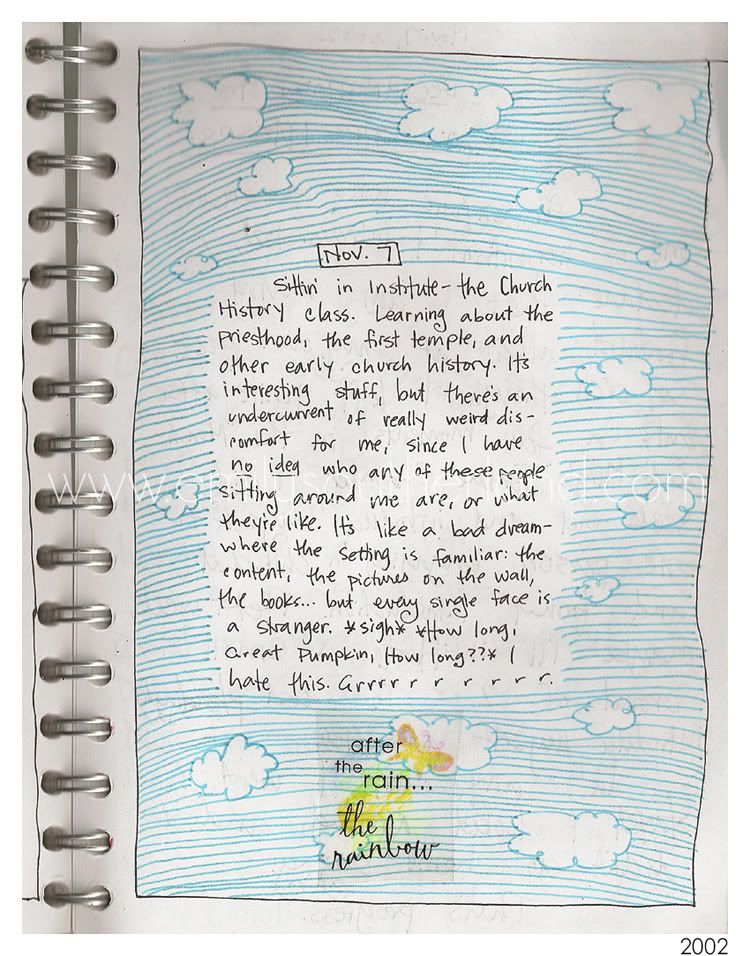 2003- Finally settled into a life in St. Louis-- going to grad school, working at Macaroni Grill, feeling centered.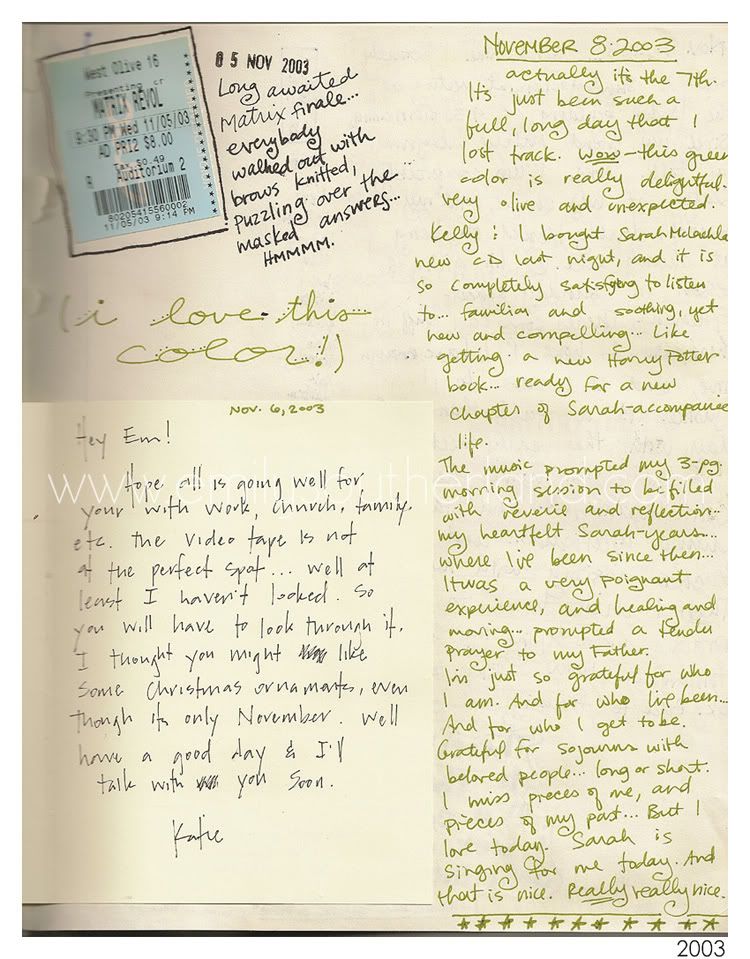 2005- Married for one year, loving being a wife, first year of teaching stressing me out, but surviving.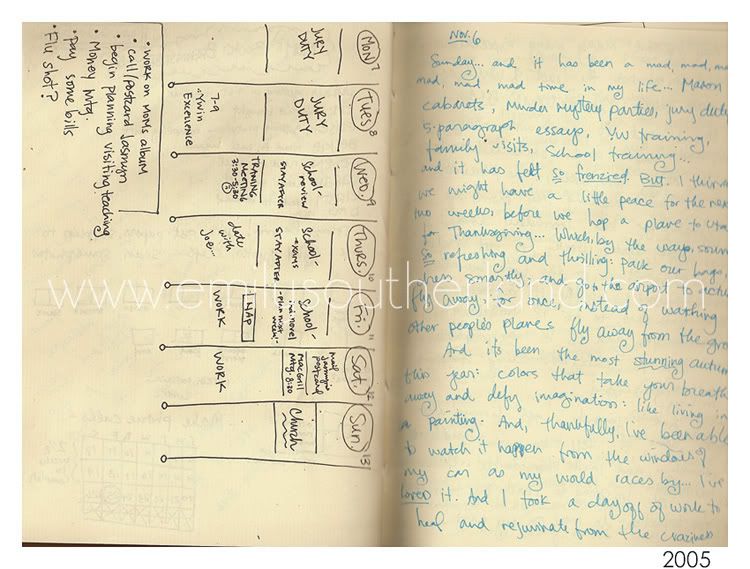 2007- VERY pregnant with Noah, ready to be a mama, but totally unprepared for what complete CHANGE was about to happen.
And there ya go... a few years from my Novembers.
Happy November 5
th
. Now you go. Go write something in your journal/blog/notebook... Just for fun. Just because. I did it. :)