Polyvore.com
... I've heard about it before, gone there once before, but never REALLY explored its possibilities... until yesterday. And now I CANNOT GET OFF!!!

This is a site where you can build you own display of...of...ITEMS. Uh. How do I explain? You can "grab" things from websites like Target, Etsy, Anthropologie, etc... and then Polyvore has an editing program where you arrange them artfully to share with others. Um. I don't think this will make ANY more sense until I SHOW you.

Remember my outfit the other day? This one?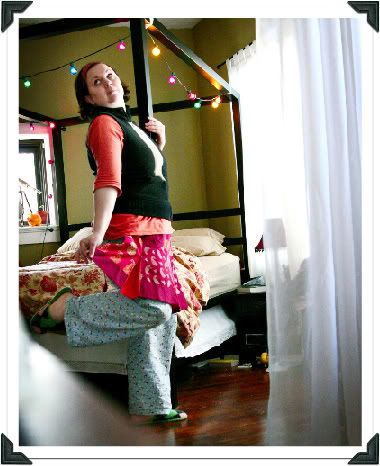 Well... using it as inspiration, here is my Polyvore collection:
Home Body: emily style
by
zayneegirl
See how you can arrange all sorts of items, text, etc... into a "board" of items to show? The above one is basically all things you could go get if you wanted to be the work-from-home gypsy I tend to be. Complete with computer, cookies, and measuring tape for when I shirk my work and sew instead....and the apron. Oh, what a gorgeous apron I "found" on Polyvore for this board. *sigh* And the slippers.... ACK!

Anyway, I digress.... Here are two others I made in the last 24 hours.

Red/Turquoise Casual
by
zayneegirl
Noah's Wishlist
by
zayneegirl
Oh, this little website is addicting. Fun. And DANGEROUS. ... My only complaint? Really, I am sad that when the site gives you HTML code to embed your board onto your blog, it is a small, not-as-sharp-as-I'd like, version of the thing. On the website itself, these look much cooler. (Click the links to see...)

Polyvore: I think I love you. But please consider giving us a 600x600 or bigger sample... sharpened. Thank you.

The rest of you? GO PLAY!!

(or, maybe... hmm...go SHOP? I know of a few little things shown above I'd not say no to. Ha!)