I cannot even prepare you for the cuteness you're about to see. There's just no way. And since I totally never managed to do Quinn's five month photos, there's no buffer between the last time you saw him (Quinn's Raccoon Quilt Reveal/Quinn Turning 4 Months) and today. And he has fluffed out into a full-fledged, no-longer-a-scrawny-infant BABY. Happy, rounded, sturdy, bright-eyed, cute-as-a-button BABY Quinn.
Is he not the cutest little guy?
Here, with his not-raccoon lovey, which he loves as much as his raccoon ones. Maybe more.
Six months is such a good time--- they're no longer frustrated and 100% helpless like the infant stage... But they're also not mobile and savvy and starting to try out the "naughty" thing... They're just.... happy. Cute and sweet and lovable and HAPPY.
And Quinn in particular? At six months old, Quinn:
LOVES his new exersaucer. Like crazy.

Enjoys Bumbo time, which is so nice for me as I am unpacking the house and need my hands free.

Is not sitting up on his own yet. But I am not expecting that for a few more weeks anyway. Noah and Lucy were both 7 months old for that.

Loves his taggie lovey and his raccoon(s). But no longer NEEDS them to survive time in the car.

Gets put to sleep 3/4ths unswaddled. He still gets one arm wrapped up. I tried him just swaddled around his tummy for today's morning nap and he wailed and didn't settle. Not sure if it was related to his free arm , but I played it safe the second attempt, reswaddled his arm, and he slept fine.

Is firmly in 3-6mo. clothing and just starting to wear size 2 diapers.

Is small for his age. Enough that the dr. office is a bit worried. He's like between 2% and 5%... But he's happy. And content. So I guess I'm not worrying like maybe I should?
(His 6-mo. appt is next week. I estimate him at about 14.5 lbs now. We'll see what they say.)

LOVES his siblings. He watches them raptly and gives Noah the most amazing smiles. Lucy is finally warming up to him a bit, and will say hi to him and tell me when he is crying.

LOVES his mama and dad. I think he still likes me best, but it is sure sweet to see him light up when Dad comes around.

Still co sleeps with me the last part of the night. I think one more week and then we'll work on weaning from that. It's bittersweet. I want my bed and my Joe snuggles back, but I sure love his little warm body in my arms, and love that I don't have to fully wake to feed him the last part of the night.

Is a grabbing fool. He will grab ANYTHING in his reach, especially if it is related to food or food prep. When he's in my left arm/on my hip, I used to be able to use both hands to get things done still, but now he will grab anything I am working on with my hands if it gets anywhere near his reach. (I.e. unscrewing a peanut butter jar, for example.)

Still smiles and laughs more than either of my other babies ever did.

Is finally sleeping in his crib versus the rock n play, for all naps and for the first 2/3rds of the night.

Rolls from back to tummy to back pretty smoothly. Not repeatedly.

Loves to grab his own feet.

Loves to eat his hands or his taggie blanket or anything else, really.
And at six months, another big milestone: Quinn is ready for...............
(Also, he really looks so tiny in that high chair!!
FYI, Lucy will keep the high chair throne for the time being... Quinn will use the Bumbo. But for the official First Meal, he had to be in the cute high chair, right?)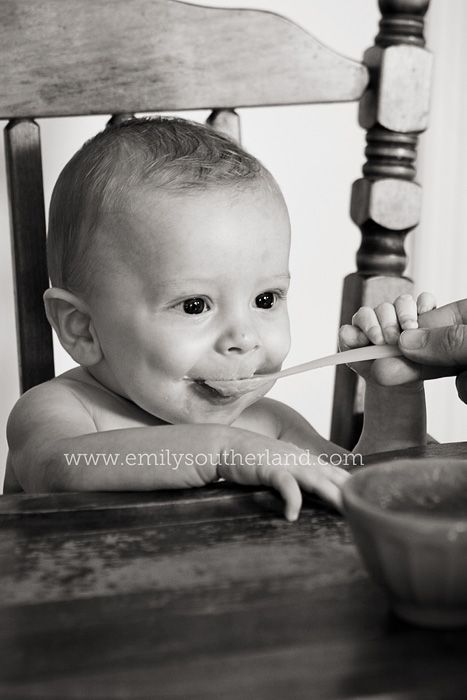 And this last one? This smile, just for mama?
I melt.
So there we go. Baby growing up on us way too quickly... House slowly getting moved into...Life keeping me on my toes like crazy....
And a blog post. Somehow I managed not to stay away an entire month. Just most of one.
But I'm back now. I mean it.
And happy that it is my sweet baby that gave me the impetus to get a post written this week. Quinn really is the bee's knees. I thought you should know.
*
Quinn at 4 months. (5 months didn't happen. Bummer)
at 3 months.
at 2 and 1 months.
newborn.
And just for fun, if you made it to the bottom of this post: All of my 6-month-old babies and their Avocado Days.