We got home from Columbia, MO, still full from Thanksgiving dinner, on Friday mid-morning. We brought Lucy and all our stuff back with us, but left the newly-4-year old behind to get some extra quality time with his grandparents and aunts/uncle.
It's always a treat to have only one kiddo instead of the usual two.... but inevitably, there is also that hollow place--- that MISSING--- that comes with the absence. Noah, simply put, is the color in our days. We love that stinker.
When he was gone from us the last time, back in August, I took some time to get his room reorganized and decluttered, and then took some photos. His room is not the dream room I'd have for him if we owned our own house and had more resources... But for the space we're in, I like what we've done to make his room his very own. It has a good feeling in there.
For fun, here is a little tour of Noah's Room:
*
Vintage alphabet poster is a
Cavallini Paper
print from the Blick art store. So is the map one below.
*
The rocking airplane was a thrift find from a friend of my mom's, which I staked a claim on as soon as I saw it.
*
The rocking chair was my first Mother's Day gift from Joe back in 2007, from Cracker Barrel. The seat cover was made by my mom for Noah's nursery set.
*
the letter "N" is from Anthropologie
*
the toy airplane is from World Market
*
yes, that's our Internet router. Pretty, right?
*
Noah's wee little toddler bed, with the blanket/sham designed and made by me.
*
the green shag rug is from Urban Outfitters
*
The growth chart was a gift from my sweet friend Melanie. Noah is currently 42".
*
The potty chart on his wardrobe..... didn't work for motivation AT ALL.
*
A "catch-all" toy basket, with sock monsters made by his daddy, Joe.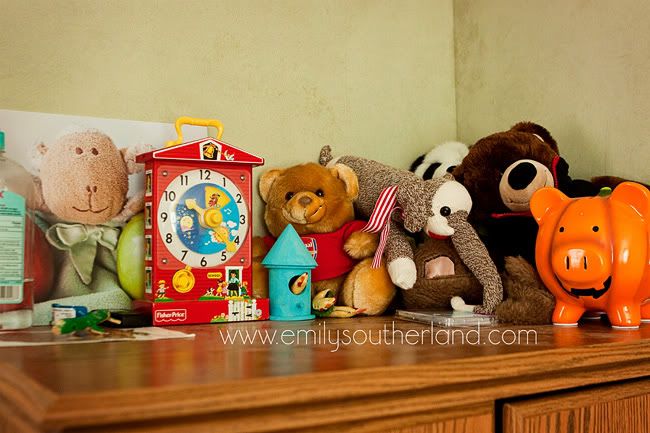 *
The top of his wardrobe, also a "catch-all" area...
*
The vintage school desk was bought, already painted, from
The White Rabbit
here in St. Louis.
*
The trumpet was a beaten-up one my Mom gave Noah to play with. It is often a "rocket ship" in our world.
And the last view.... a room that sits and waits for its too-loud, too-busy occupant to come back and fill it again...
Even though it is FAR messier when Noah is home, I'd not have it any other way.
I hope you all had some down time this weekend... time with loved ones... good food...
Because I don't know about you, but it felt like the last oasis of calm before a mad mad mad mad mad month ahead. Mad in all the right ways, but crazy nonetheless.
I hope I can keep my center among all the things to do in December. I will be trying as hard as I can to do so, so that all the good stuff is even better because I am present and mindful. Here's hoping!
Til then.... Thanks for sharing my little room tour tonight. I'll be back with some Noah birthday party photos in a day or two . Promise!