Lessons Learned From Our First Attempt At Walking to Preschool
1. We need to leave the house earlier than I planned... And I thought I planned enough. The idea is to walk one mile to the school, drop off Noah, then walk one mile back. But we live two miles away... So driving and parking at our start point is necessary. With all the loading, unloading, setting up stroller, bundling up kiddos, etc., I need AT LEAST 10 more minutes added to our start time.
2. There will NOT be good parking on Skinker or Waterman where I need it... I'll try Lindell next.
3. Walking in 35-degree temps WILL be okay. Lucy was happy as a clam, and I still broke a sweat.
4. I should probably wear a hat or ear-warmers on those days.
5. I need to stretch a bit beforehand... I was running late, so I was rushing more than usual, and I could feel it in my shins.
6. Lucy's fleece boots will be warm enough, and adding babylegs as another layer worked PERFECTLY.
7. I will have to DAILY talk myself out of a hot cocoa from the coffeeshop we walk past. Or else this could get expensive.
8. This is really gonna work. I know it. And it felt GREAT, even being so late.
The thing is.... I REALLY really want to make this kind of thing so common in our days that it becomes intuitive... no longer a "SHOULD DO", but something we just DO. Walking a couple of miles a day, every day. Even when it isn't preschool day. I'm getting better at just getting out the door and GOING, but I am still a long way off from it being an innate part of my day. But I'm working on it. Perhaps if I can do this preschool walk regularly enough throughout the winter, I can even talk myself into walking the FULL distance (4 miles roundtrip) come springtime.
And let's talk about those boots, shall we? Remember Lucy's
Gnome photos
? And her pointy red boots?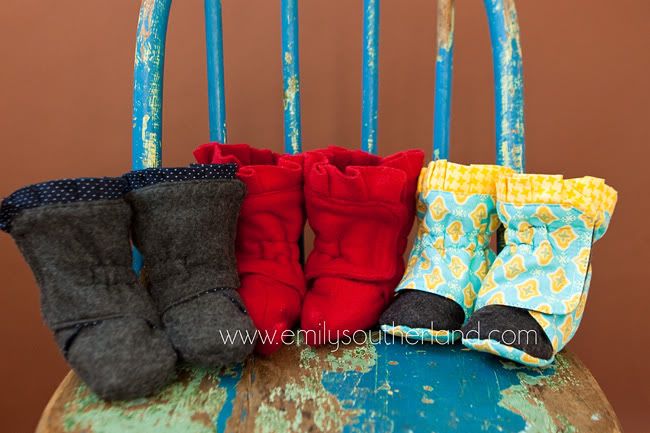 When she was perfecting this pattern, I got to be one of her pattern testers, and quickly got HOOKED on these girly, over-the-top fashionista boots.
My first set attempted was this pair:
The aqua fabric is a favorite pattern from Lucy's nursery set, they yellow fabric is from Noah's sunshine quilt, and the grey is wool felt. They are also lined in soft grey fleece.
They are SO CUTE... but they don't match very many of Lucy's outfits. So when family pictures rolled around, I decided to whip up a second pair, this time in a more understated color scheme that might match more things: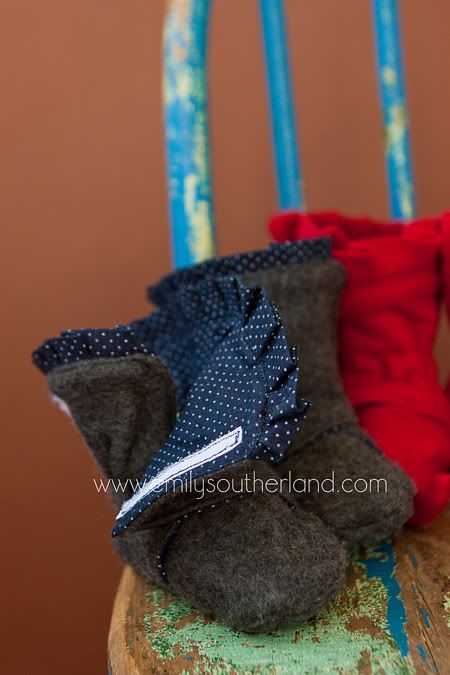 This time, the entire outer shell is the soft grey fleece, and I used navy polka dot cotton on the lining to stabilize the fleece. These are showing more wear and tear already, because fleece is more prone to pilling than wool felt... but I simply didn't have enough grey felt on hand when I wanted to make these. And even though they're going to look shabbier sooner, I still LOVE them.
Lastly, when making Lucy's costume, I decided she needed ONE MORE set of these boots... this time with a couple of modifications that would make the toe curl.
These are done ENTIRELY in fleece, since they were really just for SHOW and not for everyday use. They ended up being the perfect finale to her gnome costume, and hey-- I can even probably reuse them for some kind of ELF costume for LuLu this coming Christmas season!
And I know I might be nuts, but I still have at least two other pairs in my head I want to make her for the rest of winter. I'm thinking of a brown corduroy with a delicate pink calico ruffle.... Or maybe some hunter's plaid? The possibilities are endless!!
So, there ya go--- handmade boots for my baby, all based on this FABULOUS pattern by Jaime: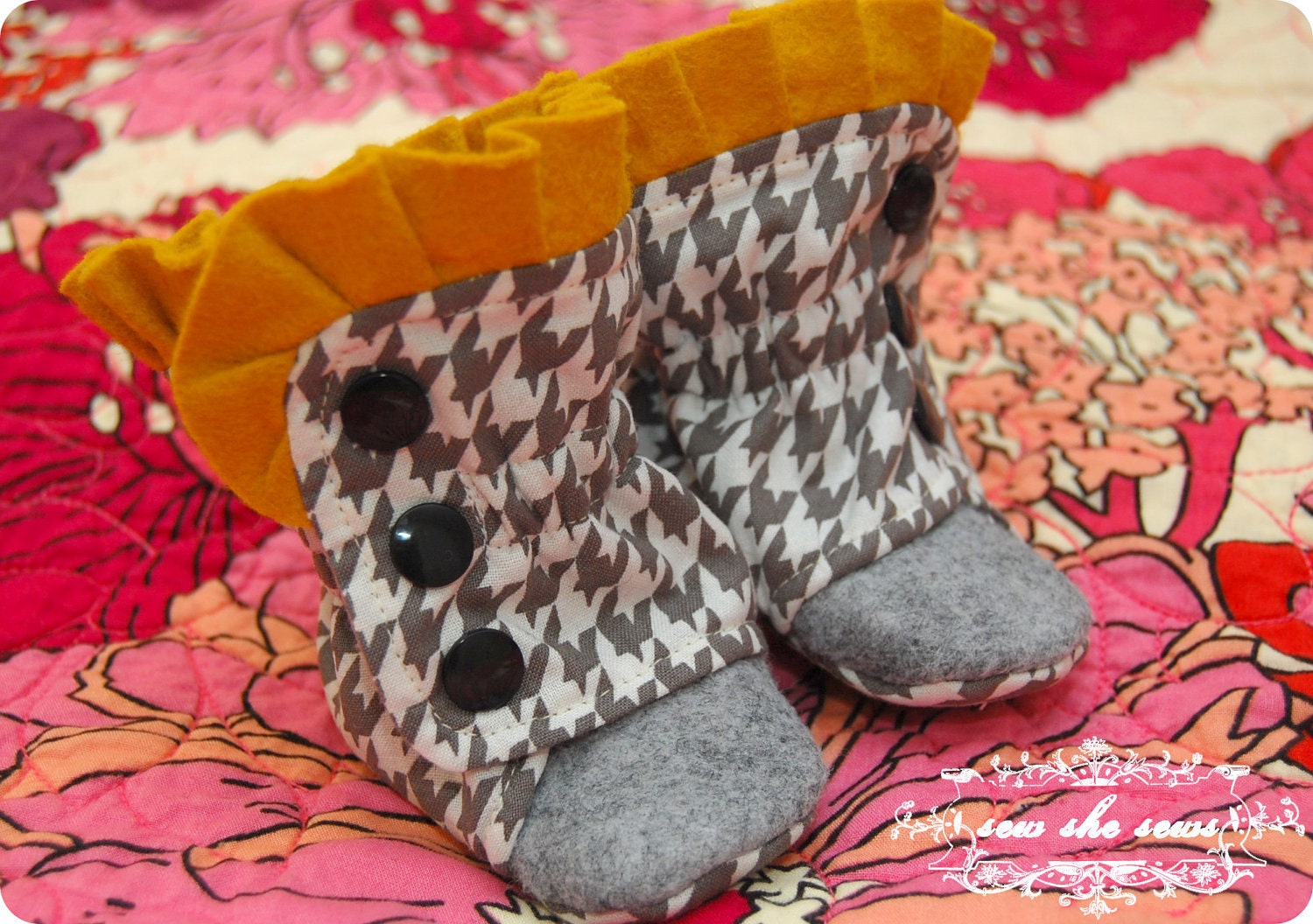 Click the photo to go to her Etsy shop and BUY the pattern for yourself! (Or if you're lucky, her shop might have a pair or two of already-made boots you can just buy!)
Okay.... It's a new week. I have grocery shopping, bank deposits, work orders, and a million other things haunting my to-do list. What's on your agenda this week??