Happy Happy Thanksgiving!! I'm laptop'ing from the couch at my parents' house in Columbia, MO, happy to be with family (my big, brash, loud, happy family)... Happy to put my sore feet up for most of the day (minus the time spent making Puppy Chow, my own personal tradition for Thanksgiving).... Just.... happy. And hungry. When's the turkey coming??
And that puppy chow? You know what I'm talking about, right? This stuff?
I LOVE the stuff, and a few years ago brought some to my family's house for Turkey Day because we all sit around, STARVING, waiting for the real dinner, and a good munchie seemed an ideal solution. The recipe I use is:
1 stick of butter
3/4 C. of creamy peanut butter
1 bag of semisweet chocolate chips
3 C. powdered sugar
1 box Rice Chex
Melt the butter, choco chips and peanut butter together over medium heat. Add the cereal to the pot (make sure it's a big enough pot!). Put the powdered sugar in a brown grocery bag, then spatula the chocolate covered cereal into the bag. Close the bag and shake-a-shake-a..... Voila! Puppy Chow!
*
But this year, I decided we always run out too fast... With over 12 people in the house, all with sweet tooth tendencies, it's inevitable that one batch goes quickly. So I thought, why not a triple batch??
And WOW.
That makes a TON.
Ha! So funny! A garbage bag full of PUPPY CHOW!!! Woot! Perfect!
Anyhoo...
Since I'm home and relaxing for the holiday, I have some fall-y stuff I've meant to blog for a long while now (all of these images are from October. Oops!)... And with the surgery, the not-so-fast-recovery, the backlog of work piling up, etc. etc.... this blog post never seemed to happen. So why not today? Quick, before oranges and browns go out of style and red and green are the colors to display. (Today's the last day for those yummy fall colors. Sad. Candy corns and autumn leaves, pumpkins and gourds--- passe as of tomorrow. Bye, Fall. I loved you.)
So to start, I made a wreath this year. I actually envisioned finding a bunch of cute little mini-pumpkins, probably fake, from a floral section of a craft store... Even fake persimmons would have done... And COATED a Styrofoam frame with them. Just a whole bunch of little orange globes... But. No craft store came through for me and I never found mini-pumpkins or fake persimmons. I DID find some good-looking fake mums... so I ran with it. Instead of Styrofoam, I went with a grapevine wreath... and the goal was just to SMOTHER the thing with mums, minus green foliage: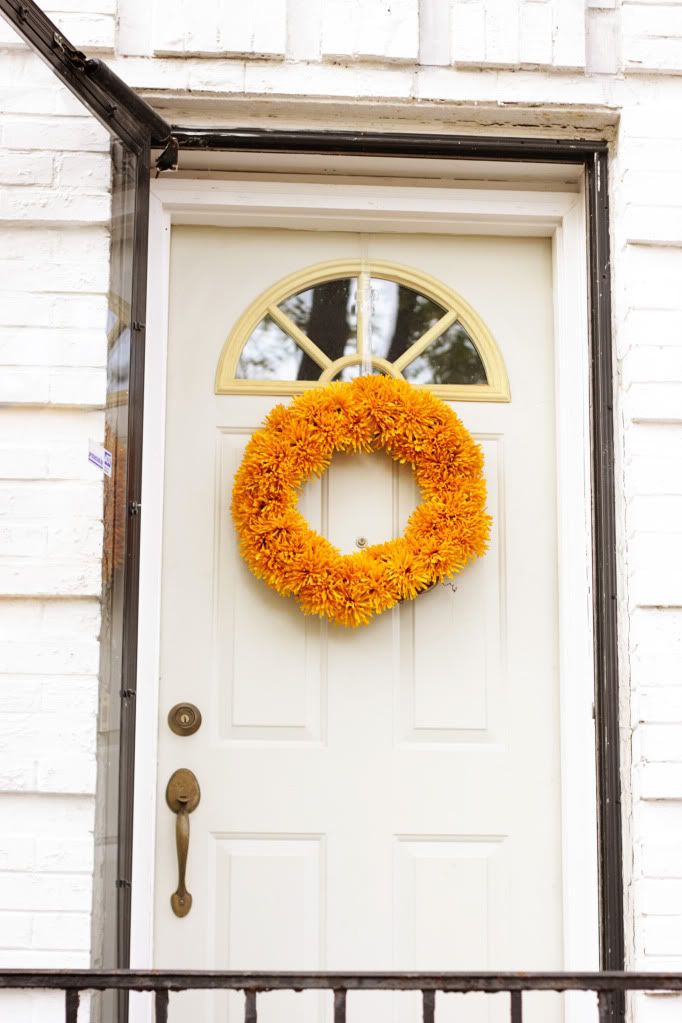 I LOVE the color, and love the pop it provided all fall for our little white house.
So easy, too! But now, with orange going out of style, I guess I'd better start thinking about a winter wreath to replace this...Hm.
Next up.... My friend Stephanie S. Facebooked a link to a DARLING ruffled camera strap... And reading the tutorial,
here, on KevinandAmanda.com
, it looked TOTALLY do-able... So I went for it, using scrap fabric I already had on hand:
And I ADORE it! Love love love the flirty ruffles. Love that I could do it myself and feel pretty good about the results. Yahoo!
And all October, while I was being crafty indoors, our local squirrels were being crafty OUTDOORS. Meet our Squirrel-O-Lantern: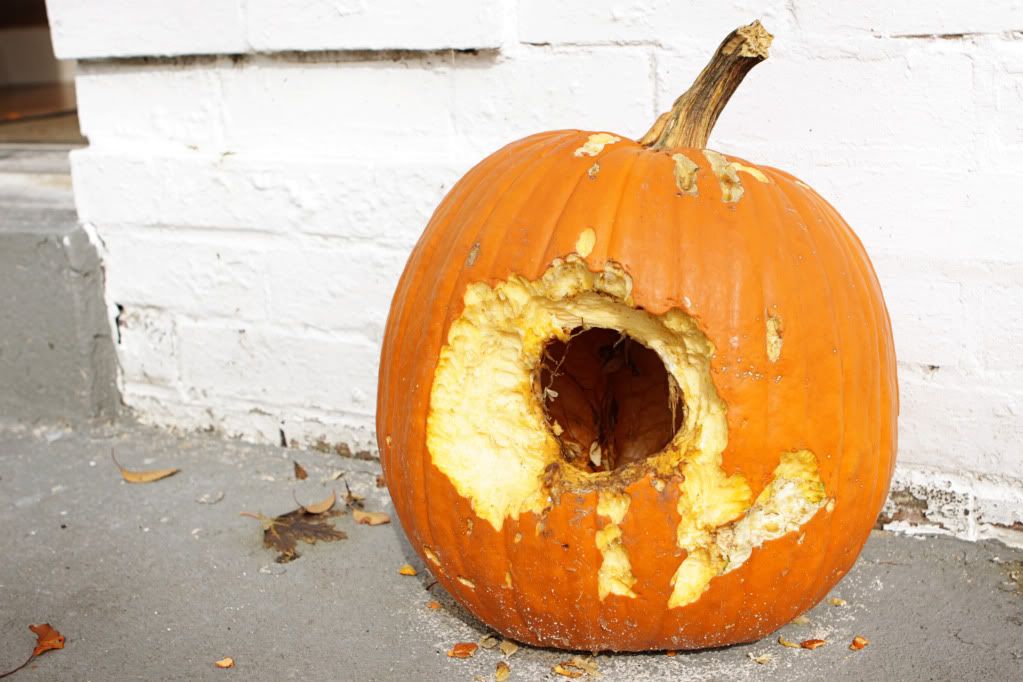 It started with a few chips off of the dark orange outer skin. No worries. Then a few more gouges out of the skin. I laughed it off, amused that these intrepid squirrels managed to find a new food source. I also knew I'd be carving a different pumpkin, so this one could be chipped away at. No problem. Well... "chipping" turned into "gouging", and eventually, they broke through. Ta-da! Squirrel-O-Lantern. It amused me so much I didn't take it off the porch til we had real Jack-O-Lanterns to put there instead. Noah even took to singing the "Squirrel-O-Lantern" song I made up... Ha!
And since I'm reaching back to Halloween, here's the batch of Halloween sugar cookies we made. Joe and Noah got involved too, so it was a fun family activity:
I really should have a photo prepared of us in our costumes at this point in the post, but.... oops. I forgot. Noah was a train engineer, I was Captain Hook, and Joe was a Frenchman, a la his mime costume from August. Maybe I'll post a pic someday... *shrug*
And since this post has turned random, I'll just end it with some cupcakes. Not my own. Our local, BEST cupcake shop, The Cupcakery, has changed their name to The Cup. I'm pretty MEH about the name change. I liked it before...
But in spite of the name change, the recipes are as good as ever, and they had some LOVELY fall specials we HAD to try.
This one is the apple cider cupcake, with cinnamon buttercream: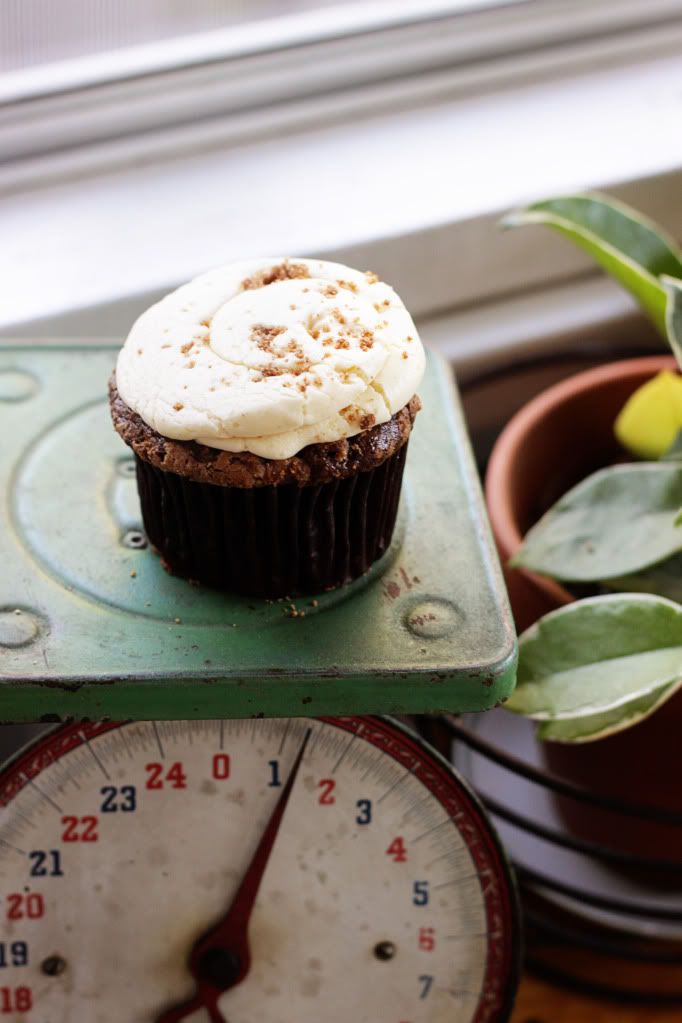 This one is the pumpkin spice cupcake: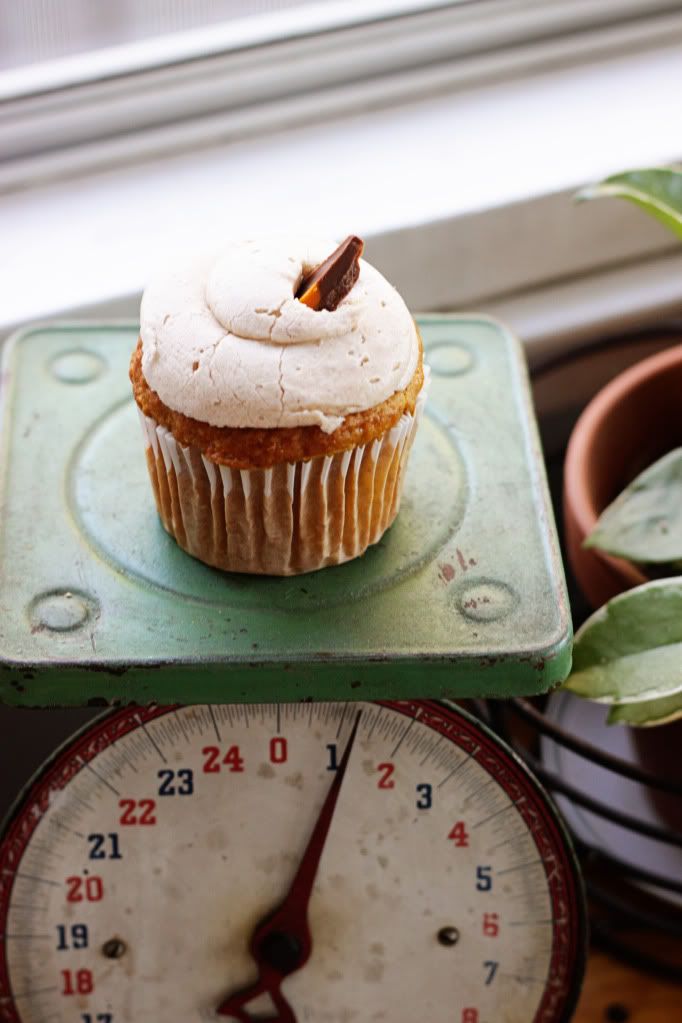 And this one is the mint mummy one. Vanilla mint cake with a mint buttercream-- decorated especially for Halloween:
So.... Yeah. For weeks, this blog has been mostly talking about pain and setbacks and tubes in chests... But there's still that part of my world that we all love--- the little details of food, fabric, photos... everydayness... And I have been trying to remember how to keep it going, even as the pain makes it hard to be cheerful sometimes.
I am so blessed... Joe is my amazing partner, Noah is clever and loving... (He tells me his feet hurt, too. He'll walk slow, too. So sweet. :))
And I have some fun things I am working on... And LOTS of sessions from the past 4 months to share. (oops.).
So. Life is moving along, even with the setbacks. And I am focusing on GRATITUDE GRATITUDE GRATITUDE... Today, for sure, but ALWAYS... of course. I am grateful for my life. My loved ones. All of it.
So, Happy Gratitude Day. To all of you!
I'm gonna go nosh on some more Puppy Chow. We've got PLENTY.
:)